WORLDS IN DURESS
Neutrons: S. Pole, Thule, Moscow, six at once, others

<LEFT: Experimental indices spike again




Propel thine waste,
thine mortal feces,
shat at mighty Jupiter!
Oh, Galilei, 
doth thou quake,
writhe from muted grave?
Oh hoary-gazer
hear we 
the icy indignation,
the anger,
the heliocentric-howling. 
--Kent

.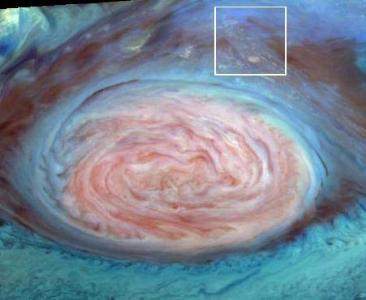 At the Galileo plunge do not end the watch but begin the watch...
There are as yet no indications that Jupiter ignited as in "kahboom." If there are any "seeded" transformationsn going on we would have to look down closer.
Galileo once looked down closer and allegedly observed... WATER.
Water in my mind is far more astounding than ignition.--Kent
1. NASA TV PRESENTATION 9/21/03 11:00 AM PST: The Galileo team declared that they searched for and found water clouds and lightning on Jupiter.

2. Then by the same reasoning the team uses concerning Europa is there the possibility of life on Jupiter as well?

3. What did ancient earth look like early on after it calved from the sun? Was earth once like Jupiter?

4. Is Jupiter a proto-sun or a proto-earth?

5. Have the PTB been trying to ignite, to terraform, what? [precedent, Mars]
<>

Quotes:

Storm clouds, similar to the familiar cumulonimbus thunderheads of Earth, appear to be present on Jupiter. The mosaic of images above shows the region near the raging edge of Jupiter´s Great Red Spot, itself some 2 to 3 Earths wide, as observed by the Galileo spacecraft in June of this year. The false colors represent altitude. Low altitude clouds are blue, high, thick clouds are white and high, thin clouds are pink, with the box at the upper right containing the high cloud features likened to the storm clouds of Earth. Scientists speculate that these features are evidence for an abundance of water in at least some regions of Jupiter´s atmosphere. On Earth, atmospheric water vapor plays an important role in driving winds - this could well be true on Jupiter, where winds reach up to 300 miles per hour.

An international team has just shown that the convective clouds present in Jupiter´s atmosphere are associated with atmospheric zones that are very humid. In Jupiter´s atmosphere, a direct link therefore exists between water vapor circulation and cloud activity. These findings were obtained with the Near Infrared Mapping Spectrometer (NIMS) on board the NASA Galileo space probe, and were published in Nature on May 11, 2000

On Jupiter, the colossal mesoscale convective complexes also last from 12 hours to several Earth days, producing correspondingly huge deluges of rain over vast areas. The new results show that - contrary to previous belief - these thunderstorm complexes are not fuelled by the Sun´s heat, but instead develop from the intense heat emanating from Jupiter´s core.

Lightning Strikes by Jove

INTERNET GUNSLINGERS:
FORUM: [complete GLP-board epistle here]: This is simply more alarmist hyperbole. I wrote about it on my bulletin board: http://www.badastronomy.com/phpBB/viewtopic.php?t=8301 The criticism I posted is unusually harsh from me, but I think these alarmist cries are doing real harm.
REPLY: Be as harsh as a warthog it still remains that there appears to be a neutron surge since last Sunday. Do we really understand the interaction between the worlds? Some think earth has a crystal core. Could there be a sympathetic resonance from an event on a sister world or for that matter from events deeper into the galaxy.
Ever own a crystal set?
Keplerian astrophysics is not the only shootin match in town. We now have quantum physics, quantum tunneling, non-locality and hyperdimensional strings--perhaps ringing.
And speaking of bad astronomy, what nightmare inspired the dumping of poisonous crap into another world. Don´t give me this argument: to spare Europa. Jupiter is a water world too. For chrissake it rains there, and now it rains plutonium.
If the astronomers don´t want the alarms ringing they ought to avoid doing irresponsible, heartless stunts.
If you, Badastro-Bowser, want a virtual quickdraw at the not-so-OK-corral, you´ve got it son.

ODE TO THE ASTRO JOCKS

NERVOUS PERCENTAGES

A thin bespectacled beaver with a goatee on his chin drew arithmetic on the blackboard. His voice sounded a bit uppity.

"By my most. . . educated calculations. . . considering the planetary drift, the average wind velocity, strength of the force field and the duration of our traditional evening tea break, the launch should be made tonight at precisely midnight." The professor turned to inquire, "have the mainsprings for the catapult arrived yet?" Continue

PARTICIPATE, RECENT INQUIRY: FULL DISKLOSURE FORUM
MYSTERIOUS INTEL GLP NOW GLP: THE ENTIRE ORDEAL One Step Ahead
Haleakala Crater Live Camera 9/23/03
Due to poor communications between U.S. and Russian astronauts, the International Space Station is a disaster waiting to happen

MOST EXCELLENT, APPROPRIATE AND WONDERFUL WOO-WOO
[The responsibility of the creative, the artist, poet]
The Elohim grace Jupiter. Most foolish to desecrate the temples of the Celestials.
List ye, O man, to the depth of my wisdom. Speak I of knowledge hidden from man. Far have I been on my journey through SPACE-TIME, even to the end of the space of this cycle. Found I there the great barrier, holding man from leaving this cycle. Aye, glimpsed the HOUNDS of the Barrier, lying in wait for he who would pass them. In that space where time exists not, faintly I sensed the guardians of cycles. Move they only through angles. Free are they not of the curved dimensions. --Thoth
The Soyuz Cosmonauts might agree: ARCHIVE, Angels seen in Space

It became obvious, with the computer enhanced pictures, "that these were creatures we were seeing," according to one scientist at NASA. "They were, "a group of 7 angels flying together..."
Gathered I then my people and entered the great ship of the Master. Upward We rose into the morning. Dark beneath us lay the Temple. Suddenly over it rose the waters. Vanished from Earth, until the time appointed, was the great Temple. Thoth
NASA: He (Marduk founded the station of Nibir (Jupiter) to determine their bounds.

THE STATIONS OF NIBIR

FUTURE INVESTIGATIONS

It's springtime on Neptune, which means about 40 years of bright clouds -- something of a surprise to astronomers who were not necessarily expecting the seasons to change on this distant planet. Actually, only the southern hemisphere appears to be experiencing a Neptunian spring, according to observations made with the Hubble Space Telescope.

WATER POWER: a mysterious alchemical substance, we should wise up and fuel our horseless carriages.
ELECTRIC CAR BLOWS PAST A FERRARI
AC Propulsion 2 of San Dimas, Calif., has two prototypes of an electric sports car that it claims accelerates faster than any other production car sold in the United States. "We staged a race with a Ferrari, and it wasn't even close," says Alec Brooks, the chief engineer. His tZero beat both the Ferrari F355 and a Porsche 911 in a one-eighth-mile race. The company has fans from Silicon Valley and Hollywood lining up to pay $80,000 - more than enough to pay for expensive battery packs. Forum


MYSTERIOUS VISION ORBS
A look at the ORBs that look back in this ORBIT
update by Dennis Rau and Lisa Osborne

FEATURED IN-PROCESS TREATISE
by Yeshe Dorje
Sprint to construct private Internet for gov't agencies

ISABEL, THE DAUGHTER OF BA'AL SHUTS DOWN AMERICA [Report from the Beltway]


Who Were The First Americans? Nevada's Area 51 Will Remain Top Secret AREA 51 RECON
2003
Thank you Patrons! We made it through September!
| | | | | |
| --- | --- | --- | --- | --- |
| | | Planet X | | |
| | The Ancients | | | |
| | | Index | | |