ORBIT SPECIAL: THE GODS ARE HERE!

| | |
| --- | --- |
| 11/6/1997 13:06 | Angel in Trace |
| | |
Has an emmissary from Nibiru, Nibiru itself, or have other galactic engineers been here since 1997?

GLOBAL GESTALT AND PLANETARY UNITY

NORLOK: THE QUEST [Important to backtrack to see how we got to this place]

THE ORIGIN OF THE QUEST: AN ENIGMATIC STATEMENT ON SCI.ASTRO

A HINT AND A DOGLEG TWIST

NORLOK GALLERY

EDITOR: Perseus has been an observer and investigator of solar as long as I have. I think he may have pulled the puzzle pieces together. I have pasted his email message precisely (please pardon language-translation discrepancies), and I have included illustrations for reference:
8/28/02 7:27:27 PM Pacific Daylight Time
FROM PERSEUS, SPARTA, GREECE

PERSEUS IMAGES

Hi Kent. There is something strange with this Glowing Mass. It came the same time with comet Hale Bopp and at the exact time when the Saturn Like Object, which came like companion of HB, just vanished. Winter 97.
We must remember that the time of 1 orbit of HB is 3600 years. Same as Nibiru. Coincidence ?

The Glowing Mass was suddenly appeared in one photo and at the next was not there. Now you see it, now you don't. That means we forget the wrong of the camera. Its something Real. I had send you an e-mail at 97 and you had ask an astronomer. I don't know if you remember this, but his answer was that he was not knowing What is this but his distance from the Sun was some 850000 or 870000 miles. Now if we compare the size of the Mass with the distance we can see that the mass has a Monstrous size like 285.000 miles diameter. I take distance = 3 diameters of the mass. That's not exact but we can have a taste of the size. Huge. Jupiter's diameter is some 88.750 miles. That means the Mass is some 3.5 times bigger diameter than Jupiter. !! Isn't the size of Nibiru somewhere near this ?

Now lets see what this Mass can be and what can't. If you see the mass at photos its very luminous, in fact many many times more bright than the Sun. You can see this if you take out all brightness from the photo. The sun is disappearing but the mass remains there luminous. That means one thing. Its not coming from the Sun (flare or something else). This is a alien object with his own energy. An energy which give us brightness many times bigger than the surface of the Sun.



Look in the attached photos. If you take out -110% brightness and add 95% contrast you take a symmetrical Solid Object. The Saturn Like Object which came with comet Hale Bopp. Someone gave this name to the object because in the first photo of Chack Schramek, we can see his Wings. Also in other photos. http://anomalous-images.com/hb/halebopp.html You can see also in the upper side of the object in the attached photos the Wings. Isn't Nibiru who have Wings?
SunCruisers 101 SunCruiser Evidence Presentation




WINGMAGERS OF SOL

JUPITER'S ELEVEN NEW MOONS
Conclusion.
Nibiru is Here from 1997. Its a Huge Mother ship which came here with HB. Its Not a planet Not a brown dwarf. Its a Battle Star. The Sun Cruisers come from this Mother ship. They all (Nibiru & Sun Cruisers) can appear and disappear at will. As i had answer to col. Johnson at 97 ..... http://www.godlikeproductions.com/bbs/message.php?message=2989&topic=3 The Gods are Here!--PERSEUS


Date: 8/29/02 6:31:03 PM Pacific Daylight Time
Hi Kent. I have found the first pic of NORLOK by SOHO. It was photographed on Feb. 26, 1996. It appears on almost all EIT 284 and EIT 171 pics from feb 26, 1996 - Feb 03, 1998 when it finally vanishes. SOHO was launched on Dec 02, 1995 I believe. It was originally only supposed to be in operation for 2 years. It arrived near the sun in late jan. - early feb. 1996. is it a coincidence that this glowing mass suddenly appears shortly after SOHO starts taking pictures of the sun and disappears just before SOHO's 2 year mission was about to end which was supposed to be in April of 1998 I believe. I think NASA knew this object was going to be at the sun and for only 2 years so they sent SOHO on a 2 year mission to take pictures of it. I dont know what the coded NASA images of NORLOK they have after 02/03/98 are of since I can't find any pictures of this glowing orb after 02/03/98. Maybe we are just not looking in the right place.-- Seek


WINGMAKERS OF SOL: SOL STATION SOUTHEAST

MOST RECENT
8/30/02 STRANGE MASS WITH APPARENT GRAVITATIONAL PROPERTIES

Date: 8/31/02 12:47:54 PM Pacific Daylight Time

8/30/02 05:42 look to the right of the sun.......see how the streaks of stuff kinda bow away from each other....look in the center of the "bow" its like a white small mass.....at least it looks small from all that is showing of it.... looks like something is sitting there making the streaks of stuff go around it........what do you think? Best understood by seeing the animation animation2 MPEG Notes

9/1/02 TWO IN A ROW

Date: 9/1/02 10:47:53 AM Pacific Daylight Time

9/1/02 17:42 Large CME's being shot in the same direction: What's ol SOL shooting at?

EDITOR: Notice the parallel lines within the mass. MPEG Forum
Stars dance in atmospheric waves; what about gravity waves?

Worldwide Periodical Time Shift?

Date: 9/1/02 9:19:51 AM Pacific Daylight Time

Hello Kent, I wonder - What's the possibility that Sol's dark companion is a small Singularity? Could Nibiru or Planet X be dragged along or possibly orbit it? If the planet was always behind the Singularity from our POV then would we see it at all? Could life on such a planet be sustained by the radiation emitted by the Event Horizon? Could Nibiru use the gravitational pull of such a Singularity to catapult their ships to enormous speeds? If so then their technology may not need to be very much higher than ours to send ships to our local solar system. Forum

LOCAL YOKEL GRAVITY WAVES: TIME WARP IN BERZERKELEY The team's newest niobium-tin dipole electromagnet reached an unprecedented field-strength of 14.7 Tesla. This is more than 300,000 times the strength of Earth's magnetic field.
RECENT EIT MPEG 195 PRIOR TO BAKEOUT
Date: 9/2/02 8:48:38 PM Pacific Daylight Time

Bakeout or Blackout??? The image I am sending you was obviously taken after the official NASA bakeout/blackout. The image was posted at spaceweather.com, an official voice of NASA, updated 3 Sep 2002, at 0326 UT.

STARGATE

The ELectric Universe: ELohim, angEL, ELohim, EL
| | |
| --- | --- |
| | PLANET X Solar Particle Deflection? You've probably noted that many of the larger prominences, from the south solar pole, are repeatedly being deflected to the right of the field-of-view at roughly a minus 15 degree down-angle. 2). New Planet X |

Nemesis: Sun's Hidden Twin Stalks Planet Earth




V4641 Sgr, closest black hole in outburst [Einsteinian-model, effects felt now?]


32 NAMES FOR PLANET X
THE NEW DARK STAR PAPER

Planet-X, Comets and Earth Changes

by James McCanney

    Nemisis theory, sun has a binary star
  Perturber theory
  Hazelwood´s theory based around 2001 KX76
  Sentinel´s theory 
 The recent SOri70 theory 
 The Paul LaViolette super wave theories
 Genesis signal, Magnetar, gamma burst theories
 Fucanelli´s Doom 
    V4641 Sgr, closest black hole in outburst
 Supernova Photographed in Earliest Stage
 SNEWS: SuperNova Early Warning System
 The mysteries "forces" in Dark Matter theories
 Dr. Dimitriev theories
  The Phobos Deimos on the loose theories
 Debris seen around the moon theories
     The Vatican Observatory, Malachi, etc.
   Matrix theory: The solar system is engineered, 
ordered, implications of design or manipulation!
[( p­(9/4p).Ln30) - F]­(2p/3) = 20  [note]
 Denise DeLisle, Beltway investigations.
  Mainstream News Reports [1983 Wash Post story]
  NASA abstracts
  Encoded Clues, pointing to Soho data
 Blindsided
   Sumerian Artifacts
 Sun Criusers  Solar Torpedoes
  Time-dilations observed near Berkeley
 Worldwide Periodical Timeshift FORUM ARCHIVES
	


ARCHIVES: HALE BOPP IN RETREAT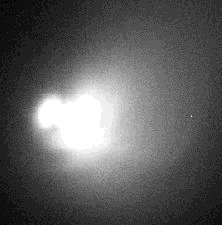 JPL admits Hale-Bopp Comet May Have A Satellite
The Observatoire de Haute-Provence
We have recently observed rapid changes in the inner coma of Hale-Bopp: dust shells become less visible, whereas new radial jets are growing around the nucleus. This new coma structure looks like to the february one's (see below).
On May 8, 1997, a huge concentration of dust is ejected from the nucleus toward the anti-solar direction. (Hale-Bopp on May 8, 1997 at 19h44 UTC. Sum of 5 exposures of 2s each, with I filter, unsharp masking. Field of view: 3.6'x3.6'. North is on left, East is up.)
The two following sequences show the evolution of the coma on three days. On the first sequence, we can see three original images obtained with an infrared filter on May 7, 8 and 9. The last sequence shows the corresponding rotational-shift-difference processed images. The speed of ejection is very high. 24 hours after the ejection, the dust spreads on over 50000 km from the nucleus.
Lastly, we can note the rapid expansion of the curved jet (in the direction of the sun). On May 9, this jet is twice longer than on May 7.
This dust ejection doesn't appear at each nucleus rotation, so it's certainly an unique and an exceptional phenomenon.


8/30/02 HALE-BOPP COMPANION, 12TH PLANET, PLANET X and NIBIRU

DON'T QUIT YET, PLEASE GO TO PAGE 2
| | |
| --- | --- |
| SIGNS OF AN ANCIENT AND CURRENT COSMIC CONFLICT | |