THE NORLOK-DECODED GALLERY
11/6/1997 13:06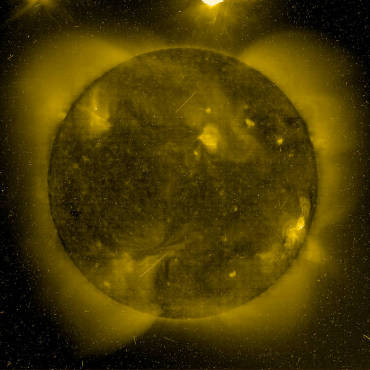 NORLOK: Perseus offers a solution to the riddle

THE ORIGIN OF THE QUEST: AN ENIGMATIC STATEMENT ON SCI.ASTRO
Dear friends, finally I decided to tell the world what I know. We in Russia did know about PLANET X even before IRAS found it. In the early 90ies Russia sent an "officially non-existing" space probe called NORLOK directly towards Planet-X, mainly to trace the exact path to get a better estimation of PLANET-X impact on EARTH.
These photos are made by the NORLOK space probe.
I am afraid that this page will disappear very soon, thus I recommend to copy the images.
Oleg Mandurek
[Note: pixel-bleed or "squaring" on highly compressed jpegs]
8/5/02 11:37:06 AM Pacific Daylight Time
FROM: Kithra K
I did a Google search on it and the term I entered was:
N+O+R+L+O+K * or "N+O+R+L+O+K" [with quotes]
8/23/02 New File "N+O+R+L+O+K" appears in search:
soho.nascom.nasa.gov/sdb/soho/eit/daily_full/199805/efz_195_19980506.045454 [MOVIE]
exactly like that, inside the quote marks. The returns were
interesting in that there were about 8 and they all looked something
like this:
sohowww.nascom.nasa.gov/sdb/soho/eit/daily_full_queue/200111/efr_195_2
0011128.191348
... n o p k m j k l e k i l m k n h j p m o o o i p k k n u o o m l l
k p l f h m j l p p q s p t p p p l h l o k n p l o v m p x o o q q n
s m r p q u n o r l o k ...
101k - Cached
* Pulls up SETI
Also do "k+o+l+r+o+n"
DECODING THE DATA: THE GIMP "N+O+R+L+O+K" GALLERY
| | | |
| --- | --- | --- |
| 195_20011128.191348 | 195_19970202.130352 | 195_19980506.045454 |
| | | |
THIS ORIGINALLY APPEARED ON "N+O+R+L+O+K" THEN VANISHED
1996/08/02.07:24:07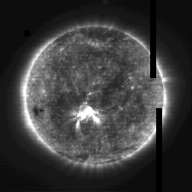 THE GIMP "k+o+l+r+o+n" GALLERY
| | | |
| --- | --- | --- |
| 171_19970902.020957 | 171_19980622.181249 | 195_19961110.194012 |
| | | |
| 195_19971014.071229 | 284_19971106.010620 | 304_19960903.070551 |
| | | |
| 304_19960930.191426 | 304_19970814.011821 | 304_19980509.013031 |
| | | |
THE WEIRD AWARD
THIS ONE TAKES THE CAKE

Link: k+o+l+r+o+n"

What the heck is the glowing mass above the EIT 284 on 1997/11/06 time: 01:06:20.

Examining the EIT 195 movie for the day, we do see a powerful flare at the 4:00 position on the SW limb.

Additional "glowing mass" images from 1997 EITs.

AN OVERVIEW OF EXISTING NEMISIS-NIBIRU-SUPERWAVE THEORY AND SPECULATION
A. Reckless Kent-queries: Is X so dense that we can't see it? *A cosmic plasma scoop? *Dark matter? *Out of phase? *A thing or a force? *Already skulking near? *Behind the sun?
B. James M. McCanney, New Renaissance genius: Eye Opener Planet X Scientist RealAudio Interview
C. THE SUN AS A BARKING DOG THEORIES: "behind" or "beyond" the sun events; worldwide periodical time shift; midnight flares; NASA Planet X studies; Dmitriev theories;
D. Sentinel Findings
E. SunCruisers
F. Mythology and clues from the Ancients
G. NASA abstracts 2 concerning Planet X.
THE NEW DARK STAR PAPER

Planet-X, Comets and Earth Changes

by James McCanney

    Nemisis theory, sun has a binary star
  Perturber theory
  Hazelwood´s theory based around 2001 KX76
  Sentinel´s theory 
 The recent SOri70 theory 
 The Paul LaViolette super wave theories
 Genesis signal, Magnetar, gamma burst theories
 Fucanelli´s Doom 
    V4641 Sgr, closest black hole in outburst
 Supernova Photographed in Earliest Stage
 SNEWS: SuperNova Early Warning System
 The mysteries "forces" in Dark Matter theories
 Dr. Dimitriev theories
  The Phobos Deimos on the loose theories
 Debris seen around the moon theories
     The Vatican Observatory, Malachi, etc.
   Matrix theory: The solar system is engineered, 
ordered, implications of design or manipulation!
[( p­(9/4p).Ln30) - F]­(2p/3) = 20  [note]
 Denise DeLisle, Beltway investigations.
  Mainstream News Reports [1983 Wash Post story]
  NASA abstracts
  Encoded Clues, pointing to Soho data
 Blindsided
   Sumerian Artifacts
 Sun Criusers  Solar Torpedoes
  Time-dilations observed near Berkeley
 Worldwide Periodical Timeshift FORUM ARCHIVES
	

RECENT RELATED ADDITIONS

PLANET X Solar Particle Deflection? You've probably noted that many of the larger prominences, from the south solar pole, are repeatedly being deflected to the right of the field-of-view at roughly a minus 15 degree down-angle. 2).
| | |
| --- | --- |
| | THE JUMPING SUN |
(Planet X / 12th Planet) Independent Report By: Charlie Parker
RECENT EMAIL EXCHANGES KENT Replies in silver highlight:
8/25/02 7:27:34 AM Pacific Daylight Time

Could SOHO's increasingly number of tracking errors possibly be due to
contention generated in it's guidance systems by an steadily increasing
gravitational influence that's in direct opposition to the Sun's? If so,
if we start losing a lot of "birds" this fall, it will provide valuable
supporting evidence for the Planet-X theory.

RE: Using Gimp to decode and IF I have decoded correctly

Link: k+o+l+r+o+n"
http://www.google.com/search?q=%22k%2Bo%2Bl%2Br%2Bo%2Bn%22&hl=en&lr=&ie=UTF-8&filter=0

1997/11/06 01:06:20
http://sohowww.nascom.nasa.gov/sdb/soho/eit/daily_full/199711/efz_284_19971106.010620

This wins the weird award
efz_284_1997sm.jpg
[What the heck is the glowing mass above the EIT 284 on 1997/11/06 time: 01:06:20?]

Examining the EIT195 movie for the day, we do see a powerful flare at the 4:00 position on the SW limb.
http://lasco-www.nrl.navy.mil/daily_mpg/1997_11/971106_195.mpg

Kent
----------------------------------------------------------------------------

Strange, but could be reflection of sunlight at the border of the
telescope. But why only in one special image then?
-------------------------------------------------
We have seen "roving masses" near the sun prior.
1. NASA's "Mystery gas keeps heading for Sun"
http://www.ananova.com/news/story/sm_454631.html
sunspot380x452.jpg
NASA explanation

2. My own find, "Dark Entity"
sun/9-29.html

3. Likewise on the 011128_dit_195.mpg movie (found as a result of the NORLOK investigations--clue from "N+O+R+L+O+K")
See:
11/28/01 EIT 195 CAPTURES
mnorlokx.htm
specifically:
cap01x.jpg

-------------------------------------------------


BTW, you can use "right mouseclick on image" in GIMP and then Menu
Image->Colors->Levels to auto-adjust the grey-values to better see dark
contrasts.

----------------------------------------
Thanks. I did stretch the image using Photoshop. The first image just showed this:
blkspot.jpg

-------------------------------------------------

The Sun-jumping around on August 20 (especially EIT 304) is really weird
and cannot explained so far in my opinion. If you take a look at
http://lasco-www.nrl.navy.mil/stars/sunpos.html you will read

"The plots also indicate variations in the X and Y positions of the Sun.
However the variations are so large that we must be very careful before
believing them, since we know that the spacecraft doesn't experience such
large variations, our own pointing eyes (the PES and boresighters) and the
images themselves don't show those excursions."
So it must be a failure of a gyroscope or something unknown hitting the spacecraft heavily.

-------------------------------------------------
A wild thought might be that space itself is rippling, bent light
see: PLANET X Solar Particle Deflection?
pxdeflect.htm

Note, Nemesis Theory: we could instead implant Dr. Muller, Dr. Alvarez Nemisis theory: Could the sun's binary twin be causing quantum effects along the magnetic tether that binds the pair?

Kent
REMAINING QUESTIONS AND CALL FOR RESEARCH
Although we don't have all needed reference movies and supplementary data, some of the NORLOCK files seem to portray the sun during periods of extreme or events-anomalous.
| | |
| --- | --- |
| | A. Why do so many mega-regions cross the face of the sun without event, and yet they seem to go ballistic upon entry at the eastern limb and when setting on the western limb? |
| | B. Why would a powerful event on the backside of the sun send a blast of proton particles toward earth? |
| | C. What are the Dark Entities seen defined in the solar plasma |
| | D. What causes a gaseous mass to move towards the sun? |
| | E. What causes solar flares to shear or bend, sometimes at right angles? |
| | F. Is a force from beyond jostling the SOHO mechanism, rippling space or bending light? |
| | G. What mysterious force is killing our spacecraft? |
| | H. What is perturbing and heating up even our most distant planets? |
Subj: What are the Dark Entities seen defined in the solar plasma?
Date: 8/27/02 2:50:23 PM Pacific Daylight Time
Answer: The core or stars harmonize with Unified Field Energy. Meaning they are connected on a gravitic web, or wavelength. Any thing on the energy level of unified field travels as fast as gravity, or faster. This is a dimensional level that is pure energy, (tachyons).
(not using a star)
A mass traveling at the speed of light weighs an infinite amount, now convert that mass to energy, and then back to mass, and decelerate...all following the gravitic web between stars, and to a lesser degree planets.
(using a star)
Now, these masses you see exiting from the Sun use the same principle as described, but use stars as portals for FTL travel, eliminating the need to excellerate to light speed. It is called "Star Jumping"
UPDATE
I´m just wondering, why would nasa have encrypted files on planet x?
8/28/2002 4:24 PM
Re: norlok//conspiracy...that´s why
Dear Conspiracyboy and Everyone else;
I have an interesting "scientific american" article here. It is about a planned 2006 plan for a satellite-space-voyager-craft to go exactly to the realm that all ´PlanetX´ people are watching, the KuiperBelt. The Kuiper Belt is a band of rocks orbiting the solar system, maybe more like a cloud i guess, but a flattened one. From it´s materials were definitely formed some of the outer known solar-system objects, they believe. I do too,(this is ´neutral´ info)
The planet pluto, indeed most of the KB objects contain extremely high quantities of "organic" compounds. This "New Horizon" craft NASA is begging money from congress now for, is headed for the binary planet Pluto-charon. The moon ,´charon´ is half the size of pluto. The only problem with all their theories, is that the number of Kuiper Belt objects there should be is double what they can find.
the following quotes i´m transcribing by typing from the May´02-Sci-American:
_______________________-
of computer-study of the data:
" We that the ancient Kuiper Belt must have been approximately 100 times as massive as it is today to give rise to Pluto-Charon, and the other KB objects we see. In other words, there was once enough solid material to have formed another planet the size of Uranus or Neptune in the Kuiper Belt."
__________ see that? U + N are large__
" The same simulations also revealed large planets like Neptune would have naturally grown from the KBO´s in a very short time, had nothing disturbed the region. Clearly, something disrupted the Kuiper Belt at about the time Pluto was formed, but we do not yet know the cause of the disturbance. Perhaps it was the formation of Neptune near the Belt´s inner boundary. Did the planet´s gravitational influence influence somehow interrupt the creation of another gas giant farther out?"
____________ note the grammar error in the last sentence, sounds like he´s stutterin´ eh?_________
8/28/2002 4:33 PM
Re: norlok
Sorry , let me finish my thought.....
They are keeping encrypted files about norloc because they´re liars, soft comfortable liars who dread having to throw up there arms when the cushy lay-off happens exclaiming about their holy f___g mortgage. They are wannabe "big-pigs" perhaps.
It´s all relative. There´s real aliens, here´s my proof: [url] but that doesn´t really matter does it, because the aliens hanging around earth are just pilots. The real "leader" aliens are all up there padding around the warm mothership in big bunny slippers.
http://members.shaw.ca/cbertok4/home.htm
| | |
| --- | --- |
| | Please help the effort |