SUNCRUISER DEMO
Frame with Mars [left] SunCruiser [right]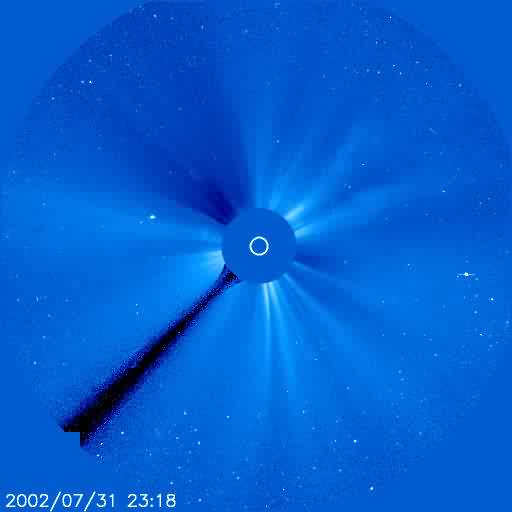 Enlarged and Labeled

Enlarged SunCruiser

Following Frame [No Cruiser]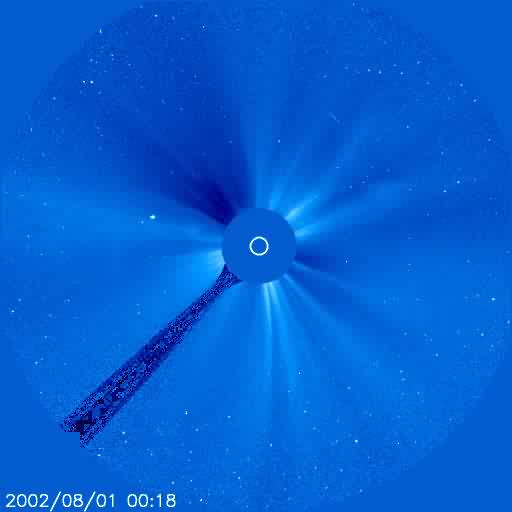 Star Chart [both Mercury and Jupiter are now way out of C3 aperture]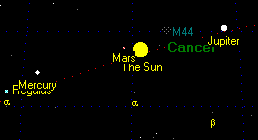 INQUIRY:
In a message dated 8/2/02 10:32:51 PM Pacific Daylight Time, Anon writes:
Regarding the 'sun cruisers' on the Orbits site I showed clearly that these were planets. The saucer shape is caused by the extremely bright sphere overloading the CCD imager causing pixel bloom. That is why the linear part is always horizontal in the images.
KENT:
The "cruisers" still appear on single frames, not particles, not planets, but objects with CCD wings that reflect light.
Here I'll find you one in recent SOHO-- this one on the 7/31/02:
http://sohowww.nascom.nasa.gov/data/realtime/javagif/gifs_small/20020731_2318_c3.gif
Okay, here is the demo, a good one because we can see both Mars to the left and Suncruiser to the right.
7/31/02 Mercury and Jupiter were now out of the SOHO aperture. Mercury left the SOHO field on 7/28/02 and Jupiter left on 7/30/02. Could we be seeing a Jupiter moon? I seriously doubt as a result of examining adjacent frames. The anomaly appears with the intensity of Mars, CCD wings included, and then vanishes.
Another Event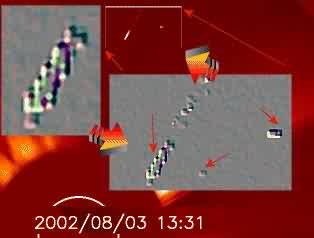 Another at 8/1/02 16:18 Mars above, Cruiser below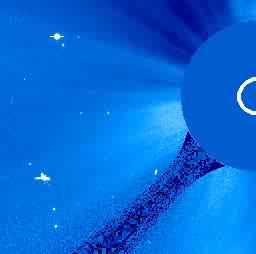 More Strange Stuff, sometimes the cruisers appear in fleets
ORBIT RINGMAKERS OF SOL
Also we have seen MANY more startling anomalies beyond the solitary SunCruiser: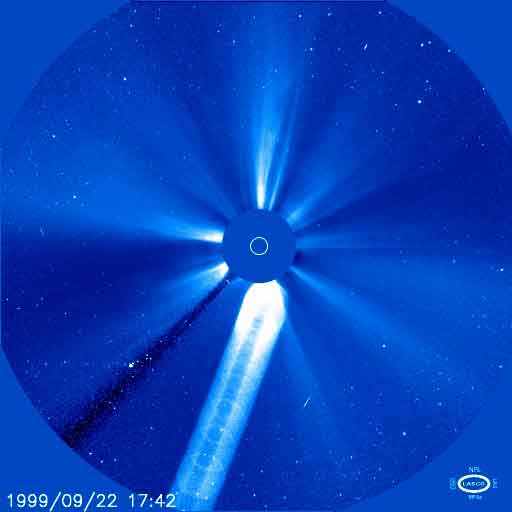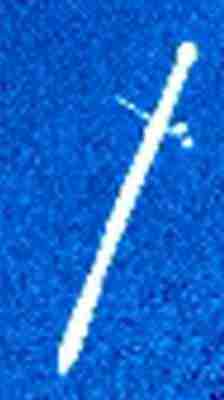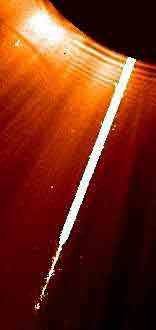 Note: the term, SunCruiser, was coined and discovered by Elizabeth Edwards, a momentus find.