9/4/01 SOLAR TORPEDO
Readers: help get this data circulated! We need answers!

| | | |
| --- | --- | --- |
| | | ALERT: 9/4/01 10:30 PST; SOLAR TORPEDO REALTIME NOW ON C2 & C3 5: 00 LOC. PAST TORPEDOES SUNCRUISER ON 16:58 |
MOST CONVENIENT BAKEOUT DAY FOLLOWING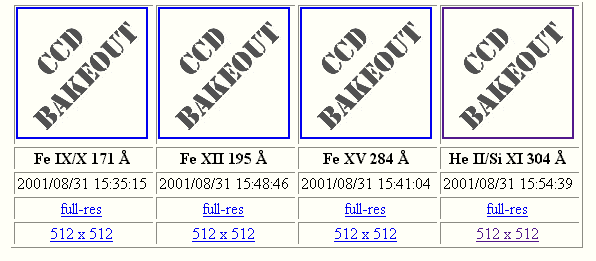 CUTTING THE FEED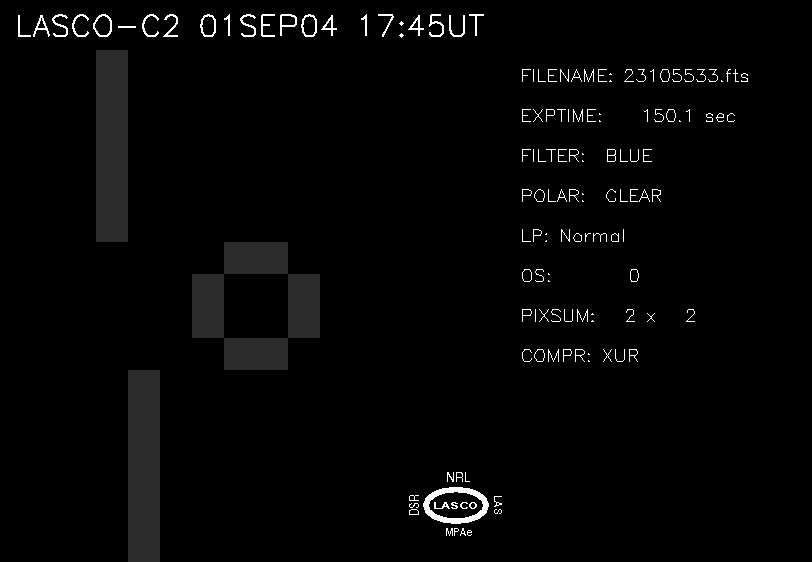 NASA SPOOKS CUT THE TAPE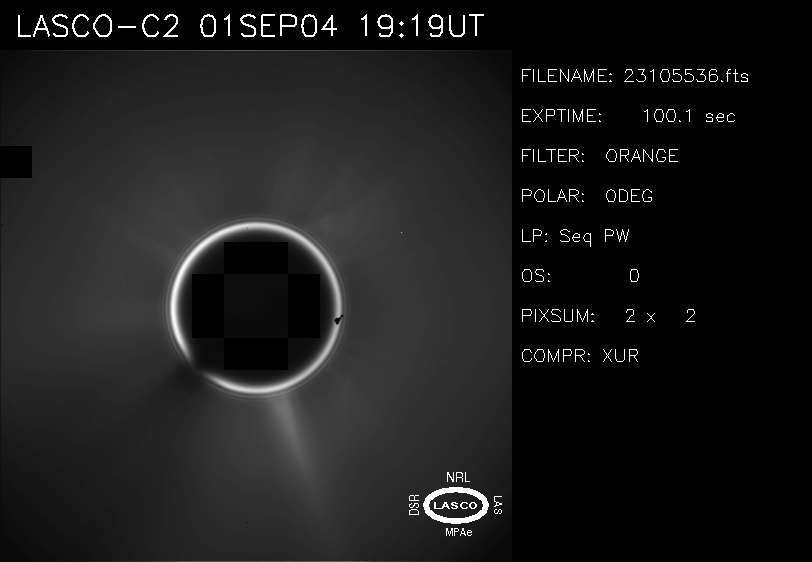 Date: 9/4/01 11:15:45 AM Pacific Daylight Time
They are just editing it out, not even trying to use a fake image. Man, this must be serious.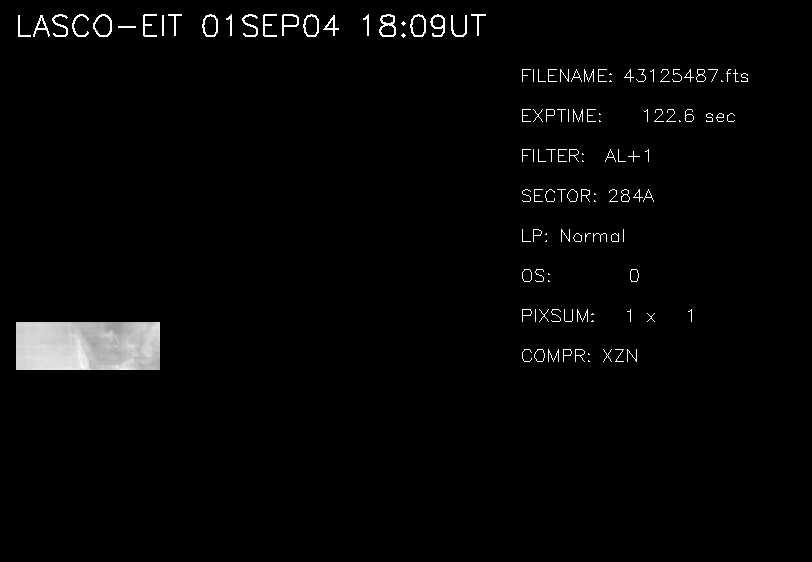 SOLAR DISC AT TIME OF EVENT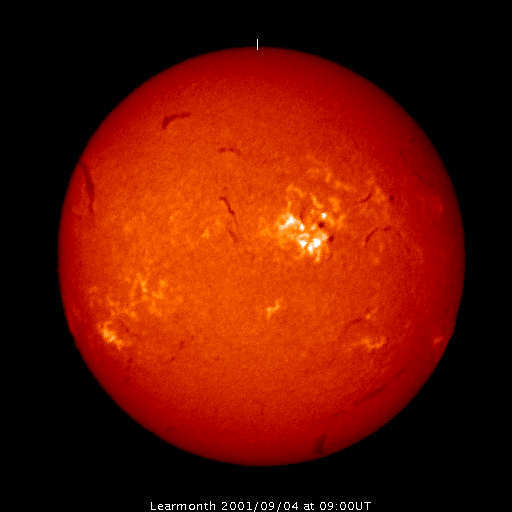 TRACE UP-CLOSE CENTAL SUNSPOT AT TIME OF EVENT

IMPACT? 8/4/01 20:02 [Keep watch on C2 on the 5th for gahloop--KAHBOOM, scientificallyyy speaking].

| | | |
| --- | --- | --- |
| 9/2/01 19:55 | 9/5/01 02:34 | 9/5/01 12:25 |
| | | |
FIRST REACTION

THAR SHE BLOWS!

| | |
| --- | --- |
| Current 9/4/01 | Event 1998 |
| | |
THE TAKE AT SPACEWEATHER.COM: KAMIKAZE COMET
ANOMALIES BEFORE AND AFTER
BEFORE EVENT 9/3/01 19:06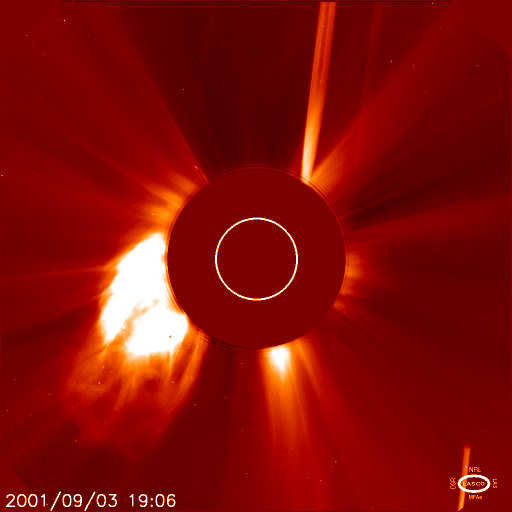 AFTER EVENTS MONOLITH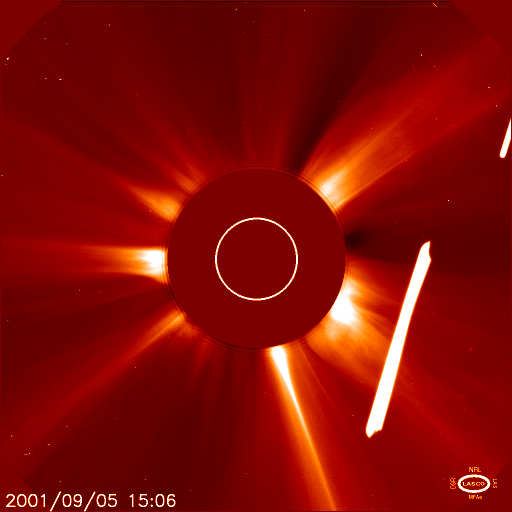 Subj: rogues page
Date: 6/1/00 5:24:02 AM Pacific Daylight Time
From: gurman@gsfc.nasa.gov (Joseph B. Gurman)
To: bardsquill@aol.com
Hi - You certainly have an interesting collection of non-solar, non-cosmic ray features observed by the SOHO LASCO coronagraphs on your: rogues.html page.
I believe the LASCO team all agree that they are foreground features (i.e., not solar in origin), though I don't recall hearing much serious speculation on their origin. The length of the various tracks is a reflection of the objects' apparent motion during the LASCO exposure times (typically 12 - 25 seconds). Some of those that appear clearly to be out of focus have been estimated to be only a few meters in front of the SOHO spacecraft, and are therefore probably debris from the spacecraft itself. The sharper-appearing features could, however, be much farther away.

WIO'S ENHANCEMENT OF THE 3/27/01 SOLAR TORPEDO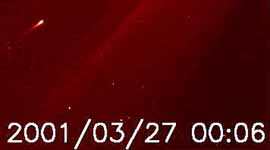 We now need confirmation, that this artefact is not deliberatly placed there by hoaxers. Also an exact measurement is required. Anybody who has information on this artefact, please write me or Kent. More

H.Isenberg@ping.de (Holger Isenberg) bardsquill@aol.com (Kent Steadman)
Two similar such anomalies appearing on separate frames, never seen before. Gives me the creeps!
Mass Sighting of Meteor Over Northeastern U.S. Reports
OTHER RECENT SOLAR WOWSERS
ANOTHER STARGATE?

UPDATE: VOICE FROM WITHIN THE MATRIX SUNBLASTS AND CROP CIRCLES

ANOMALOUS BLAST
Date: 9/4/01 8:49:37 PM Pacific Daylight Time
I see that the there's some "debris" around the cruiser that could be interpreted as a "trail" or "trajectory", i.e. indicating its direction of movement. In the next frame 2036 (conveniently, 4 hours later, as some frames have been omitted), there is a clear overlay on the picture where the cruiser might be if it were following the indicated trajectory. And in the 3rd one 2106 a third overlay block might be concealing the cruiser's location at a further point along the trajectory.
What do you think? Good work
Date: 9/4/01 11:49:13 AM Pacific Daylight Time
Truly unbelievable. What could be so top secret that a comet's approach to the sun causes the shutdown of Lasco and EIT images on the internet?
Not only is the NASA site "Frozen" (not updated), but on the Navy site we get obvious intentionally edited images. They even went so far as to swing the EIT imager away from the sun at one point.
Science is being killed off here.
Date: 9/4/01 1:55:10 PM Pacific Daylight Time
Navy Just updated C2 with a 4 hour data gap...once again we missed the whole thing.
20010904_2106
20010904_2036
Missing data, watch it come back digitally airbrushed. Lilly-livered Lillipution lizzies!
20010904_1658
20010904_1605
ARCHIVES: 5/2/00 11:48:23 PM Pacific Daylight Time
Kent my source is standing right here and has seen as well as first hand knowledge that Lockheed Martin (Martian!!) in 1997 implemented a special project that is currently being played out. This person is a former employee of LM and has also seen similar documents while working at an airforce base that can not be disclosed at this time for reasons of personal safety.
LOCH MARTIN

SHENANIGANS

Them bloody Buccanners cut the flippin anchor chain!

NASA New Millennium Problems and Solutions

| | |
| --- | --- |
| | Gulp a pint o' Poteen for Queen's-Admiral, Robbie McInnymon, Chief Leprechaun, Master o' Moolarchy |

Top o' th' Morn'n to ya Feddies and Feddettes, ORBIT-fans: Treas.gov., Lucent, Motorola, NIPR, Boeing (a gazillion hits alone).

COUNT TELLER-ULA

What A-bomb-inations have the old Drac and his Cave-Bats been conjuring?