Date: 5/29/03 9:06:28 PM Pacific Daylight Time

Hi - was searching for places to send these pics too - I can't post em anywhere. Have a look - taken this morning in Victoria Australia. On a 35mm transparency film, and scanned by a friend. Zoom in and look at the blue colour channel - unreal. It looked more red with the naked eye - will get filter 2morrow. More pics 2morrow (or 2night, but sunrise is best for this brown dwarf). J. in Australia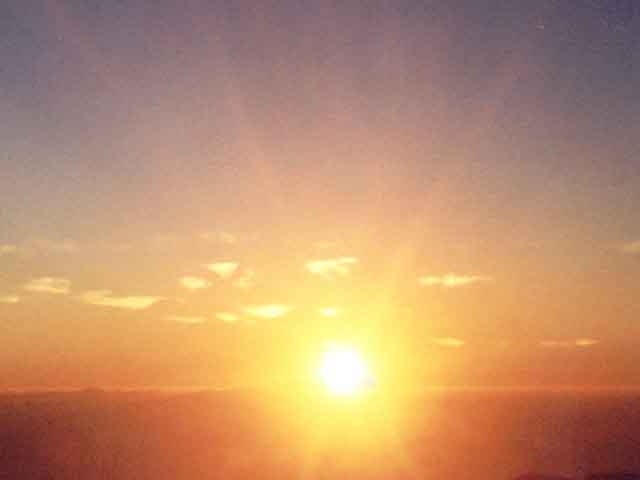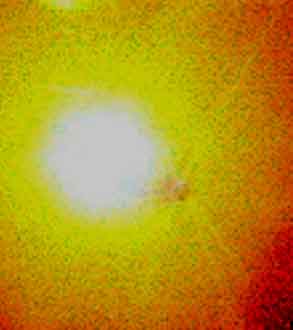 | | |
| --- | --- |
| Black & White Detail | Black & White Detail [Inverted] |
| | |
Original zip file, images .pct format Brown Dwarf Gliese 229
THE QUEST CONTINUES

J. in Australia, please reply to emails, thanks.

SLEUTHS: We might poke around the Learmonth Solar Observatory for images and data although sites seems awkward to navigate: Notice the image [left] shown under title, "Current Solar Images and Text Messages."

FORUM: 6/1/2003 6:55 am EDT Re: Email: PX photos from Australia

ANOTHER PIC Found this at a Euro forum. Can see a black dot in the reversed pic. Any ideas guys? PS: keep up the good work people.
Subj: Re: PX Pics!!!
Date: 5/29/03 11:29:53 PM Pacific Daylight Time
From: BARDSQUILL
To: j
I posted your data at: australian_px.html [here]
Please send more: make sure you include all details, exposure, filter, time, scan specifics.
By default I do not post name and email addy, but I will do so if you approve. Might help get some corroboration.
Kent Steadman


ADDITIONALLY, FROM ANOTHER SOURCE
CONCERNING: LASCO http://www.spacew.com/c3/c3diff.html
NOTE FROM RESEARCHER:

Date: 5/30/03 7:47:30 PM Pacific Daylight Time

Hi Kent, My theory is as boggled as your's is I am sure. We have been led on too many prop and shoot dog chases as of late. With that said this could be elaborate misdirection so I recommend we not commit to highly to what we are looking at. We cannot deny the correlation present in your photos and the Lasco stills, so if this is for real we would have to assume we are witnessing something "X-like". I am waiting for more corroboration of your photos and to my recent observations as well. I say stay watchful and bring as many eyeballs as possible onto all streams of data and see if we can paint a clearer picture.-- Peace, Storm
Date: 5/30/03 8:26:34 PM Pacific Daylight Time
REPLY: Cool, added statement. Haven't heard back from Oz yet, hard to say what's going on, could be valid, could be a troll, but these LASCO images are a real rub.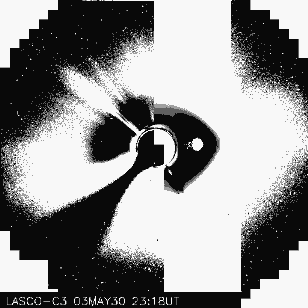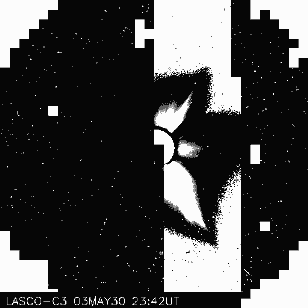 Possible evidence of Photoshop tamper on the blue filter public release, masked areas, clipped, masked [thanks to Perseus for the heads-up]


ECLIPSE CATALOGUES http://www.xs4all.nl/~carlkop/zoneclips/eclipse.html http://www.xs4all.nl/~carlkop/zoneclips/images/dewaal.jpg http://www.minorplanetobserver.de/sofi/sofi1.jpg http://community.webshots.com/album/75089621mnQoSK?973
| | |
| --- | --- |
| Sol Environment Seattle 5:00 PM PST 5/30/03 | Sol Environment Seattle 5:00 PM PST 5/29/03 |
| | |
BARDSQUILL: Got some wild pics from Oz, now getting weird verification on LASCO dif
BARDSQUILL: but...
BARDSQUILL: how does the annular eclipse work into all this? Jus sec still loading
BARDSQUILL: ok
australian_px.html
ONLINE ASTRO: the eclipse will show x???
BARDSQUILL: so is that lil dingy anomaly the freakin moon, something all screwy here
BARDSQUILL: I know, I'll see if I can find the eclipse on SOHO
ONLINE ASTRO: well it isn't our moon
BARDSQUILL: good, glad you said that
ONLINE ASTRO: reason being our moon would be the same size as the sun
ONLINE ASTRO: if it is something to be looking for you need to watch it for a space of 30 mins
ONLINE ASTRO: and calculate its speed compared with the sun
BARDSQUILL: can't find the freakin eclipse on SOHO, spacecraft must be in an alternate position
ONLINE ASTRO: this way you maybe able to check if it isn't lense glare or something called ghosting
ONLINE ASTRO: yeah its beyond the moon











SOLAR TORPEDOES


TORPEDOES FROM EARTH
STAR WARS?

WARS IN HEAVEN AND ON EARTH CROSSING THE THRESHOLD FULCANELLI [notes] THUNDER BIRD WINGMAKERS VULCAN, COMETS AND THE IMPENDING CATASTROPHE

| | |
| --- | --- |
| | TECHNICAL ANALYSIS OF PHOTOS |
I just went ahead and posted it on my site if you wish to download it or look at it.
http://www.thinkbigdesigns.com/PXPerhaps.jpg
It's hard to be 100% sure with a 72 dpi image, but as far as I can tell, it hasn't been tampered with. All extraneous noise is consistent to the surrounding image. Any airbrush work or attempts adding noise with Photoshop would result in a very harsh and alien looking distortion in one or more of the filters and adjustements.. Very interesting photo indeed. I'm assuming whatever it is has now moved behind the sun entirely, since it's safe to assume it was the same body seen in the UCLA webcam shot. Makes sense the three day progression between the shots towards the sun has it now behind in line with the eclipse.
I also animated the observatory images if you want to have a look. What I thought was a piece of dust to the lower right of the rising anamoly follows the path of it and disappears behind the clouds. Could be a reflection, but it's there before the sun rises, so it wouldn't account for a refraction from there, but perhaps it itself is causing a refraction, or it could be debris.
http://www.thinkbigdesigns.com/PX.html
Whether or not if it is planet X, it is still a hell of an exciting time to be on Earth. I look forward to continuing my visits to your site. Thanks.
J. G. http://www.thinkbigdesigns.com
storm 5/31/2003 3:50 am EDT
Kent and all check out my comparison of sun and "object" by sizing the sun in each the same size and increasing/decreasing object size in direct proportion. Pretty interesting. http://groups.msn.com/humantrophy/yourwebpage.msnw