Commerce Department tells National Weather Service media contacts must be pre-approved
The tail of Rita as she moves out to sea
Satellite images confirm mystery glow in ocean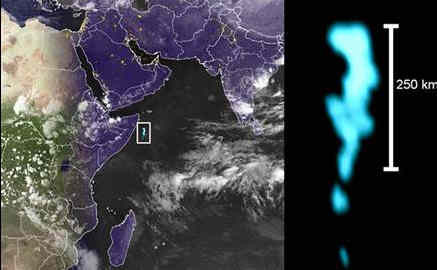 LOU DOBBS-SCOTT STEVENS Experts: Future of Big Hurricanes Looms
SCOTT STEVENS INTERVIEWS

LISTEN 06/20/05 01/09/05 12/12/04

UPDATE: Scott Stevens quits KPVI-TV NOTE: Mr. Stevens remains undaunted in his quest, a very brave individual!
NOTE: weather manipulation as a land-control tool

map 3.5 2005/09/30 14:59:36 44.585 -116.044 5.0 SOUTHERN IDAHO


ARCHIVES: ANGELSWORDS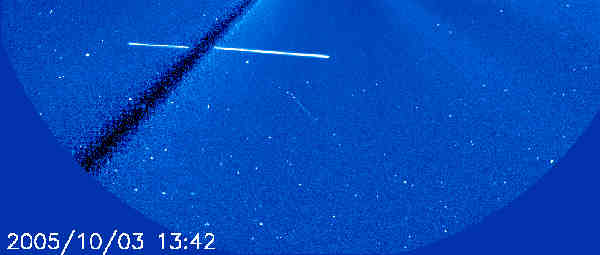 SOLAR TORPEDO MPEG

TORPEDOES FROM EARTH


Plasma Effects within the Solar System
SOLAR INDICES RISING SOLAR ECLIPSE GRB 051001A
Fellow Seekers, Since launching the Binary Research Institute website a few years ago, we have continued to research the possibility that our Sun might be part of a binary star system. This includes investigating a number of issues related to the Sun's motion, and the methodology of finding other celestial objects.
Nemesis: Does the Sun Have a 'Companion'?
Swift Spacecraft Solves Mystery of Short Gamma-Ray Bursts




Bush: God told me to invade Iraq Palestinian foreign minister Nabil Shaath says Mr Bush told him and Mahmoud Abbas, former prime minister and now Palestinian President: "I´m driven with a mission from God. God would tell me, ´George, go and fight those terrorists in Afghanistan.´ And I did, and then God would tell me, ´George go and end the tyranny in Iraq,´ and I did." An Earlier Empire's War on Iraq
Tom Heneghen Reports Movement Within Chicago Federal Court In Upcoming Indictments Of Bush Administration
Uhoh!!! Indictments as soon? Rove missing from White House events; Word on Hill is that he has been told he's target of probe No Immunity: Rove to Testify Again
Senate Defies Bush on Torture Bush White House declares torture vital to US security policy
MEANWHILE BIO ALERTS! Scourge, Scare or Scam?
Bush Wants Right to Use Military if Bird Flu Hits

Pres wants to control Guard So there it is. He's finally dropped the long awaited bombshell. It is no longer in the realm of paranoid speculation by "conspiracy theorists". The President has openly said we wants the power to assume direct command of the National Guard, use Federal troops in violation of the Posse Comatatus Act and have the ability to declare martial law.
Six more confirmed dead from mysterious outbreak at Toronto seniors' home Legionnaire's disease
Plane Carrying Viruses Crashes in Canada 2 Subway security boosted in response to threat 2 3
"In the event that I am reincarnated, I would like to return as a deadly virus, in order to contribute something to solve overpopulation."--Prince Philip
| | |
| --- | --- |
| | Some very bright thinkers and so-called humanitarians and New Age industrialists (such as Maurice Strong) are linked to some highly influential bodies such as the Bilderberg Grp, The Club of Rome, The World Wildlife Fund etc. And of course, the Neo-Cons are almost frothing at the mouth regarding wiping out sections of the population for God Jesus and endless profits, both globally and in America...in the 23 years since Kissinger inserted Prince Philip's genocidal agenda into the U.S. national security doctrine, the World Wildlife Fund and its extended eco-fascist apparatus has been responsible for unprecedented levels of genocide in Africa, Ibero-America, and other vulnerable spots on the planet." |
Depopulation and eugenics are closely entwined with the Powers that Be. So, its another reason to be less surprised - but no less horrified - that the black population of New Orleans were left for dead as a matter of course. Kaminski is right: this is a huge symbol for America and the world in more ways than one--Submitted by Stanley on Fri, 09/09/2005 - 11:05pm; The Daily Grail

CROWN CONNING THE GREENIES: But to persuade the public that BP is no rapacious multinational, that it is instead an organization thinking first and foremost of the public good, may not come so easily... Bucaneering the Alaska oil Oceans and the Law of the Sea Amerikan Expose BP JINX ONGOING
INTERESTING NOTE: Bird flu> Vaccine Tamiflu> Roche> Chrmn. Franz B. Humer> Bilderberg
DeLay Now Indicted for Money Laundering Abolishing the USA
Lady Thatcher embroiled in US corruption probe 2 The US Justice Department is seeking to question Baroness Thatcher as part of a high-level inquiry into allegations of a "flights-for-favours" corruption scandal at Congress.Officials have asked the Metropolitan Police to question the former Tory Prime Minister over a meeting she held with leading Republican Tom DeLay in the UK in 2000
Oil at $0.00 per barrel Is 'Peak Oil' a put on? 2 US Forces 'Out of Control,' Says Reuters Chief NY Times Reporter Breaks Silence in CIA Leak Case Bird Flu Outbreaks Reported Bali Bombings Leave 22 Dead, 50 Injured BALI "SUICIDE-BOMBERS" CAUGHT ON CAMERA Buying of News by Bush's Aides Is Ruled Illegal Chavez: Venezuela Moves Reserves to Europe Explosion Kills One at University of Oklahoma Rare Germ Found in D.C. During Protest Days Both right and left wary of giving domestic police power to military
KATRINA: THE STRAW THAT BROKE THE CAMEL'S BACK?
Careful Not to Get Too Much Education...Or You Could Turn Liberal
WATER FUEL! Stanley Meyers http://www.hydropowercar.com/request.php?11 http://www.hydropowercar.com/request.php?13

MAINSTREAM GOES UFO: UFO landing strip gets mayor's support
| | |
| --- | --- |
| | '10th planet' has moon companion The moon is the small dot just to the right of Xena The astronomers who in July announced the discovery of a "10th planet" in our Solar System say the object has a moon, Gabriel |
POROS, Island of Kefalonia, Greece - The tomb of Odysseus has been found, and the location of his legendary capital city of Ithaca discovered here on this large island across a one-mile channel from the bone-dry islet that modern maps call Ithaca. More NOTES
The amazing cave people of Malta Dragon-shaped Flying Object Appears in Jilin Province

The Surfing The Apocalypse Network Freedom Crow's Nest Elaine's New forum GLP
Supernatural Minds Home of the greatest minds in the world

UPDATED: WORLD NEWS 2005 The truth is rarely pure and never simple
.
.