9/20/2005 4:11:42 PM Pacific Standard Time
this wind chart has a flat line 135. it's impossible. look all other wind charts, they vary. they are statistical probability models, ... i can't make conclusions such as 'the wind is so high it's off the charts" or ... but it is clear this wind chart is NOT normal. either it is faked, or their models are not working..
Help me out with your interpretation of these charts, so many of them. What are you piecing together?--Kent
-----Original Message-----
In a message dated 9/20/2005 3:00:00 PM Pacific Standard Time,writes:
i can't prove yet but they are lying about this storm. look wind chart!
http://www.nhc.noaa.gov/refresh/graphics_at3+shtml/205128.shtml?chart
------------------------------------------------------------------------------
9/20/2005 5:49:44 PM Pacific Standard Time
Hello again,
This web site is interesting: http://www.apfn.org/apfn/camps.htm
I had found something of interest on this site. The attached JPEG is from this web site and is about half way down the long page.
I mentioned that I recently moved from Ventura, CA to Idaho, and weeks before I was due to leave at the end of August, I said to a few people: "You wait and see, something or some event is going to happen so martial law will imposed, I don't know when or where or what, but it will happen."
So look what happened and I feel it's going to happen again and I feel in SO CA.
I know I'm not the only one that might have thought such a thing, it's fairly simple deduction.
But I do have another 'gut' feeling.
Voting.
Where will the 'displaced' people of hurricane Katrina VOTE? ah.... who will benefit the most for such a voter disruption?
Ok, this should be interesting when the time comes and again: "You just wait and see." (ha)
I'm keeping my eyes to the sky and yes there are some interesting events in this Pocatello, ID area. Tell me what you think?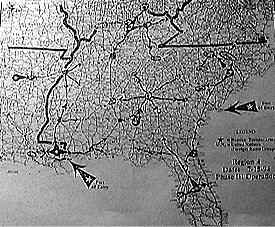 ----------------------------------------------------------------
9/20/2005 6:31:56 PM Pacific Standard Time
comparison of katrina and rita near Dry Tortugas (google) which controls approaches to gulf and is a key temperature change point in evolution of 'canes. based on this , Rita is cat5+ but will miss NO. most likely will bore up houston ship canal. turn north should be SHARP and first casualties will be oil traders with big short positions; sharp narrow spike in oil price possible.
http://fretco.com/fr/kat-rita.jpg

-----------------------------------------------------------------
Subject: OKAY EVEN THOUGH I AM A FAN I AM IN L.A. THIS IS SERIOUS, PHONES RINGING OFF HOOKS NEWS CENTERS STRANGE SMELL
Date: 9/20/2005 10:56:25 PM Pacific Standard Time
well that explains it, theres a strange smell like the sea over L.A. and phone are ringing off the hooks all over news centers. Its freaking people out, they cant even explain it.
----------------------------------------------------------------
9/21/2005 9:42:31 AM Pacific Standard Time
Kent, Someone suggested I send you these three satellite images that I got from a site this morning.
#1 picture of Rita this morning the eye is SQUARE, straight lined walls, not round like normal, also has spoke like lines coming out from the center, a pinwheel design and a clear signature of scalar electromagnetic weaponry [puffy clouds are all square]. Inside the eye are a series of lines which are hexagon lines starting to form.
#2 picture in the 5 o'clock area just below the eye, a group of square digitized clouds, another clear signature.
#3 picture, clear hexagon eye on Rita. This all started this morning when it was a category 2, and jumped to category 5 in about 4 hours time
Hurricane Rita Discussion Number 15 Statement as of 5:00 am EDT on September 21, 2005...the reconnaissance mission scheduled for this morning was scrubbed due to electronics problems on multiple
----------------------------------------------------------
9/21/2005 10:51:05 AM Pacific Standard Time
http://jmccanneyscience.com/sh09-08-05-7megfile-bestsound.ram
This is a writeup on that show from IAHF.com
SCIENCE EXPERT ALLEGES KATRINA WAS STEERED TO DELIBERATE LANDFALL
Hurricane RITA, which threatens to become a category 5 hurricane, is on a collision course with the Texas coast and it could have a hugely damaging impact on oil refineries around Houston
http://headlines.accuweather.com/news-story.asp?partner=accuweather&myadc=0&article=0
If it does, our country could be thrown into economic turmoil and martial law could be declared nationwide as our cities would descend into chaos and rioting because our whole society is built on a foundation of oil. I hope this does not happen, but having just relistened to an archived radio show that I originally heard two weeks ago, this time to take notes, In light of Hurricane Rita now bearing down on the Texas coast, I feel concerned enough to urge you to listen to what McCanney has to say at http://jmccanneyscience.com/sh09-08-05-7megfile-bestsound.ram
----------------------------------------------------
Subject: Rita develops 2 eyes
Date: 9/21/2005 10:13:48 AM Pacific Standard Time
This is a post at GLP - check it out
http://www.ssec.wisc.edu/data/us_comp/us_comp.html
http://www.godlikeproductions.com/bbs/message.php?message=159486&topic=3&showdate=9/21/05
--------------------------------------------------------
9/21/2005 4:43:35 PM Pacific Standard Time
been watching rita... just found a good shot of katrina, im curious about the left side of the shot- is that interference or not.... ive seen moire (frequency pattern) clouds before... never like that, but it wouldent be hard to do. anyhow- ive never seen interference from sat. shots...
http://www.osei.noaa.gov/Events/Current/TRCkatrina-zoom240_N6.jpg
curious your thoughts. either way that pic is full of evidence....
--------------------------------------------------------
9/21/2005 5:20:17 PM Pacific Standard Time
Hanging out at Button Bay, Lake Michigan, before relocating to my safe little hide away here in Vermont. Meanwhile, my daughters are in Austin, X-husband in Katy, Texas and friends in Bryan/College Station. I can't seem to read thru the muck, as far as how extremely huge Rita is. I survived Alecia when I lived in Houston, wasn't pretty.
I have lost contact with Katy, but am in contact with the others and have been warning them since Sunday to prepare and stay alert. Not having a good feeling at all, but am in full prayer mode.
whatdyathink?
--------------------------------------------------------
9/21/2005 6:05:15 PM Pacific Standard Time
Kent: I just wanted to share with you a strange thing that happened the other day. I tried to discuss it with my wife because it upset me but she was not interested and barely tolerates this kind of discussion anyway, so here you go old buddy. This is just between us girls, OK?
I had a sudden "vision" (that's the only way I can describe it) the other day, when Rita was just hitting the Keys, where I saw and heard a condensed series of CNN-like broadcast covering a number of days. It was like watching a VCR sequence. In this sequence, Rita builds from a Category 1 to a Cat 2 after crossing into the Gulf and then becomes a Cat 3. The newstalkers initially predict it "may" make Cat 4 by land fall. Suddenly it builds to a Cat 4 and within hours is a Cat 5. The central pressure is plummeting and no longer fits the models. It continues to build and then the unthinkable...it hits some sort of "tipping point" like a runaway nuclear reactor and becomes a runaway storm. It becomes a Cat 6 and the forecasters say there is no such thing but there it is...and it keeps going beyond all calibration, pushing towards what would be a Cat 7. In an expected move, the director of the National Hurricane Center requests and receives immediate air time from the networks and goes on air to tell the people to leave or they will die. He says he is well beyond his mandate to personally issue such a warning and fully expects to be fired but could not live with himself if waited for the slow engine of government to catch up with breaking news.
The Governor of Texas issues dire warnings that all of the Texas coast is a "total destruction kill zone" in which nothing will survive the 200+mph winds and the 30-40ft tidal surges.
You can imagine my horror when Rita today became a Cat 5 and set the all-time record for lowest central pressure at 898mB. Katrina was 902mB. the lower the pressure the worse it is. This is very bad. I hope and pray that my "experience" was just a spontaneous mental construct born of fear.
--------------------------------------------------------
9/22/2005 7:23:34 AM Pacific Standard Time
Hey Kent; First of all, I'd like to say a hello from na eager visitor of your site, keep up the good work.
Now, onto the real business. I read about the Bay City nuclear facility and something is bothering me: The operators of the facility said that the containment buildings can withstand the force of a Category 5 hurricane or a direct hit from a 757 airplane. However, something is still fishy, because those facilities rely on power to sustain safety measures, and in the case of power failure, diesel generators could mantain those safety systems back online. However, I'm currently thinking on the worst case scenario: The hurricane gets stronger, hit the facility, manage to collapse the containment building and the core is damaged, leaking radiation and fissible material. If you remember Chernobyl, high levels of material like Cesium-137, Strontium-90 and Iodine-131 were found across many european countries days after the accident. If regular windstreams can carry that around Europe, imagine what a hurricane can do. It could possibly spread those substances all across the central américa. Now, just to remember, Cesium-137 is highly poisonous, Strontium-90 is a heavy radioactive isotope of strontium having the mass number 90 that is present in the fallout from nuclear explosions and is hazardous because like calcium it can be assimilated in biological processes and deposited in the bones of human beings and animals called also radiostrontium, and Iodine-131 goes straigth to your thyroid, possibly causing cancer and radiation poisoning.
This website has some information on the ammount of radioactive substances provenient from Chernobyl:
http://www.davistownmuseum.org/cbm/Rad7b2.html
More info on the Chernobyl accident (A optmistic view, roughly 20 years after the accident).
http://www.uic.com.au/nip22.htm
According to the information available now, it seems that the accident wasn't THAT bad. Of the 4000 cases of thyroid câncer, only 50 fatalities were reported. Of course, that's because the whole area was sealed and it'll take some time until people can live there again.
Anyway, this is my main concern now. I'll pay more attention to that nuclear plant...
P.S. Don't bother with my bad english, I'm from Brazil and I rarely get to write anything in english.
--------------------------------------------------------
9/21/2005 9:08:27 PM Pacific Standard Time
KS
few speak of the Bermuda Triangle as the place where these killer hurrikanes get pumped to peak.... but, it's a factor in some way or another. Yet the press and other media simply ingnore the connection...
Just watched Bill O'Lielly factor on Fox
he was ripping on our buddy Scott Stevens, basically calling him a kook, but scott did git national airtime, showed his pic, Bill mentioned Yakuza weather control in a happy, "this guys a kook" way.
Don't worry tho, way, way too many people have seen this for what it is, Bill O simply showed his true evil side and ignorance. Anytime anyone promises a no-spin anything, I know they a liar. O'Rielly is a professional liar.
be well Kento
Are these storms part of a bigger sumerian picture?
Raging storms, evil gods are they
Ruthless demons, who in heaven's vault were created, are they,
Workers of evil are they,
They lift up the head to evil, every day to evil
Destruction to work.
Of these seven the first is the South wind...
The second is a dragon, whose mouth is opened...
That none can measure.
The third is a grim leopard, which carries off the young ...
The fourth is a terrible Shibbu ...
The fifth is a furious Wolf, who knoweth not to flee,
The sixth is a rampant Lion which marches against god and king.
The seventh is a storm, an evil wind, which takes vengeance,
Seven are they, messengers to King Anu are they,
From city to city darkness work they,
A hurricane, which mightily hunts in the heavens, are they
Thick clouds, that bring darkness in heaven, are they,
Gusts of wind rising, which cast gloom over the bright day, are they,
With the Imkhullu the evil wind, forcing their way, are they,
The overflowing of Adad mighty destroyers, are they,
At the right of Adad stalking, are they,
In the height of heaven, like lightning flashing, are they,
To wreak destruction forward go they ,
In the broad heaven, the home of Anu, the King, evilly do they arise, and none to oppose.
http://www.piney.com/BabSevenEvil.html
Sounds familiar don't it....
old gods, Djinn - afreet - annuaki etc....
just some ruminations...
Tesshub - weather god, counters to hurricane demons... a diorite composition???
What were the old ones trying to tell us...?
--------------------------------------------------------
9/22/2005 12:57:04 AM Pacific Standard Time
Hi Kent,
We're battening down the hatches here, and hope the hatches are still there when this is done.
If the storm holds course, we'll be near the storm eye wall in the north east quadrant as it comes up the far west side of Houston. If it tracks any further to the east, we'll see the eye, that is if we don't run like hell.
If the HAARP guys aren't too busy, now would be a good time to use the damn thing.
I see you have already linked to KHOU. Neil Frank is the head meteorologist, and is considered the world's foremost expert on hurricanes.
The link below to the storm surge graphics is dramatically descriptive. This links to KPRC in Houston. Watch Storm Surge Graphics http://www.click2houston.com/news/4995385/detail.html#
I have a few other video links @ http://www.futurequake.bravehost.com , to storm prep, and evacuation routes.
Good luck to us all, and God Bless,
------------------------------------------------------------------------------
Subject: Fwd: The Hurricane Effect
Date: 9/22/2005 6:23:18 PM Pacific Standard Time
It's Nature's way of tellng us to change our ways,starting with Iraqnam.
http://community.webtv.net/WF11/ControlDynamics2005/page4.html
------------------------------------------------------------------------------
Kent, I posted a Missle Test Launch (?) off the coast of California just now... Might want to check it out, it's a big one.
http://www.rnabrand.com/mirror_stewed/pic_of_day.html
Not confirmed, but someone mentioned it was a missle.
------------------------------------------------------------------------------
9/23/2005 1:57:17 AM Pacific Standard Time
KENT
LONG TIME NO WRITE
HAD TO WHEN I READ "DR STEPHEN RHEINHART"
SORRY UTTER BULL AND THAT'S FROM ONE WHO HAS BEEN IN THE INDUSTRY FOR NEARLY 40 YEARS.
OFSHORE FACILITIES ARE BUILT TO SURVIVE THE 100 YEAR STORM, A BASIC INSURANCE REQUIREMENT AND ENVIRONMENTAL IMPACT ASSESSMENT REQUIREMENT AS WELL.
ONSHORE FACILITIES BUILT TO SIMILAR STANDARDS. ALL STEEL AND CONCRETE AND DESIGNED TO LET WIND THROUGH. POWER, NO PROBLEM THEY MAKE THEIR OWN. DO NOT USE UTILITY POWER, NO POWER CABLES. CABLES USED ARE IN FIREPROOF STEEL TRAYS OR UNDERGROUND.
I REALLY HATE THIS DOOM AND GLOOM AND NONSENSE FROM PEOPLE SIGNING AS DR, MAKES IT WORSE. ALL PART OF THE PALN TO "EXCUSE" MASSIVE PRICE HIKES AND CLAIMS FROM MEGA RICH CORPS FOR COMPENSATION , FREEDOM TO "REBUILD" AND A WHOLE LOAD OF ASSORTED CRAP.
I WENT THROUGH A 100 FOOT WAVE ON A THIRTY YEAR OLD SHIP. QUITE A THRILL.
MAKE NO MISTAKE THOSE MAKING MONEY FROM THE SHEEP, MAY FIND THE SHEEP EXPENDABLE BUT BY GOD NOBODY OR THING WILL TOUCH THEIR SHARE HOLDER VALUE ASSETS.
HANG ON TO YOUR SERVER.
------------------------------------------------------------------------------
9/23/2005 6:13:08 AM Pacific Standard Time
http://hurricane.methaz.org/hurapak/AAL182005_perf.html
Go to site above for this image and list of accuracy. At least 2 forecasts are needed before display:
Next:
http://joesdiscoweathercentral.com/model2.jpg
------------------------------------------------------------------------------
9/23/2005 7:27:33 AM Pacific Standard Time
Rita in central Louisiana
I will send emails as possible, but the way things are looking this may not be possible. The projected wind speed of gusts is 50-75 mph. That will take limbs and trees down, and power and telephone/computer. Flooding will occur on many streets because they are lower than yards/houses. I should be O.K. where I am, but doing without the above is not going to be an enjoyable experience. Leaving would only complicate matters. All housing is full all the way to Branson, Missouri. The split family just adds to the situation.
Audrey came through here in 1957, so I have a reference point. It got pretty "hairy" for most of the day...plenty, PLENTY of rain, and downed trees due to the ground being soaked. The 3 days of projected rain will add to this situation.
Tornados always form in the northeast quadrant, and this is where we are.
Your prayers will certainly be welcomed.
------------------------------------------------------------------------------
9/23/2005 9:18:49 AM Pacific Standard Time
KENTO
HAVE A GOOD LOOK AT THE TEMP PICTURE POSTED AT THE BOTTOM OF THIS LINK YOU PUT UP.
http://www.nasa.gov/vision/earth/lookingatearth/rita_hot_towers.html
THE HOT SPOT BETWEEN BAHAMAS AND CUBA, IS NOT NORMAL, THIS IS WHERE BOTH KATRINA AND RITA SPAWNED. USUAL IS MUCH FURTHER EAST TOWARDS WEST AFRICA.
NOT ONLY THAT BUT LOOK AT MOUTH OF MISSISSIPPI TO FLORIDA. YOU SEE ACOLD STREAM. THIS NOT ONLY COINCIDES WITH THE DEAD ZONE BUT FROM MY MEMORY THE ROUTE, SQUASHED AGAINST THE BEACH THE FISH CONVOY TOOK. THEY WERE FORCED TO SLIDE SOUTH BY A TORRENT OF COLD WATER FROM THE MISSISSIPPI MAYBE (ALONG WITH POLLUTION IT CONTAINS.
HOWEVER THIS STREAM SHOULD BE VERY WARM NOW, THE RIVER ISSHALLOW, HOT SUN, HOT LAND. MUCH LIKE A WATER PIPE HEATS RAPIDLY IN THE SUN, SO WHY THE COLD CHANNEL.
WE KNOW WE HEAT A POT OF WATER BY PUTTING IT ON THE FIRE NOT BLOWING FIRE OVER IT (THE SO CALLED GLOBAL WARMING THEORY), SO WHAT IS THE CAUSE OF THESE HOT SPOTS. THE FLORIDA CHANNEL BETWEEN BAHAMAS AND CUBA IS DEEP WITH A STRONG CURRENT. CONVENTIONAL WISDOM WOULD SUGGEST HOT WATER FROM GULF OF MEXICO IS MIXED AND COOLED HERE BEFORE BEING SUPPLIED TO THE NORTH ATLANTIC DRIFT RATHER THAN BEING HEATED.
TO THE SOUTH EAST LAY VOLCANOES TWO OF WHICH HAVE BEEN EXCEPTIONALLY ACTIVE IN RECENT YEARS. ARE WE WITNESSING A HUGE MAGMA SPOT WELLING UP HERE?
------------------------------------------------
9/23/2005 11:51:02 AM Pacific Standard Time
Hi Kent,
Hope all is well with you. I posted this on GLP because I thought it to be very suspicious, but only one person responded. Just wanted to bring to your attention FWIW.
Look at the link below. Yesterday 9/22 and today 9/23 the frames in the animation between 3:15 and 6:45 UT are missing. It looks to me like Rita was steered in a more northerly direction both times. Also, Phillipe was going strong at 3:15 on 9/23 then at 6:45 the image is much weaker. What is going on! I´ll be the first to admit that I am not a "scientific type" but why would the frames for those time periods be missing on both days?. Does this coincide with the times the planes electrical equipment failed and they couldn't do their mission. Is there a place to see what happened with Rita & Phillip during these time frames?
http://www.weather.ec.gc.ca/satellite/animateweb_e.html?imagetype=satellite&imagename=goes_enam_1070_m_..................jpg&nbimages=90&clf=1
AC499 responded to my post: Take a look at this loop and notice the almost unatural sudden turn north west.
http://www.ssd.noaa.gov/PS/TROP/DATA/RT/gmex-ir4-loop.html
Of course it is gone now. ( and also): Hi EE I think the time was between 3:15 and 6:45 UT on the 22, the movement seemed to take a sudden north west direction.
It is strange that the time on both the 22 and 23 is the same, unless there is a glitch, but what I saw seemed to be a sudden shift in direction
-------------------------------------------------------
9/23/2005 1:21:58 PM Pacific Standard Time
Hey, Kent, again, I'm so terribly frustrated by the official Federal attitude. New Orleans is just lost. Some Admiral somebody's senior engineer named Steven Brown was interview by Dave McNamara of WWL-TV at the site of the industrial canal breach this afternoon.When McNamara asked the guy what they ( whoever is in charge ) planed to do about this water running over their recently patched levee this guy in essence said that they wouldn't do any thing. He said that their efforts were, right now, focused on the levee system that protects the parts of the city that did not flood after Katrina. Okay, that means we are taking care of the rich folks and the money and all you other folks ( many of whom are homeowners! ) who live in the 9th Ward are beyond out of luck. My first home in New Orleans was on ( of all places ) Flood Street in the lower 9th ward. There are many folks there who own homes and have put their lives into renovating and upgrading their homes.The blatant lack of care or concern for the interest of those citizens is just mind boggling. So, in other words, if you are rich and powerful we will save your interest but if you are the average New Orleans citizen we really can't be bothered because your house flooded three weeks ago so what's another flood?
All my buttons have been pushed. If you take a look at how the bill for the federal disaster funding is going down it looks like the lion's share of the funding would spread out to "host cities" for infrastructure and only about 25% would actually go to affected areas. Something very wrong here as it seems way out of balance. Shouldn't 75% of the funding go directly to affected areas? Or, are we seeing funding supplied to projects that have been in the making for the past 10 years? Hate to go there but it screams out. Can't miss the obvious manipulation. You know, while people still live in their cars and trucks in parts of Louisiana and Mississippi the powers in D.C. are salivating over how the pie is cut up. People still can't get through to FEMA for basic needs.
Good story. My friend in Mississippi tells me that when you do manage to find the Red Cross to sign up for a $ 300.00 relief check they try to discourage you by saying( they say it like it's a threat ) " We warn you that if you sign up for these relief funds you can be certain the Federal Government will know everything there is to know about you." What the hell is that all about? I guess they figure if they freak you out with some Big Brother is watching you threat that you may just walk away and not take the money. I love the Red Cross.
Next, Mayor Ray Nagin is being bantered around the media as a dunce. Last night a CNN pundit called him an "idiot". Nice. The governor, Kathleen Blanco, is made to look like a neurotic nut. Frankly, with the untold pressure and manipulation they have been subjected to, I applaud them for standing firm. The Feds have been relentless and obvious in dismantling their control.
Okay, I'll go. Just still so broken hearted and sad for the uncertain fate of my beloved New Orleans.
-------------------------------------------------------------------
9/23/2005 1:44:11 PM Pacific Standard Time
Kent,
Thank you for your valuable on-going efforts to inform and teach us. Well, done, man!
Here's a link (below) of an eyewitness report from Sept. 23 of 16 airplanes laying down chemtrails over San Antonio Texas. Don't know what's up but that doesn't bode well. Neither does the 300 - 500 mile long traffic jam. Yo, all ya Texan's with digital cameras: WATCH THE SKYS and report in!
Thank you.
http://darkwhite.com/talkshop/geology//messages/3307.html
--------------------------------------------------
9/23/2005 3:59:39 PM Pacific Standard Time
Does it strike you as odd that Bush has suddenly decided to monitor Rita from NorthCom HQ at Peterson AFB, Colorado? When has a president ever done anything like that? Heck, his Situation Room at the White House is as "wired" as they come, so what's with NorthCom HQ? Is this just Bush grandstanding, or is there some other reason to be out of DC tomorrow? Note also that Cheney will be off-line for surgery tomorrow, but apparently still in DC. I say 'apparently' because he really could be anywhere, right? Maybe Mt. Weather.
http://www.terradaily.com/2005/050923195216.xexus1q8.html
-----------------------------------------------
9/23/2005 7:04:48 PM Pacific Standard Time
Gadzooks! Look at Alex Jones' latest missive. Didn't even see it 'til just a minute ago after scouting CTCAM to see what George Noory was going to talk about tonight. Alex is on CTCAM tonight.
http://www.infowars.com/articles/ps/bush_heads_northcom_military_drill.htm
-----------------------------------------------
9/23/2005 7:11:30 PM Pacific Standard Time
Saturday 9/24 the hurricane is in Texas; the Sheehan war protest is in D.C. Bush has run in haste to the Colorado underground site for protection.Why the urgency? Cheney's operation is obviously a sham, since he is in control. Is this the revised plan from August? Are there to be two "strikes" on Saturday, possibly nuclear. One in Texas and one in D.C.?
Destroy the opposition, and create grounds for more war?
---------------------------------------------------------
EGADS! WHAT THE BLAZES IS THIS!
9/24/2005 1:05:17 AM Pacific Standard Time

Hi. I was just browsing around at GLP and found this.

Any idea what those 5 hotspots are? looks pretty freaky. forum link
-----------------------------------------------------------------
9/24/2005 5:04:17 PM Pacific Standard Time
I found all the data to very interesing... those images speak many things about the reality of Weather War... Weather Manipulation.
I was having a conversation with someone, here is a piece of the transcript, her roommate is a hard Hurricane Watcher and Researcher...
He found all these images and information to be... very unusual
Here's the transcript:
Richard Hoaglands new report... He wrote a blog that I was going to Talk about too... I wanted to wait and see what he said first... http://www.enterprisemission.com/weblog/weblog.htm
RESEARCHER A: manufactured by who?
RESEARCHER A: like a haarp thing?
RESEARCHER B: Either Terrorists, or Govt. Agencies... it could be... it is possible... wait, I am posting a new pic of the day with a Radiation Ring, showing outside of Texas, 5 Radiation "Bars"... noone knows what it is...
RESEARCHER A: you posted a radiation ring in **once, it was in california
RESEARCHER A: what caused it?
RESEARCHER B: Yeah... Earth Quake charting, I was predicting big earthquakes, they are concentrating around San Fransicso and out in the desert here...
RESEARCHER A: what is that, the hurricane?
RESEARCHER B: This image shows Rita last24hrsan.gif But those 5 bars don't make sense...
RESEARCHER B: I am posting it on my mainpage...
RESEARCHER A: what are those bars?
RESEARCHER B: No one knows...
RESEARCHER A: was there anything like that with katrina?
RESEARCHER B: I don't even have enough data to pose a theory on what they could be, other than man made or some other type of artificial object or radiation
RESEARCHER A: that is strange too
RESEARCHER B: Ok... this is interesting... Weather Graphs and Researchers have found Hot Towers in the Storm Rita...
RESEARCHER A: i want to see the link
RESEARCHER B: 'Hot Towers' meaning... there is Air that is heated creating columns of warm air inside the storm... it almost points to Artificiality,
RESEARCHER B: On NASA to boot http://www.nasa.gov/vision/earth/lookingatearth/rita_hot_towers.html
RESEARCHER B: Wait a minute... they could create that by using Both EM and Microwave radiation... ok... I am starting to see it now, I see how.. the science involved. Our Sun does it naturally, bombarding the earth with it's rays, but focused particles in cool oceans...
RESEARCHER B: All you need is a tropical storm to brew... then you can focus EM waves at the air... the microwaves can heat the waters, creating high and low pressure air to circulate....
RESEARCHER B: it makes sense.
RESEARCHER B: hmmm... wonder what type of satellite launched the other day...? Maybe it's been launched to observe these wmd "transmitters"... it's theory, but it's possible.
RESEARCHER B: Don't think I've heard about the germans...
RESEARCHER A: i was looking at those bands again
RESEARCHER B: wait a sec... I am too...
RESEARCHER A: they are so precise
RESEARCHER B: It's just off the coast of Texas... interesting... It looks like some type of energy that is there to "block" the path of the storm...
RESEARCHER A: i was wondering that
RESEARCHER B: Now watch this image...
RESEARCHER A: what are the size of those bands?
RESEARCHER B: I would say they are city sized
RESEARCHER B: or a large town
RESEARCHER A: i wish that was not such a short viewing
RESEARCHER A: those bands don't look like the normal bands formed by a hurricane
RESEARCHER B: Nope.
RESEARCHER B: I am looking for the image where the storm takes a hard right...
RESEARCHER A: i think today was the day of the impeach bush rally in DC
RESEARCHER A: i want to see if if you find the image
RESEARCHER B: See.. those bars are just off the coast of Texas, directly in front of the path to Houston...
RESEARCHER A: yes
RESEARCHER B: Here's the Secretary of Defense quote http://www.enterprisemission.com/weblog/uploaded_images/Def_Cohen-714794.jpg
RESEARCHER B: Houston is where the other Evacuees are...
RESEARCHER A: excellent!!!!! thank you!!!
RESEARCHER B: I found that interesting too
RESEARCHER A: yes
RESEARCHER A: my room mate is a hurricane tracking obsesser and i showed that to him
RESEARCHER A: he found it strange
RESEARCHER B: lol
RESEARCHER B: Because it's not supposed to be there.
RESEARCHER A: thing is, he doesn't really think that they do things like set off earthquakes or control hurricanes
RESEARCHER A: the look on his face
RESEARCHER B: I am going to email this conversation to a fellow researcher... he may find it interesting and post it...
RESEARCHER B: Let me get you a link to the source...
RESEARCHER B: Check this news out... http://www.cnn.com/2005/US/09/24/houston.rush.ap/index.html
RESEARCHER A: tesla must be chuckling or either weeping in his grave
RESEARCHER A: k
RESEARCHER B: I would say... he is amused... but also saddened that he brought about the capacity to do these things... or atleast have the possibilities. Just as Einstein had Splitting an Atom...
RESEARCHER B: Here's the link to the Observation Site... http://cimss.ssec.wisc.edu/tropic/real-time/marti/2005_EIGHTEEN/webManager/basicGifDisplay.html
RESEARCHER B: Microwave imagery...
RESEARCHER B: Microwaves can heat the waters...
RESEARCHER B: The bars aren't there anymore RNA Brand tm
Regards, http://mirrorstewedios.blogspot.com/2005/09/mirror-research-and-investigations.html
------------------------------------------------------------------
9/24/2005 8:23:03 PM Pacific Standard Time
kent, whatever those 5 spots are, they definitely are not an artifact and they are the cause of rita turning north a few miles ahead of schedule. they seem to be directed from corpus christi. my presumption is that they are ships. we have high powered microwave weapons , ship mounted, in the 90-110 GHZ range which overlaps the radar freq. used in the animation. i worked on the first ones in 1983. contract was NSG through DOD. they heat a thin surface layer of any watery target (like raindrops-though that wasnt the original intent) they are aiming UP toward top of rita. you found a definite "something"
------------------------------------------------------------------
9/24/2005 12:38:26 PM Pacific Standard Time
Hi, Keep your eyes and ears open-no feds on TV, Cheney in "surgery", Bush inebriated ( or drunk) on Fox news and whisked to NORAD.