THESE ANOMALIES MOST TROUBLING AS THE TRAJECTORIES SEEMS TO BE INBOUND FROM DIRECTION: MARS
2
HERE COMES MARS ON THE C2 LOOKS EDITED, LACKLUSTER (LOST ITS CCD "WINGS," LIKE A WAD OF CHEWED BUBBLEGUM, SURROUNDED BY CLOUDING AND GENERALLY STRANGE. KEEP AN EYE ON THIS! 6/26 C2 MPEG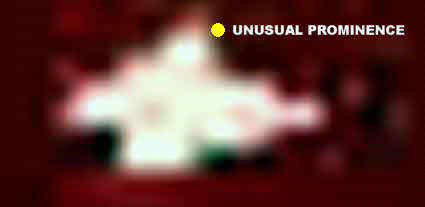 6/28/00 17:30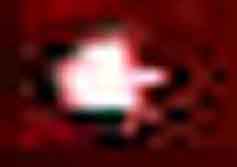 6/25/00 Predicted trajectory: 76P/West-Kohoutek-Ikemura

LUCAS: IMPORTANT KOHOUTEK DATA
EDITOR: Although logically, Newtonian-wise, no cometary debris from a Mars collision could this soon have sailed in front of the sun from Mars' position opposite the sun from earth, there has indeed been witnessed an immense general disturbance, especially since the great showering of particles and debris on 6/10/00. Has there been some non-locality quantum-level rip in the "Force?" I wonder what antics have been at play on board Deep Space One or...elsewhere? More gamma-blasts like the infamous Genesis-signal? I think we still have much to learn about space and time and the blink of events therein.

Left: 6/27/ C2 anomaly at 11:00 position above Mars.
'Object' Photographed Breaking Up Near Sun?

EDITOR: I originally looked at this evidence way too briefly; now believe this data is MOST important!
6/25/00 7:37:12 AM Pacific Daylight Time
The time for that image was 01:06 6-25-00.
EDITOR: Hopefully once NASA updates movies I can see a before/after sequence.
http://lasco-www.nrl.navy.mil/rtmovies.html
This is why I am fishing around: SEQUENCE. If this anomaly passes across EIT in more than one frame the evidence amplifies considerably. Getting concerned. Why? Next:
6/24/00 10:03:24 PM Pacific Daylight Time
Kent, On or about 7/18/00 an object 20 Miles in diameter (a piece of the comet that side-swiped Mars and Phobos) will strike our old mother in its northern climbs. It is one of 3 companions headed this way. The other 2 will probably miss and go around, but this one will impact and wreak havoc, maybe. Can your sleuths shed any light on this catastrophe in the making???? I choose to remain like my signed name. Anony Mous
EDITOR: Get scary controversial email, post it? No? Aw heck with it, post it. We are big boys and girls now aren't we? Take it in stride, glean from it, continue. Land of the brave, eh?
6/25/00 1:21:56 PM Pacific Daylight Time
How can he be so specific? Does he have any inside info? If so, would he contact me? Could you ask him? Especially the date and the size of the mother, how can he know so specifically? Unless he's guessing about.
BOARD: June 25, 2000 at 01:41:29 PM EDT
I would certainly like to know where this person would have obtained this kind of information so it could be determined if there is any truth in it. If anyone has any further information to confirm or deny this, please post it here and let Kent Steadman know as well!
In a message dated 6/25/00 9:25:30 PM Pacific Daylight Time
Sources tell us that it will be repelled by The Earth-Grid, destroyed by outside forces, or fractured into 4-5 pieces causing it to miss us. No confirmation of which method will be tried first or in what order. Anony Mous
6/26/00 10:38:29 AM Pacific Daylight Time
Kent...YES! there are "inbounds" headed this way. NO! they will not impact. These "inbounds"will "bounce"off the reinforced GRID, which was placed up during the month of MAY. We feel that at this time we must refresh in people's minds the "EVENTS" that will be occurring. ISIS/MARY pointed out these would be occurring between the 13th and 21st of each month.These events we refer to as the "TRAVAIL", as they precede the "Birth Event". The "Event" in June occurred up near MARS. There are those who do NOT want you to witness these "Events", consequently they are blacked out from public view.
DO NOT PLAY INTO THE FEAR!! The GRID WILL REMAIN IN PLACE UNTIL IT CAN NO LONGER BE MAINTAINED, THAT being DEC. 21st, 2000
6/26/00 10:49:18 AM Pacific Daylight Time
Hey don't worry about the pebble [incoming]. that's what's left of my ship, eh, it's ok, there's plenty more. I'll humbly ask my brother Michael to remove it. What we have to worry about is the other comets and the smaller fragments. We're working on a plan. CAMAEL
ARCHIVES: CODE NAMES: Titanic, Bismarck, Monitor 2
| | |
| --- | --- |
| 6/26/00 C3 18:18 | 6/26/00 C2 12:54 |
| | |
ADDITIONALLY
DATE: JUNE 24, 2000 - PRESS RELEASE
TO: GENERAL PUBLIC, VARIOUS NEWS MEDIA (by Fax)
FROM: THE LITTLE PEBBLE
SUBJECT: "MARS/ 76P Urgent Update
FATIMA
VATICAN CITY, JUN 26, 2000 (VIS) - Given below is the complete translation of the original Portuguese text of the third part of the secret of Fatima, revealed to the three shepherd children at Cova da Iria-Fatima on July 13, 1917, and committed to paper by Sr. Lucia on January 3, 1944:
"I write in obedience to you, my God, who command me to do so through his Excellency the Bishop of Leiria and through your Most Holy Mother and mine.

"After the two parts which I have already explained, at the left of Our Lady and a little above, we saw an Angel with a flaming sword in his left hand; flashing, it gave out flames that looked as though they would set the world on fire; but they died out in contact with the splendor that Our Lady radiated towards him from her right hand: pointing to the earth with his right hand, the Angel cried out in a loud voice: 'Penance, Penance, Penance!'. And we saw in an immense light that is God: 'something similar to how people appear in a mirror when they pass in front of it' a Bishop dressed in White 'we had the impression that it was the Holy Father'. Other Bishops, Priests, men and women Religious going up a steep mountain, at the top of which there was a big Cross of rough-hewn trunks as of a cork-tree with the bark; before reaching there the Holy Father passed through a big city half in ruins and half trembling with halting step, afflicted with pain and sorrow, he prayed for the souls of the corpses he met on his way; having reached the top of the mountain, on his knees at the foot of the big Cross he was killed by a group of soldiers who fired bullets and arrows at him, and in the same way there died one after another the other Bishops, Priests, men and women Religious, and various lay people of different ranks and positions. Beneath the two arms of the Cross there were two Angels each with a crystal aspersorium in his hand, in which they gathered up the blood of the Martyrs and with it sprinkled the souls that were making their way to God." /THIRD SECRET/... VIS 000626 (380)
Translation of Press Release - Fatima - Vatican Holy See
Jun 26, 2000 - 09:09 AM Vatican: Fatima Is No Doomsday Prophesy but Encourages Change
CNN: Vatican issues text of 'Third Secret of Fatima
The Third Secret of Fatima is still a secret. In the press release issued by the Vatican today, the public was made privy to, at best, a watered down version of one sentence of the true secret.
THIRD SECRET "COMMENTARY" RAISES CONCERNS OVER "WHITEWASH"
Handwritten text attributed to Sister Lucy: evidence of a forgery
SEE MARS/KOHOUTEK RESEARCH NEXT PAGES 2
U.S.-French Study Sees More Danger From Asteroids
NASA: Asteroid and Comet Impact Hazards
Map shows 900 asteroids that could threaten Earth
.