6/21/00: MARS AND VENUS, Notice: NASA pulled data after image below posted at 17:42 MPEG

.
WATER ON MARS
NASA TV YAHOO BROADCAST [band selection]
LOOK FOR RE-BROADCAST
Kent's simple after the fact RANT
Hoagland on Mike Siegal's Coast to Coast tonight
SPACE STATION SURVIVES FUNDING IN HOUSE
EDITOR: On 6/20/00 NASA was grilled by the Young Committee before the House, by gum by golly looks like the boys have pulled a rabbit out of a had, a wascally wabbit by the way that we here at ORBIT have , ahem, been muttering about and pointing to for a year now, see: Lake Steadman
WATER ON MARS - TWENTY YEAR OLD PUBLISHED DISCOVERY - ANNOUNCED AS NEW?
TERRAFORMING MARS?
BUT WE HAVE ANOTHER QUESTION: Did Mars recently get doused by a plasma-blasted, melted comet?
Date: 6/12/00 4:34:29 PM Pacific Daylight Time
This is speculation more than anything, but suppose NASA had the technology in place, (which laughable at this point considering their recent track record), to ensure that 76P/West was dragged into Mars orbit, favorably a low decompositional orbit to minimize surface damage, could they possibly use the captured water and gases from this giant snowball to enhance the atmosphere and water supply on Mars? Of course the planet-wide increase in water and gases would be equivalent to a drop in the bucket, but the measurable results of this experiment would determine if such methods could be used over the long term to terraform Mars into an inhabitable planet.
Interestingly, Earth is pelted with thousands of micro-comets everyday, which well may have been responsible for building and replenishing our oceans and atmosphere over the past few billion years. Remember, some of the best solutions mimic mother nature.
Just an intriguing thought.....
DS1's mission was to test these important, high-risk technologies in order to reduce the cost and risk of future science missions.

MARS/KOHOUTEK detailed data
Bizarre NASA photograph, Kohoutek, was taken from Skylab in December, 1973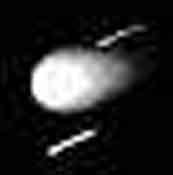 'Object' Photographed Breaking Up Near Sun? Also keep an eye about 10:00 solar disk above Mars.
6/17/00 02:44 The Mars and Venus and where the heck is Kohoutek Show.

TRAJECTORIES: 76P, 3 months to Earth UPDATE Other proposals
6/20/00 trajectory


'Object' Photographed Breaking Up Near Sun?
EDITOR: I originally looked at this evidence way too briefly; now believe this data is MOST important!
INTERESTING DATES

July 97 ORBIT Archives, "In Memory." Also see archives: CONTACT: 70 VIRGINIS

Oct. 15, 1998: Launch Deep Space One

July 1, 1999: GRENOBLE, France -- A cable car plummeted to the ground in the French Alps early Thursday, killing all 20 people on board, local officials said.

EMAIL, July 12, 1999 1:47:07: The list of the killed astronomers and service men is on the homepage of the Plateau de Bure Observatory at http://iram.fr/ Did you know, that they are famous for their research about Hale Bopp? Maybe they found something about comets, that does not fit in NASA's theory about their "dirty snowballs!" Especially they found complex molecules on Hale Bopp never seen before by NASA. Read it all on their homepage (almost last entry in the index).

July 12, 1999: South Whitley The recent success of the NASA sponsored USAF LINEAR Project, in the detection of NEO's is a highly welcome addition to the SpaceGuard effort.
NASA has had to pull the plug on a comet mission, which would have yielded a wealth of data on the structure of a comet. In the UK, the debates in Parliament ended disappointingly, but a call for an International Cooperative on Spaceguard was sounded, thus possibly opening the door for a United Nations Spaceguard?

November, 1999: See DS1 mission log, January 16, 2000: Among the information returned were infrared observations Deep Space One made of the planet Mars in November. The results of scientists' analyses of those data will be described in the next status report. [seems to indicate that a Mars rendezvous has been no problem, although the Kohoutek flyby, a PRIMARY OBJECTIVE was ALLEGEDLY scrubbed, earlier]

December 15, 1999: ANOTHER ACCIDENT AT THE OBSERVATORY: The Plateau de Bure Observatory is still operated in the same restricted manner that has been decided after the helicopter accident on December 15th, 1999, i.e. the observations are still stopped, and the activities are limited to safeguarding the installations. New molecules found in comet C/1995 O1 (Hale-Bopp) - Investigating the link between cometary and interstellar material

March 31-June 1, 2000: SITCHIN AND VATICAN THEOLOGIAN DISCUSS UFO's, EXTRATERRESTRIALS, ANGELS, CREATION OF MAN

June 10, 2000: AMBILAC RELEASE, Part XI: THE "EXIT-US" BEGINS

June 10, 2000 - PRESS RELEASE, LITTLE PEBBLE

June 10-13, 2000 first success of the Brookenhaven Project

June 13, 2000: Plasma Rocket Could Cut Mars Travel Times

June 21, 2000: AMBILAC, THE BIRTHING EVENT and THE POLE SHIFT

June 22, 2000: NASA Mars Water Announcement

Forthcoming, June 26, 2000: United Religions Initiative Charter Global Signing Ceremony
Vatican To Unveil Secret of Fatima 2
Date: 6/19/00 10:26:34 AM Pacific Daylight Time
From: rolando.izakovic@kvarner.net (Izakovic Rolando)
URGENT/ URGENT /URGENT
Dear Kent:
Here is, the World Wide Exclusive, for You only, the translation of the announcement of the press conference announced for the Jun 26. 2000.:
It is announced to the accredited journalists, that on the Monday, 26. Jun, at 11:30 CET, in the Hall of Jon Paul II of the Holy See Press Office, will be held press conference presenting the document "The Fatima Message" by the Community for the Doctrine of the Religion.
Contributions by:
Em.mo Card. Joseph Ratzinger, Prefect of the Congregation for the Doctrine of the Religion; His Holiness. Moons. Narcissi Bert, SO.DO.BE., Secretary of the above Congregation.
Their document copies shall be available in principal languages, starting from 09:00 of Jun 26. with embargo until 12:00 the same day.
IZAKOVIC
CROATIA
Investigation, archives Malachi Martin The Vatican Priest Letter

PRE-FLIGHT TRAINING
Techniques for how to have your 3D self and soar too.

THE HUMAN BEING IS AND ALWAYS HAS BEEN A SPACE STATION!
Note: suggested techniques to play 3D--AS WELL AS to "go beyond." Caution: don't let anybody else "do it for you." Poo on the pea-brained priests, politicians, pundits and particle-junkies. Learn to leap yourself. It's easy once you realize you are already THERE!
Know we the flesh is fleeting. The things men count great are nothing to us. The things we seek are not of the body but are only the perfected state of the soul. Long, long ago, I cast off my body. Wandered I free through the vastness of ether, circled the angles that hold man in bondage. Know ye, O man, ye are only a spirit. The body is nothing. The Soul is the All. Let not your body be a fetter. Cast off the darkness and travel in Light. Cast off your body, O man, and be free, truly a Light that is ONE with the Light. . THOTH