ORBIT: BE-BOPP WITH BONEHEADS
Which bonesy-beast will be...ordained?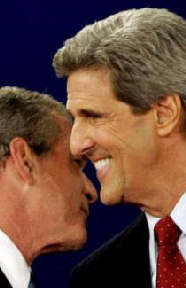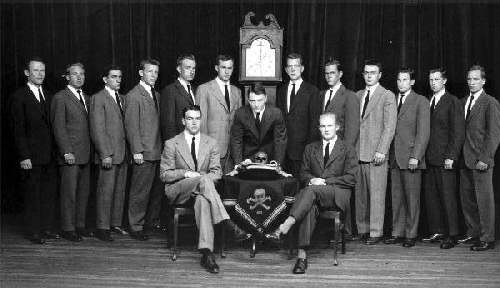 SKULL & BONES AND THE PRESIDENCY [Bull and Skones review]

HISTORICAL MADMEN HENRY STIMSON, SKULL AND BONES ICON

THE FALL OF NORFOLK by Michael Donovan Whoever is running the show, they have become so insular in thinking that they are flat out dangerous. Is it any wonder that many of the mid-grade officers I spoke with in Norfolk had one short military blunt word for Rummy... "Nuts."
THE UNAUTHORIZED BIO OF CHENEY
Headed towards Iraq? Farnaz Fassihi's e-mail dispatch from Baghdad Wide Attacks Threatened If U.S. Enters Fallujah Experts on Iraq/A D.C. truth squad emerges
GOP Dirty Tricks in Ohio? Saturday 09 October 2004 Voter registration is exploding in the swing state, but a ruling by the obstructionist Republican secretary of state may result in thousands not voting.
MOVIE: 911 PENTAGON STRIKE
THE DEADLY DUHHH-FACTOR
Voice or no voice, the people can always be brought to the bidding of the leaders. That is easy. All you have to do is tell them they are being attacked, and denounce the peacemakers for lack of patriotism and exposing the country to danger. It works the same in any country. Hermann Goering, Hitler's #2 Man
To Hegel, the world is a world of reason. The state is Absolute Reason and the citizen can only become free by worship and obedience to the state. The state is the "march of God in the world" and the "final end". This "final end has supreme right against the individual, whose supreme duty is to be a member of the state". Both Fascism and Communism have their philosophical roots in Hegellianism.
ARCHIVES: 911 was a grand coup. In a minor coup, some General takes over the government of a single country. In a Grand Coup the entire world order is transformed. The whole Enlightenment heritage has been abandoned: constitutional government, civil liberties, balance of powers, government accountability. International law has been abandoned, and national sovereignty is becoming a subject for nostalgia buffs.
| | | |
| --- | --- | --- |
| | | There's so much more to the Brat-Buccaneer. Go to the library, even Google, look up Skull & Bones, Hegel, keep on truckin--Kent |
I'm sure that you know this already, but Bob Schieffer, the moderator at the 2nd debate, is the brother of Tom Schieffer who was president of the Texas Rangers under Bush's ownership.
SOLUTIONS-JUMPSTART: POO ON THE OIL SLICKERS, FLUSH THE FOSSIL FUELS
| | |
| --- | --- |
| NEMO ALERT | Atomic Electricity- Updated DC electrostatic motors, with a measured efficiency of over 99%, were built at MIT by Professor John Trump and described in the Jan. 1947 meeting of the American Institute of Electrical Engineers. Dr.Trump was the main gov't official that went over Tesla's secret papers after his death in 1943. At the time the well known elecrical engineer,was serving as a technical aide to the Nat'l Defense Research Committee of the Office of Scientific Research & Development. He was asked to participate in the examination of Tesla's papers at the Manhattan Warehouse & Storage Co. Dr. Trump reported afterwards that no examination had been made of the vast amount of Tesla's property that had been in the basement of the New Yorker Hotel, ten years prior to Tesla's death, or of any of his papers, except those in his immediate possesion at the time of his death. Dr. Trump concluded in his report that there was nothing that would constitute a hazard in unfriendly hands. More Peripheral links 2 3 4 Radiant Energy: Unraveling Tesla's Greatest Secret Forum |

QUICK! RELIEF FROM POLITICAL SEWAGE! DIGGING WAY BACK...
NEW INFO FROM MICHAEL FOX, KNOWTH.COM

NEW INFO FROM ANTHONY MURPHY, MYTHICAL IRELAND
Archeologists Unearth Remains of Genghis Khan's Palace on Mongolian Steppe
FOREFRONT ON MEDIA LATELY: THE GOSPEL OF MARY MAGDALENE
UH OH HERETIC-ATTACK: THE BEAST

ORBIT ANNOUNCEMENT

NEW: 10/03...kent steadman...earth changes...scalar technologies

listeners to go to 57:30 to begin Interview

08/29...Kent Steadman...ever seen a ufo?

07/25...inaugural broadcast..Kent Steadman

i am archiving all of my past shows so if you're interested, check 'em out...

i'll have this week's interview with kent up by monday...

anyway, feedback (good or bad) greatly appreciated on program, audio quality, streaming performance, future guest ideas, etc...

also, i want to let everyone know that i do the radio show for free...i develop and produce the show by myself at the local community station during my free time...i broadcast live every sunday morning from 2 to 5am...i don't make any money and i am putting everything up on the website for as long as i can afford to for anyone to use...

| | |
| --- | --- |
| | but there are some very valuable pieces of information woven throughout these interviews...and i hope some of you will take the time to find them. Mike Hagan |

broadcast live every sunday morning from 2am to 5am on kopn89.5fm, columbia, missouri

Tropical Storm Matthew Cam 2 Strong quake rocks Nicaragua
SNAILMAIL: Kent Steadman; 425 S. 156th Street; #119A; Seattle, WA; 98148

ORBIT: DO WE CONTINUE?

Thanks to the kindly Patrons that help keep us going and make ORBIT available to all. Keep in mind that ORBIT is not an entitlement, requires endless hours of effort, expenses--requires encouragement to plow on. If you utilize this website think about a coin in the cap once in a while to pay the bandwidth and a tip for the hard work. EMAIL KENT

CHEMTRAILS, BEAMS Windows Media Player Format Forum
OCT 10th

MOUNT ST. HELENS, Wash. Oct. 9, 2004 — Earthquake activity has increased at Mount St. Helens, but scientists said Saturday there was no reason to raise the volcano's alert level.
PLEASE CONTINUE TO PAGE 2 HELENS WATCH AND MORE