WARS IN HEAVEN

AND ON EARTH

STATIONS OF NIBIR
The massacre of Mesopotamian archaeology
NEW INFO FROM MICHAEL FOX, KNOWTH.COM

NEW INFO FROM ANTHONY MURPHY, MYTHICAL IRELAND
Four-winged dinosaur fossils found

9/21/2004 2:05:35 PM Pacific Standard Time
Kent, the day before Ivan hit Jamaica,I was told these small orbs, 
were all over the skies!


<LEFT Now we know why there were two days and ten hours of missing 
images from the SOHO. With images like the attached, it would have 
been too difficult for NASA to explain what was creating the concentric 
circles. Mighty strange how this just coincidentally happened during 
the conjunction with Mars.

9/22/2004 12:49:27 AM Pacific Standard Time
Hello Kent, Been thinking about some things, particularly this UFO and chemtrail issue. I've noticed how many people photograph UFO's yet don' t see them. Do this; take some LED's (If you can get them) that are operating in the near to infra red-range and notice that you can't see them while lit. Then take your digital camera and notice that you can see the invisible LEDs on the camera screen and they can also be photographed, If use the ash of a cigarette or cigar you can notice something similar. The ash will look light blue on the camera yet will look just like an ash to the naked eye. Anyway, it appears to be the case that these UFO's are operating under some form of stealth yet can still be photographed by some digital cameras. Perhaps all were seeing is an electromagnetic signature that is invisible to the human eye. Case in point: The mexican UFO's that were monitored on the IR cameras yet invisible to the human observers. Now what happens if you distribute an isodence radar reflecting substance into the atmosphere and collect a uniform radar return? You get a uniform signal. Now what happens if something disrupts that uniform return? You have a way of tracking a stealth aircraft. Something to think about... Forum
REPLY NOTES:

A. back in the Seventies, the GIs would tell weird tales about what they saw through the old-style sniperscopes, the red-appearing variety [they now say these green ones don't pick up strange stuff as effectively].

B. Also I've heard other rumors of what has been seen in aerial photography, using the old Kodak infrared film. One guy said he's seen whole cities on earth slightly out of phase. Weird! Once I saw some kind of entity over Seattle, like suggested through the... haze.

C. Take a look at this, sent several years ago: UFO metaphysics--Kent

MYSTERIOUS, RECORD BREAKING QUAKE IN POLAND
Satellites Track Glaciers Flows After Ice Dam Breaks
ENTERPRISE MISSION: HYPERDIMENSIONAL HURRICANES
JEANNE PENTA-EYE [source IMPORTANT: ongoing animation]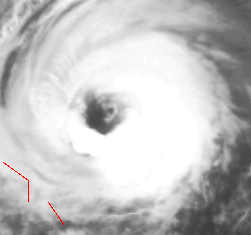 NOTE: the five-pointed star bears a message within sacred geometry-- underlying formulas, nature?
NOAA POSTS AERIAL IMAGES OF HURRICANE IVAN'S DESTRUCTION NOAA CAPTURES THE EYEWALL OF HURRICANE JEANNE The eyes of the hurricanes all "targeted" Bush Counties Surfing Hurricane Ivan Waves
| | | | | |
| --- | --- | --- | --- | --- |
| | | Planet X | | |
| | The Ancients | | | |
| | | Index | | |