ORBIT PAUSE TO HAUNT
Floresien Hobbit Riding Pygmy Elephant
Radio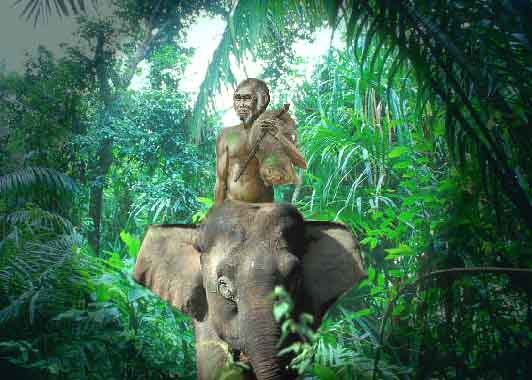 Buck Young

Now there is little wild land left at all, and even that is shrinking at an unprecedented rate. There is simply not enough space for all the gnomes and elves, fauns and faeries, goblins, ogres, trolls and bogies, nymphs, sprites, and dryads.

So where are they?

Are they dead?

No.

So where did they go?

The answer is a bit surprising. They didn't go anywhere. We did.
broadcast live every sunday morning from 2am to 5am on kopn89.5fm, columbia, missouri
SAMHAIN SUN X-CLASS SOLAR FLARE THIS TIME LAST YEAR 2
Conditions will change within the next 36 to 72 hours due to the observed major and minor solar flares. There are confirmed Earthward directed coronal mass ejection(s) due to the complex solar events. Details will be posted soon.
Question for Dr. Tom: Under what "superpotential" conditions can the sun be triggered from earth?

NEW INFO FROM MICHAEL FOX, KNOWTH.COM

NEW INFO FROM ANTHONY MURPHY, MYTHICAL IRELAND

| | |
| --- | --- |
| STRANGE BARE SPOT IN SNOW COVER | GHOSTLY CAM NEW ZEALAND |
| | |

WAS THE MODERN AGE THE CURSE OF A STRANGE CRITTER?

I had two old aunts with wrinkled faces, one of them having two teeth protruding like the tusks of an elephant, which she buried in my cheek every time she kissed me. Tesla

SORCERER TECH: HOW FAR HAVE THEY GONE?
| | |
| --- | --- |
| | HAUNTED THOUGHTS: In July of 1937, the Nazi party's elite, such as Hitler and Goering, began sending out special teams of their elite forces. These teams were to collect all kinds of supernatural, scientific and religious items. Primarily items dealing with the supernatural, occult and the fringe sciences. During the search for Noah's Ark, along the borders of Turkey and Persia in the mountain range of Arafat, the team was exposed to a story by some of the older members of a village near the Tigress river. The story was that 200 generations ago a strange shiny house had fallen from the sky, making such a noise that it woke everyone in the village. ANCIENT SAGA |
2004's Scariest Halloween Costumes

PLEASE CONTINUE TO MAIN RESEARCH