THEY SCRABBLED TO BE HUMAN, BUT THEY BLEUW IT!
BLAIR sWITCH, THE TOON SERIAL

| | |
| --- | --- |
| Ludwig II mad King of Bavaria | Georgwig II mad King of Americia |
| | |

BUSHBLOOD Merovee
EMAIL CLUE: SECRET GOVT. SOLSTICE RITUALS, The Kimball Castell in Sedalia, Colorado, (Sedalia is south of Denver at the Castellrock exit and west to Wadsworth then north 1/2 mile on the east side).

SOLSTICE SHENANIGANS: A MISSION TO SPOOKY KIMBALL KEEP [TWEETDOM]
| | |
| --- | --- |
| | Your mission, Reader, if you dare to accept it, is to go to http://www.terrafly.com and enter the address of 6113 N Daniels Park Rd, Sedalia, CO. Then click on the 1.0 resolution after the map comes up (a java thing has to load once on your PC). Then click the North, South, East, or West arrows at the top there, and you'll be flying! |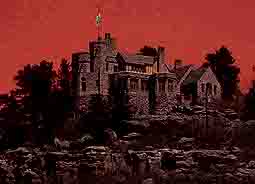 EMAIL CLUE: THE DENVER CONNECTION "TIFFANY LAMP MEETINGS"
DEC 21ST, 2001, KIMBALL CASTLE, SECRET GOVT. SOLSTICE CEREMONY SEER: If they are pulling crusader stuff then they are attempting to do battle against Tiamat. They view themselves as a continuation of Marduk. If that is the case then things are about to get nasty. It would make sense with the oil tie ins. Oil = blood of Tiamat etc..
EMAIL CLUE: They further are known to stay at the Brown Palace Hotel Downtown Denver.
RESEARCHER: i can confirm...lots of bigshots in denver this weekend...here' why...
RESEARCHER: http://www.blacktie-denver.com/calendar/index.cfm?FUSEACTION=ShowCalendar FIELD RESEARCHER: unbelievable when i found out...
RESEARCHER: look at december 22 on the calendar...
RESEARCHER: http://www.blacktie-denver.com/calendar/index.cfm?FuseCalendar_ID=1584&CurntDate=12/24/2001&FuseAction=ShowEvent RESEARCHER: this is the cover...
RESEARCHER: they do it every year right around the solstice...
SAURON IN WASHINGTON Tolkien's parable of power – a story for our times
EDITOR: so let's see now, Bush-baby declares he is born-again (from what, his old Skull-daze faction?) and that he is on a Holy Crusade against evil-doers (actually some of his old pals in the oil-cartels, culture-stomping Beezlebub-faction) and you can tell he (W) is a good guy now because he wears a white Stetson, and the citizens (all obviously born-again too, Saved, no matter what, impossible to get un-saved) chant, "Get em, Junior!"
My poor brain! Please Save poor apostate Kento's butt too because he obviously has no clue and thinks the above is a wagon-load of fertilizer.
ANOTHER TAKE Who Plotted The Attempted Coup Against Bush?
Wagon # 2
Faith can conquer evil, says Queen THE Queen, the Pope and the Archbishop of Canterbury all delivered seasonal messages yesterday which stressed that the Christian faith found hope [not to mention a pile of loot] in the aftermath of the September 11 atrocities.
EMAIL CLUE: Federal Grand Jury Demand filed in Las Vegas, NevadaUS District Court Sept 2001. Case Number CV-S-01-0714-PMP-PAL soon to be appealed.
Stew Webb, Federal Whistleblower, stewwebb@sierranv.net (702) 362-9567
BOHEMIAN GROVE Aside: Bohemian Grove Intruder ELECTION 2000
YALE'S SKULL & BONES SOCIETY MEMBERS
Prescott Bush was surely aghast at a sensational article the New York Herald Tribune splashed on its front page in July 1942. "Hitler's Angel Has 3 Million in US Bank,"read the headline above a story reporting that Adolf Hitler's financier had stowed the fortune in Union Banking Corp., possibly to be held for "Nazi bigwigs." Bush knew all about the New York bank: He was one of its seven directors. BOSTON GLOBE 4/23/2001
John Loftus, former US Justice Dept. Nazi War Crimes investigator and President of the Florida Holocaust Museum, is quoted as saying: "The Bush family fortune came from the Third Reich." Sarasota Herald-Tribune 11/11/2000
Subj: king george strikes again...
Date: 12/30/01 6:32:14 PM Pacific Standard Time
after such tremendous success prior to 9/11/01, it should come as no surprise to see that our intelligence agencies are now being given a properly increased budget...
congress, recognizing their brilliance, has yet to formally request of them what they have been doing with the billions upon billions they have already received and been held unaccountable for...
and now king george wants to let them keep their billion dollar boondoggles secret from congress...whose silence will again be deafening...
makes perfect cents...
http://quote.bloomberg.com/fgcgi.cgi?T=uspolitics_news.ht&s=APCz2EBapQnVzaCB0
NEW WORLD ORDER & GLOBAL ELITE The Nazi-ization of America
THE NWO IS FALLING DOWN ON ITS OWN 911 SWORD!!!!!
THIS IS CIVILIZATION? Global capitalism most barbaric economic system in history
Date: 12/31/01 11:39:19 PM Pacific Standard Time
Kent, play the Mpeg this is amazing and thought provoking and the best thing I have seen yet in video....send to all your friends.
http://www.guerrillanews.com./redux/ video

EDITOR: I remember in my boyhood that the world still seemed to have great leaders: Churchill, Nehru, deGaulle, Meier, Eisenhower; now it seems the world only has great gassy buffoons: Blair, Bush, Sharon, Hussein...

..."The art of propaganda lies in understanding the emotional ideas of the great masses and finding, through a psychologically correct form, the way to the attention and thence to the heart of the broad masses. The receptivity of the great masses is very limited, their intelligence is small, but their power of forgetting is enormous. In consequence of these facts, all effective propaganda must be limited to a very few points and must harp on these slogans until the last member of the public understands what you want him to understand [or believe]..." Excerpt from Adolf Hitler's Mein Kampf
| | |
| --- | --- |
| | Miscellaneous Awesome Stuff |
GW Bush on 9/11 Conspiracy Theories by Robert Lederman When President Bush spoke of "outrageous conspiracy theories" he was for the first time acknowledging something of great significance. There are informed viewpoints completely missing from the propaganda war being relentlessly waged on Americans about 9/11 and its aftermath, viewpoints which are as opposite from the official story as it is possible to get.
The Bush administrations' official story has three basic premises. To briefly summarize, the first is that Islamic terrorists based in Afghanistan who hate American freedom plotted and executed an attack on America - an attack which the U.S. government had no prior knowledge of nor any connection to. The second premise is that in order to wage and win a war on terrorism we must invade Afghanistan and every other nation harboring, funding or otherwise supporting terrorists and that a simultaneous suspension of domestic civil liberties is necessary for internal security. The third basic premise is that our government is all good while theirs is the very personification of evil, the "evil-doers" as President Bush likes to call them.
The "conspiracy theories" Bush is referring to similarly have three basic premises and many divergent subsets. The first is that the attack was known about (and possibly, planned) by various elements of the U.S. government before 9/11 and was allowed to take place in order to bring about certain conditions, including the suspension of our guaranteed civil liberties. The second premise is that even if bin Laden and the al Queda network based in Afghanistan were immediately responsible for the attack that those supporting, funding and protecting them are not for the most part based in Afghanistan but are in fact closely connected to the Bush administration and to the allies President Bush has taken such efforts to rally to our side. The third premise is that a U.S. built oil pipeline through Afghanistan which has been in the planning stages for more than a decade is the real goal of the war and that a U.S. invasion of Afghanistan was in the works long before September 11th. more
TYRANNY, TREACHERY, TERRORISM & TRAUMA THE FORMULA
THE NEWS AND INFORMATION THE GLOBALISTS DON'T WANT YOU TO SEE IN THE AFTERMATH OF THE 911 ATTACKS