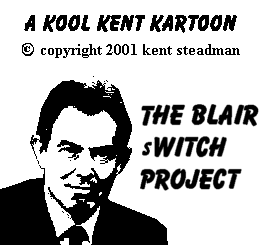 NEW ENDLESS [alas] KENT TOON SERIAL: DARE TO CONTINUE TO PART 2
NOTE: these animations, compressed, tend to hang up in IE sometimes. Try doing shift-reload if the next frame doesn't appear. Typically the animos are 6-9 frames.
PAY THE PIPER
Kent Steadman
425 South 156th Street
#119A
Seattle, WA 98148
NOTICE: KENT HAS ASCENDED! (alas, he ended up in toon-2D insteada cosmical-4D)
TO PRESERVE YOUR SANITY ENTER ORBIT.INSTEAD, QUICK!
.
.
.
.