ORBIT: THE SOLAR MAYPOLE, DANCE OF THE WORLDS
| | |
| --- | --- |
| 4/28-30 C2 TORPEDO animation | |
| | |
IMPORTANT Be sure to click through for immediate related data.

' This universe is strange and temporary that I see little reason to use it as any fulcrum of reality.' Kent
| | |
| --- | --- |
| | KEEP WATCH. THE ALIGNMENT CONTINUES IN INTENSITY, WITH CRESCENDO ON MAY 12 AND INFLUENCES UNTIL EARLY JUNE! |
TIDAL FIELD AT THE SUN CAUSED BY THE PLANETS
C2 5/5/00 BLAST MPEG (Notice appearance of Jupiter on C2) C3 5/5/00 BLAST MPEG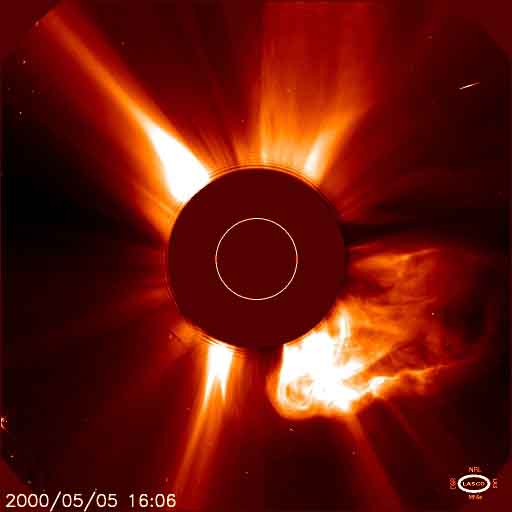 Old region 8970 two days behind the southwest limb was the source of a long duration M1.5 event which peaked at 16:21 UTC. The flare would likely have been observed as an X class flare had it occurred on the visible disk. An impressive coronal mass ejection was seen off mainly the southwest limb.

Solar Torpedoes, Elohim, Lockheed-Martin
5/5/00 15:36
MOST CURRENT SOLAR SATELLITE VIEW SPACE WEATHER
Folks, Be sure to click through. Writing HTML at the speed o' light. Want to keep this page fairly clean.

WORLD WIDE QUAKE & WEATHER WATCH ADVISED
00/05/04 04:21:17 UTC 0.90S 123.40E Depth: 33.0 km 7.3Ms MINAHASSA PENINSULA, SULAWESI
00/05/06 13:44:16 UTC 11.25S 165.41E Depth: 33.0 km 6.3Ms SANTA CRUZ ISLANDS
Cracks Discovered in Ocean Floor

MONTANA AND OTHER STRANGE RADAR
ALSO NEW CHEMTRAILS OVER TOLEDO PAGE

EDITOR: Perhaps this C3 image was sent by an "insider." The emailer insisted in bold not to list name, return email won't go back to source and THIS image was NOT offered to public access. I guess that this type of data is specially filtered [clear] to see the raw debris field.
5/5/00 12:41:43 AM Pacific Daylight Time
From: H.Isenberg@ping.de (Holger Isenberg)
Hi Kent, you can view my lasco-archive now online at http://mars-news.de/lasco/
The All-white image on your site seems to be a normal occurence as itappears almost every day. However in the pictures from last night, there are some interesting, where one half is missing and the next full one shows remains of a large CME in the lower right: http://mars-news.de/lasco/c3_0504-1930.gif
The image capturing will be going on for some days. I delete normal images from time to time, and leave only interesting ones to save space.
Date: 5/5/00 11:42:51 AM Pacific Daylight Time
Kent: Maybe sleuths can get this information. Looking at the lasco images it appears that the SOHO spacecraft in not in the elliptic. Mercury seems on a plain with the sun but Jupiter is lower and Saturn still lower. Since these are a two dimensional representation, the planets should not be this far off. It would appear that SOHO is slightly below the elliptic. Can we find out where in space it is? Additionally if you look at the EIT 171,195 and 304 images vs the C2 and C3, the position of the flares do not correlate.

Mars and July 2000 -- Knowledge Denied
COSMOSALIVE

Hubble reveals 'tadpoles' in space

WASHINGTON (CNN) -- There are tadpole-shaped pods 100 billion miles long floating in space, photographs taken by the Hubble Space Telescope reveal.
| | |
| --- | --- |
| APRIL | |