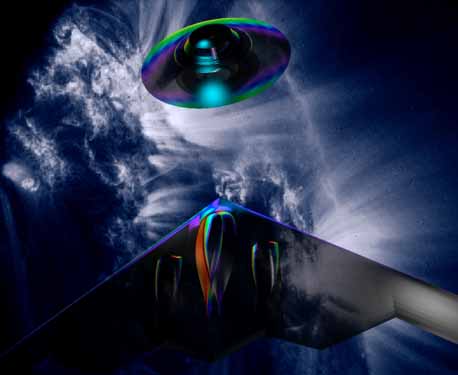 Magnetic Event Begins 04.20.99 1430 UTC
As of around midnight UTC [8pm EST last night], the magnetic field became more disturbed and the planetary magnetism readings went into "yellow" levels. This likely signals the beginning of the forecast CME disturbance from the 17th.
Magnetic storm watches are in effect from the SEC for both today and tomorrow. Kp readings of "4" have now been measured for the past 12 consecutive hours and "K=4" warnings have been issued by the SEC.

Xray Flux ..

Proton Flux ..

Electron Flux...

Magnetometer ..

Kp Index
4/16/99 MAGNETIC STORM

Possible CMEs, 4/13-14/99 that now affect earth

As of approximately 1500 UTC, 4/16/99 , a very sharp magnetic disturbance began to affect magnetometer readings at the GOES satellites. The readings are flucuating wildly between completely above and completely below the chart's limits New Millennium

<< awesome magnetometer, unprecedented

EMAIL EXCHANGES: WILD SUN WEIRD SOHO IMAGES

APRIL WEIRD SOHO
SOHO C2 GIF CONSTRUCTION
| | |
| --- | --- |
| | This is something different under the sun. Our readings went completely off scale in both positive and negative. polarity. We are enclosing a six hour duration graph which indicates the intensity. Elfrad Group |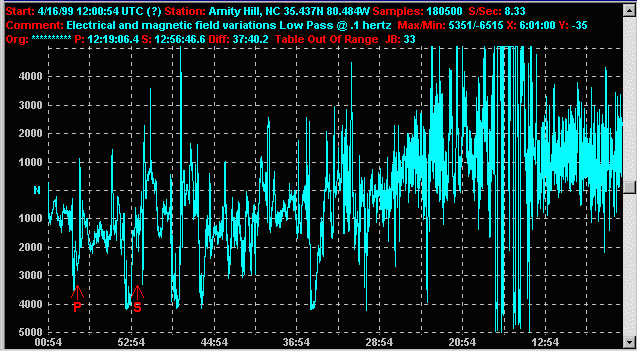 .
Frank Condon

Geo-Seismic-Labs

I have what is probably one of the best captures to date from the Fluxgate Magnetometer! Also, increased volcanic earthquake activity accompanied this sequence of major excursions of the geomagnetic field.
ELECTROMAGNETIC HERESY
Gallimore on Earthquakes and Superconductivity Jerry G. Gallimore (1940?-1988)

EMAIL: This is not like anything I've seen before. Keep in mind that this reading is from the GOES 8 weather satellite not from Earth based measurements. We'll have to stand by and see what shows up on the K Index (Earth based) readings. EARL

SUNGRAZER SPOTTED ON 4/13/99: LASCO Sungrazing Comets 1999
WHEN THE MAGNETIC FIELD DROPS: TIME TO DREAM

EDITOR: Queasy feeling here, is a minor solar CME being used as a mask for a superweapon test?
ANIMATIONS

3/29/99: MAGNETIC DISTURBANCE

UPDATE 4/1/99 MAGNETIC DISRUPTIONS CONTINUE

4/2/99 M-CLASS FLARE

.

Bizarre SOHO 304 EIT 4/2/99