..

.
| | |
| --- | --- |
| A new daily feature: ORBIT | |

Know we the flesh is fleeting. The things men count great are nothing to us. The things we seek are not of the body but are only the perfected state of the soul. Long, long ago, I cast off my body. Wandered I free through the vastness of ether, circled the angles that hold man in bondage. Know ye, O man, ye are only a spirit. The body is nothing. The Soul is the All. Let not your body be a fetter. Cast off the darkness and travel in Light. Cast off your body, O man, and be free, truly a Light that is ONE with the Light. . THOTH

YOHKOH MPEG YOHKOH MPEG2 LATEST STILL SOHO/LASCO

SOHO RECOVERY TEAM LOGS

AURORA

SOUND OF AURORA

MAGNETOGRAMS: Tromsø, Andøya, Longyearbyen, Ny Ålesund

SWEDEN

HAARP

SOLAR TERRESTRIAL DISPATCH

ALL SKY IMAGER: SOUTH POLE STATION

EDUCATIONAL OUTREACH

GLOSSARY

OBSERVATORIUM

SIDC: SUNSPOT NUMBERS

MAGNETOSPHERE YELLOW PAGES

AUSTRALIAN FORECAST CENTER

SOLAR TERRESTRIAL ACTIVITY REPORT
TODAY'S SPACE WEATHER
Yohkoh Soft X-Rays

Xray Flux

Proton Flux ..

Electron Flux...

Magnetometer .. Kp Index

WEIRD SOHO IMAGES
.
PLANET BUSTERS THAT MISSED

WHAT IS HAPPENING AT THE POLES OF THE SUN?

(above) 6/1/99 C2 (below) 6/14/99 EIT

Wallace Thornhill

.

| | |
| --- | --- |
| | SOLAR MAGNETIC FIELD STRENGTH: Many models of the solar magnetic field used prior to Ulysses assumed that the solar magnetic field was similar to that of a dipole; field lines near the solar equator were thought to form closed loops whereas field lines from the poles were dragged far into interplanetary space by the solar wind. For a dipole, the field strength over the poles is twice that at the equator. Ulysses found that the amount of outward magnetic flux in the solar wind did not vary greatly with latitude, indicating the importance of pressure forces near the sun for evenly distributing magnetic flux. (MAG experiment, A. Balogh, Imperial College; E. Smith, Jet Propulsion Laboratory). |

A REVIEW OF A PAST SOLAR EVENT: was something 'initiated' here?
Auroral Activity Estimates, and Relative Intensities of Energetic Particles

CURRENT UVI IMAGE
CONSIDER THE FOLLOWING:
NEW: ARE WE ABOUT TO BE SLAPPED BETWEEN THE EYES BY THE REAL COSMOS, WHICH IS DARK?.


GRABBING A PIECE OF THE SUN: GENESIS MISSION

TRANSIENT CORONAL HOLE

WHAT IS A CORONAL HOLE?

Northern coronal hole 9/19/98

CORONAL MASS EJECTA 1998/10/09
.

NEW KITT PEAK SOLAR OBSERVATORY
Paul Harvey n a recent radio broadcast mentioned that the first observers came away stunned. Wonder why?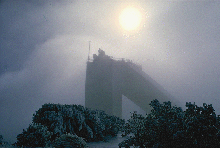 Surfing For Sunbeams!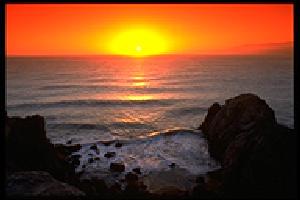 A Primer on the Space Environment


Cosmic Rays Could Destroy -- And Create -- Life
NEW YORK, N.Y., and HAIFA, Israel, July 9, 1998 -- Jets of cosmic rays from colliding stars can produce lethal amounts of muons in the earth's atmosphere, destroy the ozone layer and radioactivate the environment. more


April 99 Magnetic Storms

March 99 Magnetic Storms

M-Class Flare 2/12/99

Magnetic Storm 11/13/98

Magnetic Storm 10/19/98

Magnetic Storm 08/25/98 Magnetic Storm 07/30/98 Magnetic Storm 07/23/98 Magnetic Storm 07/16/98

HAVE WE REALLY FIGURED OUT WHAT THE SUN IS?
One of the biggest embarrassments of 20th-century science -- the sun's refusal to emit nearly as many neutrinos as physicists say it should -- inched closer to a possible solution last week when experimenters reported strong new evidence that these weird elementary particles, long thought to be perfectly mass-less, may have a small amount of heft after all. If neutrinos indeed have mass, the story goes, they can change "flavor" on their flight from the center of the Sun, eluding the electronic snares earthlings have been setting. The neutrinos wouldn't be missing, but traveling in disguise. continue

WEIRD SOHO