I see you have many post regarding Planet X sightings. Please look at this statement from James McCanney. Who as you know, does maintain Planet X is inbound.
THERE IS NOTHING COMING OUT OF ORION OR TAURUS / MORE GOVERNMENT DISINFORMATION SITE B.S."FED" THROUGH NEWLY ACQUIRED RADIO SHOWS n(SHOWS YOU USED TO TRUST) ... THE TIME IS AT HAND FOR THE GOV. TO PLAY ITS HAND WITH THOSE CRAZY PLANET X PEOPLE WHO TALK TO ALIENS ... GET READY FOR THEIR COOL-AID PARTY (i also comment on this in my 03/27/03 radio show)
----------------------------------------------------------------------------------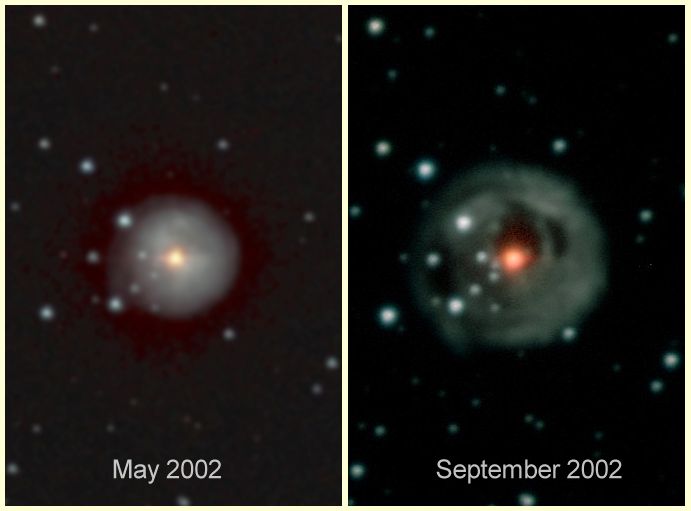 Subj: Planet X

Date: 4/1/03 5:15:21 AM Pacific Standard Time

From: email

Kent, I looked into the night sky last night at 9:15. It was perfectly clear here in western North Carolina. About 20 degrees north of Orion's belt was a star that had a definite red hue to its light. It was the only one in the heavens with a red quality to its light. My 16 year old daughter confirmed to me that she too could percieve a red hue to the light coming from it. This star is in the exact position of Planet X on the chart on your site!
Subj: Emailing: Cantin1_strip
Date: 4/1/03 7:13:03 AM Pacific Standard Time
From: kithra
Hi Kent,b Good to have you back, and I hope the wedding went off OK.
Looking at some of the supposed pictures of the latest sightings of PX I just checked out:

The second picture down the page, called "Iridium Flare" looks very similar to some of the PX pics. So how about the possibility that either people are confusing 'sightings' of PX with an Iridium Flare, or Space Weather is trying to con us? Just a thought for what it's worth :)
Take care,
http://kithraskrystalkave.org.uk/
Subj: Nibiru images from Hubble?
Date: 4/1/03 1:14:17 PM Pacific Standard Time
From: jack
Kent,
I just checked out your page at shemis_comments.html and saw the pictures titled "Pictures of Nibiru that I found on Elaine's Forum" These are pictures taken by the Hubble http://hubblesite.org/newscenter/archive/2003/10/ They claim it's a picutre of V838 Monocerotis and a new phenomenon called a "light echo" whatever that is. Maybe it is an expoloding star or maybe it is Nibiru I don't know. I just thought you should give proper credit to where the picture came from.
-Thanks for all your hard work.
Subj: Latest from McCanney
Date: 4/1/03 5:33:23 PM Pacific Standard Time
From: kvn
Dear Kent,
If you haven't heard the clip33.rm yet from the Professor, get over to http://www.jmccanneyscience.com/ just scroll down a little and you will find his emergency announcement.
Everyone on the Planet X bandwagon should listen to this.
Thanks, Kris N. (Last Rock Band on Earth)
Subj: PX & Eridu / Bush come to SHOVE
Date: 4/1/03 4:46:18 PM Pacific Standard Time
From: flanker
Have seen references to REAL reason for BACK2IRAQ on cyberspaceorbit, along with skymaps of PX approach w/ your email address (couldn't find Phil's tho he emailed me years ago...do you have it?)...
It appears that all this (despite Hoagland & Sitchin) is going to happen THIS month.
I have friends that have built the whole NiBiRu concept into their personal delusion/cover story as effectively as the media kept saying "IF war comes...".
BUT, it's also totally believable, delusion or not, that the non-disclosure "DON'T TELL even if asked" angle is exactly how such an event would be downplayed...
What is YOUR take on PX AND American troops in Iraq (how do we find what's going on at ancient sacred sites* AND how can we find REAL data on PX orbit if it's so close...) at the same time?
I'm checking out Orion tonight. Interesting that though the 3rd star in the "belt" is bumped up, PX by your chart(?) is exactly in line...
GET BACK
*Remember when a cruise hit Abaddon in Iraq? There were several other BIBLICAL cities mentioned THAT day...none since. "Embedding" journalists is brilliant as no one can say the Military is trying to hide anything...EXCEPT for the possibility that embedded troops were NEVER going to the sites mentioned, so no one knows about THAT activity or even suspects it because the "journalists" would have reported it (Eridu?)...
Date: 4/1/03 11:34:39 AM Pacific Standard Time
How can Planet X be star V838 Monocerotis which is 20,00 light years away from our solar system? Why would it want to be? It seems to strange enough on its own. ---Larry---
http://www.sai.msu.su/apod/ap030327.html
REPLY: The intriguing stuff is found here.
http://66.242.35.139/bbs/message.php?message=17490&topic=3
Photos
http://www.darkinsight.com/helios2003/
Subj: Heads up: Viz corrorborates McCanney on Helios' PX sighting
Date: 4/2/03 7:36:16 AM Pacific Standard Time
Kent,
Viz (a.k.a José V Chung) essentially corroborates McCanney on the fact that NOTHING is coming out of Orion at present. Thought you should know, since you have posted the Helios' photos front page. The post (copied below) can be found on the Syzygy Phenom board.
http://www.syzygyjob.net/phenomena/messages/32583.shtml
I have no doubt that something weird is going on at present (personally, I favor the twin sun theory) but some at Elaine's board get just a bit hyper prematurely, no? It's almost too much bother to read it anymore to glean the few kernels of wisdom.
Gotta admire Helios for his guts in posting his photos, and what he found is a curious anomaly which may eventually contribute to understanding. You decide. I don't think he photographed PX.
REPLY: Helios has made no commitment as to what he photographed and seems most humble in his personal analysis.
Meanwhile everybody is calling everybody else disinfo-agents.
Best thing to do here is to report as much as I can on all sides.
There are enough PX theories to fill the Grand Canyon right now. Who knows if any of them are valid.
If it were not for the Harvard abstracts...
...I'd probably go back to writing poetry.
Date: 4/2/03 1:22:28 PM Pacific Standard Time
I also copied off pearls4best and two setup photos if you want it/them. If you read the Syzygy thread there was someone who had copied off most -- if not all -- and may repost them. He was very upset by how Helios had been treated.
4/2/03 2:39:04 PM Pacific Standard Time
PHIKENT!
That you?

Thanks for the PDF
Did you ever see THIS page:
http://www.mindpirates.com/it/vsnry/nimgods.html

I put it up last October...

Haven't finished the pdf yet but was glad to see "recent" references to
IRAQ situation.
As I said, one day, I heard nebechunezzar mentioned in the CONTINUOUS
COVERAGE. Nothing since. How would one find out? Does the press corps
truly not know about any of this and thus never asks, or can the sham
be so tight that even the "questions" are controlled...

Also, having had "IllumiNation" up since 1999, I've thought that all
the conspiracies, black project, time travel, stargates, etc,.... have
had time to lap themselves as in "if all that really exists, why hasn't
it been used? why a War w/ "old" technology if the Chinese stole
"stargate" secrets from Los Alamos years ago???
:(

Oh Well...
Thanks for getting back to me. Hang in there. You do seem to be the
only place to address this. They aced Art Bell and Hoagland has shut
up...

MS


On Tue, 1 Apr 2003 23:51:28 EST, BARDSQUILL@aol.com wrote :

> In a message dated 4/1/03 4:46:18 PM Pacific Standard Time,
> flanker@suasponte.com writes:
>
>
> > Have seen references to REAL reason for BACK2IRAQ on cyberspaceorbit,
> > along with skymaps of PX approach w/ your email address (couldn't find
> > Phil's tho he emailed me years ago...do you have it?)...
>
> WILLIAM HENRY: Saddam controls an asset infinitely more important and
> powerful than oil or even nuclear weapons. He controls access to the temples
> that housed the history of humanity's origins and potentially the secrets of
> stargates.
> http://www.williamhenry.net/books_files/saddam.pdf#30
> indexback61.html
>
> Kent
Date: 4/2/03 3:09:18 PM Pacific Standard Time
Since working w/ Kynthia on Planetary Mysteries in '97, I've been known to shout out..."It's the Planetary Mysteries move!" at the FIFTH ELEMENT trailer, or "It's the Crop Circle movie!" w/ Signs, and "Cydonia!" at the Mission To Mars POSTER, but all those dollar driven vehicles just led AWAY from what I hoped they would contain. I worked in films and have seen "the business" finally become nothing BUT a business. One in which I KNOW some suit at the last stage of Development Hell; when all involved from the beginning SOOO want to see their Vision on the screen, compromise same at the last minute, so I didn't even go to see the "super storm" CORE, although I immediately checked out the book upon seeing the poster months ago....
BUT, there is a new (library) book out called DECIPHER which deals w. the discovery of Atlantis in Antarctica and a network linking all the pyramids (plus a few we don't know about)...Point is that there's a conversation between the President (Dubya) and the Pope. The Pope guarantees a SECOND TERM if the United States destroys the source of "heretical, pre-christian" knowledge at the South Pole.THAT sounds pretty familiar...
IMPORTANT: HELIOS ARCHIVE

SENTINEL UPDATE: PX's final approach time line and size guides

PLANET X: THE HARVARD ABSTRACTS