STRANGE ATLANTIC GHOST-WAVE

[Larger]



ROGUE WAVE [reported then vanishes] 263.8 foot wave in the Atlantic 2 Original Info-Source Find station ELWR5 [SHIP HANSA VISBY Flag Liberia, Port Monrovia Recruited by Germany 5/28/ 3:00 PM PST POSITION Source]<<careful, likely a glitch; nevertheless DATA-CAPTURE FOLKOWS:

First reported 12:00 GMT [larger capture]

Later 18:00 GMT Wave-Height Vanishes

Another

PRIOR INTEL IR SAT FORUM  SLEUTHS? COMMENTS

EMAIL
5/29/2006 12:54:25 AM Pacific Daylight Time
Hi Kent
Yes I also picked up the HANSA log report...as the data was so unusual, having sailed that area many times in the past, I went to the live ship tracking data site at http://www.sailwx.info/shiptrack/ and watched her reports...she certainly did report in the following at 12:00Z (UTC)
HANSA VISBY
Last reported at 2006-May-28 12:00 UTC: position N 45°30', W 014°42' (show region).
Time now 2006-May-28 18:42 UTC.
Length 149.8 m; beam 23 m; draft 9.5 m.
VOS classification: general cargo vessel; recruited by DE as Selected ship (merchant).
Wind from 010 at 10 knots
Waves 80.4 meters (264 feet)
She was 5 hours late reporting in her 18;00Z position/data..and she is now heading for the English Channel
see
http://www.sailwx.info/shiptrack/shipposition.phtml?call=ELWR5
The event could have been a computer/radar glitch or a sudden surge from a local event, who knows..but bear in mind the location she reported the data, it received a 3.2 undersea bed quake a few days ago**
Will check my maritime contacts, I still have few..
**Quake
http://www.emsc-csem.org/index.php?page=current&sub=detail&id=IY867;INFO
IR SAT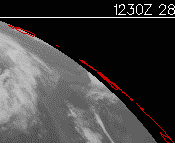 NOTE BIOLOGICAL HAZARD WARNING

http://hisz.rsoe.hu/alertmap/woalert_read.php?id=6238&lang=eng
--------------------------------------------------
Subject: Activity on Fault where impact occured?
Date: 5/29/2006 10:59:09 AM Pacific Daylight Time
Parameters
Magnitude ML 3.1 Region NORTH ATLANTIC OCEAN Date time 2006-05-29 at 06:57:41.6 UTC Location 37.02 N ; 10.67 W Depth 141 km Distances 229 km SW Queluz (pop 103,399 ; local time 07:57)
177 km W Lagos (pop 18,831 ; local time 07:57)
170 km W Aljezur (pop 4,122 ; local time 07:57)
More activity on the same fault.
SEE: http://www.emsc-csem.org/index.php?page=current&sub=detail&id=IZ658;INFO
-------------------------------------------------
6/4/2006 9:01:13 P.M. Pacific Standard Time
Kent -
Have you seen this?
Just found this on the internet tonite...
Layna.
5/2/2006 5:48 AM [Forum]

I received an email today regarding comet Schwassmann-Wachmann from a friend who is a computer analyst at NASA saying 2 of the comet's fragments have been labeled as probable strikes and 8 labeled as near misses.

He went on to say that the comet and it's fragments are changing too rapidly and definite strike zones can't be calculated. In other words we won't know where they will hit until they are right on top of us. He made this part crystal clear,these fragments could break apart at any time and due to the reduced size burn up in the atmosphere, but, and there is always a but,they could break apart and not burn up causing multiple small strikes.

I was told to prepare for the worst and hope for the best because there isn't any plan in place to warn the public. He also said preparations have been made to evacuate the ISS (International Space Station) if a situation arises. We could see an evacuation anyway so we'll have to wait and see.

I'm waiting for a reply to my reply so I'll fill you in as more details become available.

----------------------------------------