RBIT September page 2
(Graphic intensive. Netscape best, 800X600)

.......

HIGH ALERT: electromagnetic disturbances detected.
I just received a special storage analyzing oscilloscope. Using my "UFO" sensing equipment, I have found that there is a a frequency being broadcast, probably world-wide, if my fears are correct. The frequency is sitting extremely stable at 14.28571429 Kilo-Hertz. It has a persistent modulated wave-shape. The relative wave-form does not change much, although the whole pattern throbs slightly. This is within the higher range of human hearing. Being on continuously, it would cause a counter-reaction in the brain.
HANS HENDRIK RUSSELL

THE NEW PHYSICS
We predict that USA society will be TOTALLY DISTRACTED by "Pure Physics", the "ultra science" explaining unique gravitics applications, energy generation, and wave <=> particle transitions in the next eighteen months, by 1999.

DR. BRUCE CORNET


| | |
| --- | --- |
| | I showed my data to a physicist, who told me that I had detected a polarized magnetic photon source of energy coming out of the ground. He said that such a source of energy was theoretically possible, but during the time he had worked as a physicist for the Navy he had never seen an instrument or device capable of generating such a signal. |

My wife and I may have been given information that could lead to writing a music synthesizer program along the lines of your request: "I want a PHI-gizmo-thumper before I croak, trouble is, I can't even wire a flashlight."
She had telepathic contact with the pilot of a UFO which was pacing us along the highway in 1995. She asked him, "What kind of music do you like?" Sounded like a straight forward break-the-ice kind of question tome.


Our Gregorian calendar is off by four years, and the year 1997 is actually the year 2001.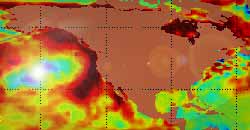 Thermal Effects of EL NINO

BlackByrds' Urgent News

Schumann Resonance

JULY ISSUE. AUGUST ISSUE. ARCHIVES





DELORES FINNEY

"I had a neat dream 7 times in one night about a Shaman and his crystal tools. So, I found a Tantra Twin crystal and put it under my pillow. The visions were instantaneous."

\
I remember so well the dark side of the moon . . .

| | |
| --- | --- |
| | Ancient Voices.. |

A conversation from the SOUL

.....

Latest Graphic Masterpiece

REACH OUT WITH YOUR VISIONARY EMAIL POSTS:

TOO MUCH GETS LOST. PLEASE CC ARTICLES HERE

MAGAZINE CONTENT WILL CHANGE MONTHLY.


NORIO HAYAKAWA


From Nexus magazine Aug 97
U.S. Congress has approved funding for the Army to perfect a laser that projects life-sized hologram decoys of troops and tanks, designed to fool enemies on the battlefield. Dubbed the "Ghost Gun", the hologram projector could also be used to display virtual images of religious or political leaders in order to create calm or panic amongst the public. continued

NEWSGROUPGEM of WEEK
"Because Earth, as a great planetary entity, is about to undergo another cosmic initiation, we cannot speak of the planet and its ongoing destiny without becoming involved in the Drama of the Heavens."
IUFO post by John Winston


AWARD WINNER


.......

U.S. Atomic Tests in '50s Exposed Millions to Risk, Study Says . . .
.......

Tests of RW muitions at Dugway Proving Ground, Tooele, Utah, 18 October 1949.
.......

Electromagnetic Pollution.
.......

The government Cancelled Plans to Identify Nuclear Fallout Sites.
.......

HAARP
.......

DOE Openness: Human Radiation Experiments.

Kent Steadman Editor

Crystals by Moyra
Click on the graphic to vote for this
page as a Starting Point Hot Site