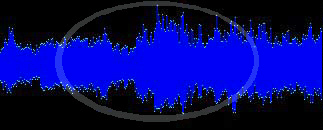 UFO SOUND WAVE
(above graphic derived from Compaq .wav editor)
REAL AUDIO SOUND FILE

WAV FORMAT SOUND FILE
(voice trimmed, see page 2 for full sound file and analysis)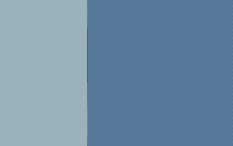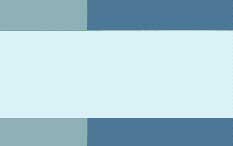 GOLDEN RECTANGLE TEMPLATES
(smaller rectangle superimposed on the horizontal axis)

THE UFO WAVE ON THE GRID

CONVERSATIONS:

Stumbled across ol' PHI when I was trying to carve out the design in a canvas many years ago. Scrounged up a book called Dynamic Symmetry by Hambidge and then obsessed a course from there.
One night in the early-Eighties a bucko and I figured out that the numeric progression in the Fibonacci series contained a sine wave.
What I want to know is, can this wave-form be broadcast electronically with some kind of Dune-like thumper, building up a cadence based on harmony instead of those irritating heavy-metal frequencies trickling down from the OPs for years.
The ancient Greeks seemed to have pulled off this stunt with Aeolian wind harps situated on the hills around Athens. Human bodies, tree branches, whirlpools, galaxies, sunflowers, pyramids all seem to do homage to PHI. What a deal!
I figure the pentagram-dodecahedron (laced with PHI) is the female lover to Rich Hoagy's Tetrahedron-macho-brute. Terra is a PHI-mama, both in endoskeleton and vibes.
I want a PHI-gizmo-thumper before I croak, trouble is, I can't even wire a flashlight.

My wife and I may have been given information that could lead to writing a music synthesizer program along the lines of your request: "I want a PHI-gizmo-thumper before I croak, trouble is, I can't even wire a flashlight."
She had telepathic contact with the pilot of a UFO which was pacing us along the highway in 1995. She asked him, "What kind of music do you like?" Sounded like a straight forward break-the-ice kind of question tome. He responded by playing a decreasing series of frequencies that left her feeling very strange. Later when several craft flew over me at Pine Bush they played the very same sound, she said after listening to my recordings of it. I attach a short segment to give you an idea. I call this sound the "Reverse Doppler" phenomenon, because it is played to the listener as the craft is approaching, and is heard as a series of wave fronts in progression. This sound differs from normal jet noise in that the frequencies continue to drop as long as you hear the sound, coming or going. I wonder if there is a PHI progression to the harmonics. I will have to look more closely at this sound with my frequency spectral analysis program now that I know what I am looking for.

1. Brought the wav up on my Compaq .wav editor which converts to graphic.
2. Superimposed the the core section of the graphic-wav over a golden rectangle, which was subdivided (using strict PHI proportions) in a manner to accommodate the vertical symmetrical shape of the wave.
3. Bingo! It fits! It's really aesthetic, beautiful!
note: I did use some creative judgment in placement of these shapes based on many years of watching for the PHI ratio in nature. I can't help but feel this is a real mesh, both intuitively and rationally.
Soundwave of 10 August 1996 sighting at West Searsville Rd., near Pine Bush, NY. Sample rate 11025 Hz.
---------------> ascending Fibonacci Seriesdescending Fibonacci Series ----------------->

Screen capture of encoder

WAV FORMAT (too large to include)

REAL AUDIO SOUND FILE
DR. BRUCE CORNET

We predict that USA society will be TOTALLY DISTRACTED by"Pure Physics", the "ultra science" explaining unique gravitics applications, energy generation, and wave <=> particle transitions in the next eighteen months, by 1999.
EDITOR'S NOTE: As an artist I have been in chase of the Muses for a half century; certain ideas coming from science seem to merge into the realm of the purely creative. When we leap together, art and science, new wonders dawn. Justifications, or not, follow later--KENT STEADMAN