.
1/7/02 23:42

BINGO!
[Left] 9 Wed 25.3 00h Comet 96P/Machholz 1 passses perihelion (Period: 5.2 years)

Date: 1/7/02 3:12:22 PM Pacific Standard Time

Not a Solar torpedo

Kent, http://www.spaceweather.com/

It is 96P Machholze, a periodic comet, a spectacular one at that, but expected to survive passing by the Sun closely (0.12 AU)

EDITOR: Here's what I see:
SO MUCH FOR STARSHIPS...ALMOST...
Date: 1/7/02 8:19:58 PM Pacific Standard Time

Hi Kent, Did you notice the 5 'lights?' that show up in the current comet animation? They seem to show up in one frame (attached). There seems to be some sort of formation to the group. Is something watching the comet? ;-)

ARCHIVED IMAGE

Date: 1/7/02 4:18:41 AM Pacific Standard Time

Hi Kent, I remember reading how only a few days ago you said to look out for torpedoes... Looks like your 'gut feeling' was right and behold! there is one!

[EDITOR: this current comet 96P is not an anomalous torp, although was difficult to determine-such upon early entry!]

HERE BE TORPS

SOLAR TORPEDOES

STS-80 2 SHUTTLE MISSION: TORP ASCENDING FROM EARTH

Solar Torpedoes are suspect of being of other than natural-celestial origin, based on theory, intel and watch--speculative! Source-tech unknown, but there do exist clues, consider a 4.5 terrawatt maser, reach of 2 AUs, with possible plasma signature.

oops, don't like the look of this>

might want to look eastward before sunrise.

Date: 1/8/02 12:43:59 PM Pacific Standard Time

Look what comet did!

UPDATED TO SHOW COMET BOOKING AWAY C3 MPEG

Date: 1/5/02 2:20:26 PM Pacific Standard Time

SOHO C2 Data cuts out at 14:06. It returns at 18:54. Look whats there.

What crossed during data gap? It's not Venus, because its dissappearing to right. Venus would be entering from right, so image would get brighter with time, not dimmer as this is. If comet, tail is all wrong.
[ANOTHER] COMET BORELLY Stunning Comet Close-Ups Released From Fly-By

NASA Administrator Sean O'Keefe: He is the author of several journal articles, contributing author of Keeping the Edge: Managing Defense for the Future, released in October 2000, and in 1998, co-authored The Defense Industry in the Post-Cold War Era: Corporate Strategies and Public Policy Perspectives. He is also a member of the Bohemian Club of San Francisco.
EDITOR, RE, KREUTZ COMETS: Aren't comets in wide elliptical orbits including Kreutz Comets? So why then do we see them every cottonpickin' time coming in almost precisely at 5:00 or 7:00 relative to the camera plane of the SOHO spacecraft? Hard for me to visualize comets (orbital entities) hanging in one static region in some kind of weird parallel dance with man's latest wee solar-satellite also with unique orbit.
FEEDS HAVE BEEN UNRELIABLE, seem to be working now, 1/7/02 7:30 AM PST
Movie: http://lasco-www.nrl.navy.mil/rtmovies.html
Navy Raw http://lasco-www.nrl.navy.mil/java/lastC3.html
THE VERY LATEST SOHO IMAGES http://sohowww.nascom.nasa.gov/data/realtime-images.html
Space Preservation Act of 2001 (Introduced in the House)

WILD SYNCH
NOTE: QUADRANTIDS - The first annual shower peaks only two days after New Years Day. It's parent source is comet 96P/Macholz.
ASTEROID 2001YB5 INCOMING JAN 7
UPDATE: DEEP IMPACT Arecibo Asteroid Radar Project Gets One Year Reprieve. EDITOR, events such as this might be why: 2001+YB5 [2] size: H (absolute magnitude)20.220 210 m - 470 m ORBIT SIMULATION Wonder if we'll see it on SOHO?
YB5 FLYBY
2002 01 07.1 11 02.49 -42 52.1 0.0058
2002 01 07.2 12 28.84 -53 40.4 0.0055
2002 01 07.3 14 34.37 -58 35.1 0.0057
2002 01 07.4 16 25.37 -56 00.1 0.0065
2002 01 07.5 17 32.60 -50 36.1 0.0076
2002 01 07.6 18 11.27 -45 27.3 0.0089
BBC: Space rock hurtles past Earth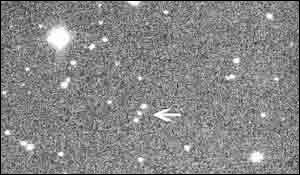 DID IT ALL HAPPEN AT ONCE?
Stellar 'Fireworks Finale' Came First in the Young Universe The deepest views of the cosmos from NASA's Hubble Space Telescope are yielding clues that the very first stars may have burst into the universe as brilliantly and spectacularly as a fireworks finale - except, in this case, the finale came first - long before Earth, our Sun and the Milky Way Galaxy formed.
IMPORTANT: PLANETOPHYSICAL STATE OF THE EARTH AND LIFE By DR. ALEXEY N. DMITRIEV