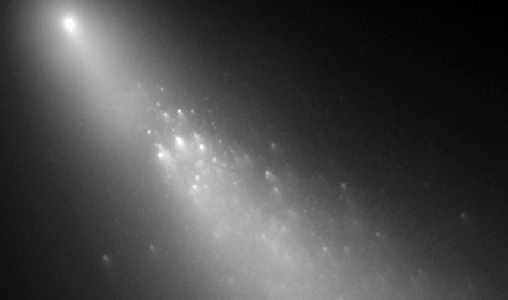 Discrimination needed! This unusual wedding-veil comet is interesting--beautiful!

Will the earth get blasted head-on by a stray chunk? Doubtful! We all know Zeus the Magnificent, like Dick Cheney, can't shoot. But do keep sleuthing!

-----------------------------------------
5/1/2006 6:04:08 P.M. Pacific Daylight Time
Kent,
Check out the cult numbers below NASA just can not help but use!
11, 33 & that damn tetrahedral 14.7, wow! I wonder if this is doctored or the actual numbers? Maybe the site was hacked (I hope so) or are we really in for a real whacking? No wonder everyone has been seeing 11:11 for the last couple of years. Is this a joke or not? Toss in 21:53 adding up to 11 and we have cult symbolism all over this thing: 21:53 = 2 + 1 + 5 + 3 = 11, talk about tossing us a bone. Thought you might find this interesting/amusing?
Close-Approach Date 2006-May-11 21:53 ± 11:11
Miss Distance Nominal 33.7/0.0867
V relative (km/s) 14.79
N sigma 3
--------------------------------------------------
5/2/2006 5:48 AM [Forum]
I received an email today regarding comet Schwassmann-Wachmann from a friend who is a computer analyst at NASA saying 2 of the comet's fragments have been labeled as probable strikes and 8 labeled as near misses.
He went on to say that the comet and it's fragments are changing too rapidly and definite strike zones can't be calculated. In other words we won't know where they will hit until they are right on top of us. He made this part crystal clear,these fragments could break apart at any time and due to the reduced size burn up in the atmosphere, but, and there is always a but,they could break apart and not burn up causing multiple small strikes.
I was told to prepare for the worst and hope for the best because there isn't any plan in place to warn the public. He also said preparations have been made to evacuate the ISS (International Space Station) if a situation arises. We could see an evacuation anyway so we'll have to wait and see.
I'm waiting for a reply to my reply so I'll fill you in as more details become available.
----------------------------------------
5/2/2006 10:59:07 A.M. Pacific Daylight Time
Hi Kent.
Just posted this on RMN.
Perhaps Nephelim servents are coming in the open. If that is so then Garabandal warning is next.
All the best.
IZAKOVIC
-------------------------------------------------------
5/2/2006 8:39:38 P.M. Pacific Daylight Time
Would it be possible since we've been whacking galactic ships, that their home planets may be whacking comets that are supposed to fly by here harmlessly--so they're no longer harmless?
Mike Salla says we've downed 74 of their ships. I'll bet they're not happy.
-------------------------------------------------------
5/3/06 1:30 AM PST
CO-RESEARCHER: Kent are you there? have a comet scoop for you
CO-RESEARCHER: Just got off the phone with friend- one of her intel sources says that a piece of the comet about the size of a volkswagen WILL come down in the South Atlantic - projections are that this will cause a tidal wave that will take out all of Florida.
Date Projected: may 28. Govt. Guys VERY focused on the situation right now/
If you want to publish info - just list it as from GOVT. INTEL SOURCE
BARDSQUILL: okay, yea, there's a fragment we've been watching commissd3.gif
BARDSQUILL: NASA being highly weird about this chunk o gunk
CO-RESEARCHER: well evidentally they project it will land in south atlantic - they are pretty freaked and nothing they can do
BARDSQUILL: gadz
CO-RESEARCHER: tidal wave over florida
CO-RESEARCHER: dates are varying - but her source said May 28
BARDSQUILL: weird soho today
BARDSQUILL: I think something else is out there too, like a big forcefield ftom a nova or GRB or something, blasting these comets, but that's not a sure deal...yet
BARDSQUILL: http://grb.sonoma.edu/details.php?id=322
CO-RESEARCHER: yeah
--------------------------------------------------------------
5/3/2006 2:57:38 A.M. Pacific Daylight Time
How reliable is your Govt Source? – (privately off the record). I live in FL with my family, in the Panhandle. Is this source reliable enough for me to take my family to shelter someplace else? Can you find out anymore – would the NW FL Panhandle be affected?
REPLY: The messenger a trusted co-researcher I've worked with for many years.
I personally cannot verify this at it has stepped two times down to me and I have no personal phone calls nor emails from the actual INTEL source.
--------------------------------------------------------------
5/3/2006 3:11:53 A.M. Pacific Daylight Time
Hi Kent..
Just to let you know that I have been waiting for the break up of a comet for awhile now. I'm from Puerto Rico but reside in the Central US. All my family still lives on the southeast coast.
I have been having dreams for a few years now of a wave hitting my town. Downtown is in the valley, my folks are in the hills, it's about 700ft above sea level. The wave comes all the way up to near our front door.
Two years ago while talking to my brother, I told him about La Cumbre Vieja volcano, because I thought that the predicted land slide was going to be the cause of the mega wave. Funny, he told me that he has been having reocurring dreams about a HUGE wave.
The one he sees is a lot bigger that the one I see. In his dreams, he is just in front of the house looking East and he sees this huge wave, so high that it's pushing the clouds ahead of it.
Well that was a surprise. But I told my mother about dream of the wave, and she has been having dreams also about a wave. It's the same wave my brother sees.
Now we have news of a comet breaking up. Lots of prophecies speak of objects hitting the oceans. So I started looking for the cause of the wave up in the heavens.
So here we are. What can I say. Pray for my smaller wave. Oh I have also have dreams of Puerto Rico splitting down the middle and the entire eastern half falling into the ocean.
--------------------------------------------------------------
5/3/2006 8:27:27 A.M. Pacific Daylight Time
WOW, Kent, incredible compilation. Matching our "feelers" and intuition. We're currently "seeing" the Van Allen Belt ? catch on fire from combination of comet and HAARP fuc...3 days of red fire. all around earth. Intense heat here. Not safe for people because of heat. THings melt, burn. Grid down completely. 25th still coming in as date. No way to prepare all the people. We are setting up basement, will set up windows to reflect heat and hope the building doesn't catch fire. Along with this is the wave you keep seeing. And those who have a high enough vibratory rate will make it through. Veil down at this time too...people see reps in person, slime balls pouring out of the ground, aliens, clones for what they are....lotta fear happnin. Again...that love space, centeredness, and extreme caution needed as the unwary will be sucked into fear and get wiped. Hole up, DO NOT PARTAKE OF THE WAR. We gotta make it through this in order to assist the afterward. We'll have assistance at that point.
--------------------------------------------------------
5/3/2006 9:42:42 A.M. Pacific Daylight Time
Kent - this article from autumn of last year falls in line with this comet watch that
we're on...
http://www.israelnationalnews.com/news.php3?id=91417
Here's an earlier article saying the same thing minus the part about the oceans
striking the world - but a lot of talk of destruction 'falling' on the earth...
http://www.israelnationalnews.com/news.php3?id=89850
COMET IMPACT PREDICTIONS
http://www.barry.warmkessel.com/barry/2000Paper.html
--------------------------------------------------------
5/3/2006 1:25:10 P.M. Pacific Daylight Time
Hi Kent.
A new post on RMN. If you consider M3/ red dollars, price of gold/silver, and that Russians say that US plans no sanctions but only nuclear strike against Iran
then that bellow is worrying.
All the best.
IZAKOVIC
AOL/phikent/orbit/orbitback38.html
EMAIL, 7/12/99 1:47:07: The list of the killed astronomers and service men is on the homepage of the Plateau de Bure Observatory. Did you know, that they are famous for their research about Hale Bopp? Maybe they found something about comets, that does not fit in NASA's theory about their "dirty snowballs!" Especially they found complex molecules on Hale Bopp never seen before by NASA.
Now in internet archive:
http://web.archive.org/web/20021217205118/http://iram.fr/HB/comet.html
If this above times out put
http://iram.fr/HB/comet.html
Here:
------------------------------------------------
FORUM: 5/4/2006 9:38 AM
I took these with a canon rebel xt, tripod and remote. Very clear and still conditions. The object inset is blown up, and several look to have 2 objects in them that look like rocks to me. Be sure to slide show (you can change time intervals from 5 to 2 seconds) and the pics are larger.
------------------------------------------------
5/4/2006 2:07:17 P.M. Pacific Daylight Time
Hi Kent,
Not sure why people get off saying a comet will hit this May and cause a tidal wave. When I see government officials such the governor of FL and other high officials leaving quickly then I can say, hmm you got something there. Start making excesses' why the comet didn't hit. Have a great day
-------------------------------------------------------
5/4/2006 3:11:28 P.M. Pacific Daylight Time
Kent,
The comet is an interesting item, and seems to bring out all the end-of-the-worlders. Of late some dude, has pronounced that a piece of the comet is going to hit the earth on May 25th, based on information he "channeled" from friendly ET's. Yet and again others are blathering around all the usual stuff of "Nostradamus said..." and this quantraine means... and so forth. I can't tell you how many bogus stories have started with qualifers like "intelligence community sources" "insiders" "Knowledgeable insiders" "person who worked for a government agency.." not to mention many others.
The people spreading and promoting theis story should add a disclaimer at the very top of the web page, at the bottom of the web page, and at the top and bottom of the radio show, something to the effect of "You shouldn't quit your day job on the basis of this information" as its theoritical and uncomfirmed."
Remember when the so called Planet Xers were crawling out of the wood work, a few years ago during May? We were told loud and absolute pronouncements about its passage...which didn't happen. The alleged and so called Zetas even had a date, which didn't happen, then a later two or three dates through the end of May, then when that never happened, we start hearing rationalizations about how it was a so called 'white lie.'
Remember the non Y2K event? Gulliable people actually moved to the hills to prepare for the end etc etc. Remember Hoaglands so called insider intel source that told him with absolute clarity that ETs were going to land on a mountain top in Arizona in December? Remember the so called Nostradamus comet of 1999, something along the lines of in the 7th month of 1999..? It didn't happen but gulliable fools looked up every calender they could find, as I recall the last one was the jewish calender wherin the so called 7 month was October. It didn't happen, but it didn't stop the people from blathering the story until
The bottom line is that should this turn into a "non event" I predict (with great clarity) that three things will happen.
1) all the people spreading and promoting the story will move on to the next comet/meteor/disaster and absolutly will not want to talk about the comet or its approach blathering about how the future events are more important, and how they were just conduits for the information, they didn't actually buy into the story themselves and how they were presenting it for informational purposes only.....
2) Those that do talk about it will endlessly rationalize the non event away, telling us how even though it didn't happen, it was a good wake up call, and the world needed to know about the possibilities etc etc. If you happen to corner one of the people making iron clad, cast in stone, absolute predictions, then blather things like "well I only said it was possible that I channeled from ET" or things like "well the radio talk show host put words in my mouth when I pronounced an absolute date..." "I only meant possibly" My remarks were misinterpreted etc etc. Well the government intel source really mean't down the road the next time the comet came by.. blah blah.
3) The honest information brokers will loudly denounce (just as loudly as they promoted it) the story indicating that it turned out to be a load of crap, that didn't happen and that they apologized to their fans/readers/listners for pushing the crap out in the first place.
The truth is most tellers of this story will end up in item 1 or 2. (Thats a prediction thats pretty full proof)
I predict with great clarity that the earth will, at some point, some time get hit with a meteor or comet...not becaused it was channeled from friendly ETs, not because of some government sources, but from the fact that the earth has been hit many times before, and will be hit again. There is virtually nothing that man will be able to do about it, other then to ride out the hit and hope for the best.
By the way I can tell you that this comet is an absolute big nothing, zero, zip, nada news item, until May 10th through 12th when the astronomers start watching, then you will see some stories. In the mean time high oil/gas prices are in the news, (by the way when an individual fills up at the pump, they care far more about fuel prices, then a comet down the road) Iraq, terror, and all the other usual stories which will be around long after the alleged and so called impact dates of comet fragments.
So lets wait and see.
-------------------------------------------------
5/5/2006 10:34:19 A.M. Pacific Daylight Time
I don't know, Kent...there just seems to be TOO MUCH pointing towards this comet...I have the distinct feeling that this is 'the beginning of sorrows'...if this year passes by without anything happening - it almost seems impossible.
I do feel that this will be part of the Warning with the Great Chastisement comingsometime later.
------------------------------------------
5/5/2006 10:45:25 A.M. Pacific Daylight Time
http://www.davidchandler.com/debris.htm
Not sure if you have ever heard of him. Might get an interesting opinion from him as his site is saying something but doesn't really come out and say it. I'm just a normal human thinker - guess I'm not the norm - but the story is in the tail by every search on the subject. Run with this and lets find a prediction to compare with reality, it's coming.
---------------------------------------------------
5/5/2006 11:09:21 A.M. Pacific Daylight Time
Hi SOme of you wrote back and wanted more information, so here it is:
It appears the comet will pass along Earth's eliptical plane and in front of the Earth on May 25th, 2006
Here is a diagram and Nasa animation showing the passage, it takes a minute or two to load and much longer with a slower connection.
Another NASA report:
Here is another take on it from someone else
Who this is:
More Julien:
May 12:
Something I didn't see mentioned was the gravitational effect as it passes, (earthquakes, anomalous weather, etc. There was an 7.9 on Richter scale earthquake May 4th 2006 in Tonga:
So thats what is stirring around today. I suggest everyone who is interested check out the vatious sites.
As this is being closely observed by many agencies and observatories, there is and will be a lot more information about this comet online as it appears the regular medias are ignoring the event.
A friend of mine in the air force said they were moving things and planes and ships away from the coast? Hmmmmmmmmmmmmmmmmmm
----
18 miles is rather LARGE.
IZAKOVIC
DATED COMMENTS
Christian Radio Broadcast MORE DREAMS OF FIREBALLS
26 Apr 2006
COMET NEWS: Only a few days ago, fragment B of dying comet 73P/Schwassmann Wachmann 3 split in two. One of those two pieces is now "in outburst," almost doubling in brightness since April 23rd... The outburst could signal a new breakup of fragment B, which brightens as fresh veins of ice and dust are exposed to sunlight. If so, the pair may soon be a triple--or more. Fragment B is shining like a 9th magnitude star... The outburst could signal a new breakup of fragment B, which brightens as fresh veins of ice and dust are exposed to sunlight. If so, the pair may soon be a triple--or more.
4/22/2006 11:46 AM
Fragmentation of 73P/B PER conversation with Dr. Salla night before last......they were at that time 2 days ago were tracking 40 fragments in the celetial area of earth....and they think there could be many more that they have not been able spot yet......so keep your eyes to the sky.....
4/25/2006 5:33
Nothing like this has occured in earth's orbit in many centuries it's hard to say scientifically WHAT will happen until after the fact--hindsight is always 20/20
03.24.2006
On the other hand, what if "the comet was shattered by a hit from a small interplanetary boulder?" A violent collision would produce faster-moving debris that could reach Earth in 2006.
4/25/2006 8:36
Clearly, the fragments are closer together in the February timeframe. Then they begin to fan out. They stay fanned out for most of their several year orbit, and then finally come back closer together as they reach a full o4/26/2006 10:27
The Point here is that there have been five extended epochs since the Renaissance when the earth apparently encountered the fragmentation debris of previously unsighted comets. During theses epochs, broadly coinciding with the Hundred Years War, the Reformation, the Thirty Years War (including the English Civil War), the French Revolutionary Period (including the American War of Independence) and the mid-nineteenth century revolutionary Crisis in Europe...rbit (which I understand is about 5 years).
re have been five extended epochs since the Renaissance when the earth apparently encountered the fragmentation debris of previously unsighted comets. During theses epochs, broadly coinciding with the Hundred Years War, the Reformation, the Thirty Years War (including the English Civil War), the French Revolutionary Period (including the American War of Independence) and the mid-nineteenth century revolutionary Crisis in Europe...
And the stars of heaven fell unto the earth, even as a fig tree casteth her untimely figs, when she is shaken of a mighty wind. Revelations 6:13