Sentinel 3/7/2003 9:28 am EST

Something Wicked This Way Comes???

Check out this photo of what may have just knocked out Pioneer 10 at a distance of 7.65 billion miles from Earth. Apparently this object and it´s host of moons appearing in a cloud in the heavens can now be seen with a pair of good binoculars if you have good clear, dark skies (away from light pollution). It should become much more visible, (begin reflecting more sunlight) once it passes within Saturn´s orbit in 21 days. I´ve sent Kent some updated distance charts and mapped coordinates of this object, but it looks like he hasn´t had a chance to posted them yet.
Date: 3/3/03 7:53:38 AM Pacific Standard Time
SENTINEL
PX Update: (Feb 18,2003)
I've been continuing to closely monitor incoming reports regarding PX as presented at zetatalk.com. They now have a few talented amateur astronomers sending in detailed telescopic photos of the PX coordinates and it seems they have definitely captured some moving bodies in the area surrounding PX's reported location. However, there is nothing conclusive that they've managed to captured on film as of yet. You can watch for their regular updates at: http://www.zetatalk.com/teams/tteam342.htm
Good News: (PX Off Projections)
Zetatalk has also updated their PX coordinates up until the beginning of April. I took the liberty of converting their coordinates and loading them into some StarFinder software to plot PX's progression and subsequently found an interesting development.
Between Feb. 22nd and Mar. 3rd, zetatalk's projected path for PX takes a sudden and unexpected detour from their original 1997 coordinates for March 3, 2002. Up until now, as incredible as some of ZT's claims have been, they have stuck to their story quite rigorously, so this sudden change is quite unusual, even by their standards. I wrote to Nancy and she confirmed that my suspicion that her strange Feb. 22nd coordinate was simply a typo, which she corrected. However she failed to provide an explanation as to why the new March 2, 2002 coordinates are so far off of the original 1997 March 3, 2002 projection. In fact, the April 7, 2002 coordinates are not any better.
The ZT story goes that by the beginning of March, PX will begin to encounter the outer edge of the solar ecliptic where the Sun's positive gravity flow is strongest. As such PX takes the path of least resistance and begins to drop to a position 32 degrees below the solar ecliptic. However given the new zetatalk PX coordinates, this clearly does not take place, even by as relatively late of a date as April 7th. According to their updated Distance Tables [http://www.zetatalk.com/theword/tword03a.htm], by that date, though PX has almost closed to a distance equivalent to Jupiter's orbit, it still has not significantly dropped. It still has another 23 degrees to drop based upon their previous projections. I've monitored the ZT forum for the past two weeks and an explanation for this sudden detour of PX has not been addressed there as of yet.
Also note the HUGE leap PX takes between Feb. 22nd and Mar 2nd. I've considered all of the explanations that I can think of which might account for this "apparent" burst of lateral displacement, however I can think of none that could apply, given PX's currently reported mass and velocity and Earth's present position in it's orbit. As such, my personal PX probability rating is finally beginning to decline somewhat. However, I admit a few good clear (undoctored) photographs good quickly reverse that trend.
Current Distance to PX:
Finally, I've charted the new distance tables [http://www.zetatalk.com/theword/tword03a.htm] recently updated at zetatalk so that you can follow just exactly what PX's current distance is "suppose" to be in the coming weeks leading up to it's predicted passage on May 16th.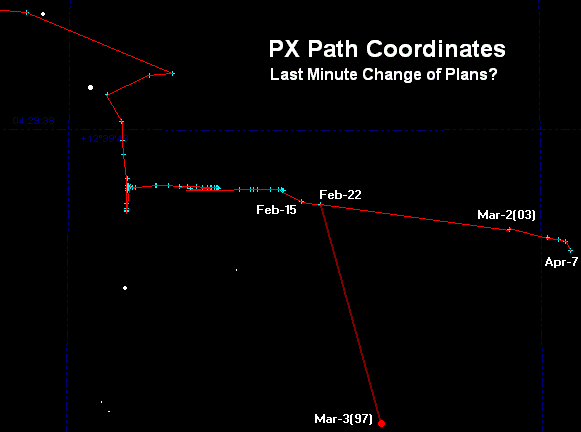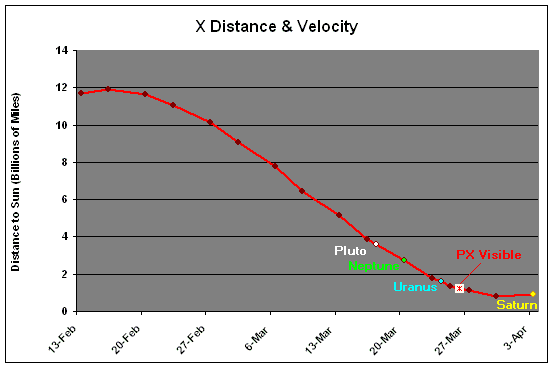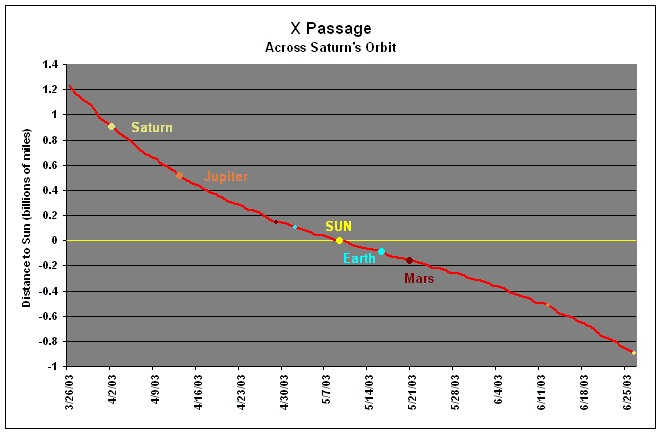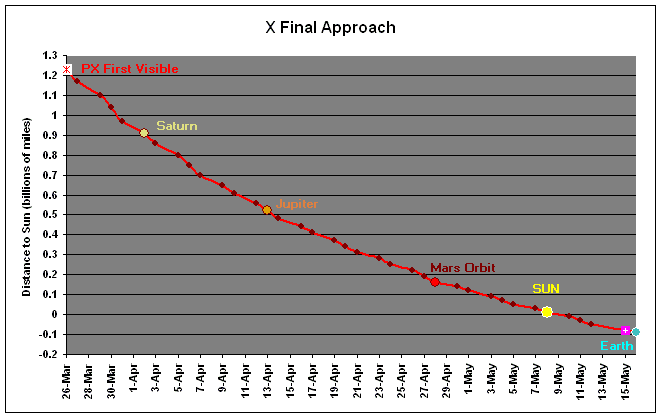 If zetatalk and PX is a hoax, it should prove to be one within the next few short weeks. Let's hope that it is.