WERE THE MANY FAMILIES HERE IN ANCIENT AMERICA?

In the incongruous atmosphere of the Wilshire Hotel in Los Angeles, an extraordinary encounter took place in 1979. During the Dalai Lama's first visit to North America, he met with three Hopi elders. The spiritual leaders agreed to speak in only in their Native tongues. Through Hopi elder and interpreter Thomas Benyakya, delegation head Grandfather David's first words to the Dalai Lama were: "Welcome home."

THE WELCH NATIONS
The great River is called by the Natives the Mult-no-mack [Multnomah] River; it is 500 Yards wide at its mouth; & continues that width, as high up, as where we ascended it. The Indian guide that was with us, told us that it heads Near the head Waters of the California, ... Our guide also mentioned that he had seen one of the Indians of the Clark-a-mus Nation, & that this Indian was white, & that he mentioned they had fire Arms among them. From the above information received from our guide,
I am of opinion, that if any Welch nation of Indians are in existence, it must be those Indians, & not the flatt head Nation, as before mentioned; this I believe, from their Colour, numbers of Town, & fire arms among them, which I flatter myself will be confirmed, whenever the River Mult-no-mack is fully explored. April 02, 1806 Joseph Whitehouse, Lewis and Clark Expedition
...our officers told them taht we would Speak to them tomorrow and tell th[em] who we were and what our business is and where we are going &C. these natives are well dressed, descent looking Indians. light complectioned. they are dressed in mo Sheep leather Deer & buffalow robes &C. they have the most curious language of any we have Seen before. they talk as though they lisped or have a bur on their tongue. we Suppose that they are the welch Indians if their is any Such from the language. they have leather lodtes to leive in some other Skins among them. they tell us that they or Some of them have Seen bearded men towards the ocean, but they cannot give us any accurate [account] of the ocean but we have 4 mountains to cross to go where they saw white men which was on a river as we suppose the Columbian River. April 02, 1806 Joseph Whitehouse, Lewis and Clark Expedition
Date: 5/9/02 1:42:28 PM Pacific Daylight Time
This quote you shared reminds me of what was said of the Mandans. They spoke Welsh, fair complexions, etc....
More L & C stuff here:
http://www.lcbo.net/columbiabrochure.html
http://xroads.virginia.edu/~HYPER/JOURNALS/journals.html
http://tech.wwps.org/Edison/Khaney/Web%20sites%20material/Lewis&ClarkWallaWalla/indexlewis%26clark.htm#map

The Mandans, and some of their neighbours, certainly lived in round, earth lodges not dissimilar to those found in Wales Catlin Notes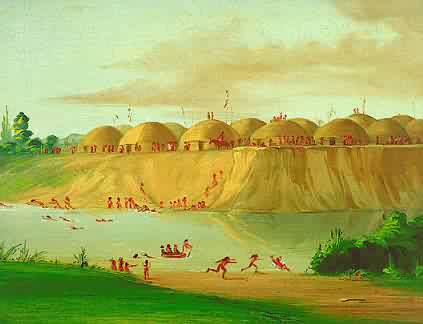 Ancient Mining on the Shores of Lake Superior: bet a buck-fifty that the miners were Celts or "Welch Nations". Could we presume even earlier migrations, when the mines played-out in Milesia? The Celts might have voyaged in exploration, going every which-way, but I think this might hint of timelines in the B.Cs.? Perhaps the Druids that raised or educated Madog ab Owain Gwynedd knew of the more ancient explorations, and sent him to the New World.

A CONSIDERATION: WAS AMERICA DISCOVERED IN 1170 by PRINCE MADOC AB OWAIN GWYNEDD OF WALES?
ODE

the son of Owain Gwynedd

with stature large and comply grace adorned

No land at home, nor store of wealth

My mind was whole to search the Sea.

Dolwyddelan Castle - Castell Dolwyddelan

America's Stonehenge

[The Welch Indians, or, A collection of papers respecting a people whose ancestors emigrated from Wales to America in the year 1170 with Prince Madoc (three hundred years before the first voyage of Columbus): and who are said now to inhabit a beautiful country on the west side of the Mississippi, Madog ab Owain Gwynedd, -- 1150-1180?; Madog ab Owain Gwynedd, -- 1150-1180?; Indians of North America.; Indiens -- Amérique du Nord.; America -- Discovery and exploration -- Welsh.; Amérique -- Découverte et exploration galloises. 2 3 4 5 6 7 8 9 Extended Research
Similar to the Arthurian, legend claims that Madog was hidden by his mother and raised by Pendaran, an old druid 2 3 4. When Queen Brenda lay dying, she told Owain about his son. Madog was sixteen years old at the time.
From the Mabinogion, a series of old Welsh folk tales. Pendaran Dyfed (also spelled Dyved) was a powerful Druid. Dyfed was a place name rather than a last name, but for whatever reason, it is always Pendaran Dyfed, and not just Pendaran or Pendaran of Dyfed.
The Working Celtic Cross: In 1997 Crichton Miller made an astounding discovery that will change our concepts of the historical and religious past forever. Crichton's background and life experiences play a fundamentally important part in this revelation; he is a qualified yachtsman and navigator with an interest in ancient history and religions. Through the results of intensive research, Crichton proposes that our present system of beliefs and science was inherited from ancient mariners that sailed the oceans of the world in prehistory. He further proposes that the abrupt end of the last ice age, 12,500 years ago, was part of a cataclysm that destroyed of a large part of the flora and fauna of Earth. The most likely humans to survive this cataclysmic event were those who were at sea.
KENT'S TREE
Kent's Great Great Grandfather: Henry Miller DAY 7 Aug 1904
His Great Grandfather

Henry DAY 10 Mar 1794

Great Grandmother

Nancy EASTMAN

1797 Cornish, York, Me

10 Mar 1794

Matriarchal:

Father:

Daniel EASTMAN

9 Dec 1757

-------------------------------

Mother:

Annie ALLEY (Passamaquoddy Lineage)

2 Jun 1761

Way Back Patriarchal?

DEE B: 1591 Wales

Distant Ancestor of:

It figures... (Mad Dog)

AN ANCIENT PEOPLE?
| | |
| --- | --- |
| | China Mummies: TaklaMakan = Cherchen = Ürumchi = Tocharians |
I watched the NOVA film on the mummies. It showed Caucasian and Mongoloid mummies buried side by side. Everybody seem to be very curious, and yet they do not seem to notice that Caucasian and Mongoloid Uyghurs live side by side today.
| | |
| --- | --- |
| | A find of Bashkir scientists contraries to traditional notions of human history: stone stabs which is 120 million years covered with the relief map of Ural Region... The map contains civil engineering works: a system of channels with a length of about 12,000 km, weirs, powerful dams. Not far from the channels, diamond-shaped grounds are shown, whose destination is unknown. The map also contains some inscriptions. Even numerous inscriptions. At first, the scientists thought that was Old Chinese language. Though, it turned out that the subscriptions were done in a hieroglyphic-syllabic language of unknown origin. The scientists never managed to read it… Other finds |
| | |
| --- | --- |
| | Here's all the links related to that Bashkiria 120 million stone slab |
A series of 14 sequential human footprints on the same platform with at least 134 dinosaur tracks
Unusual stone structure found in the East Oklahoma
Date: 5/5/02 12:13:08 PM Pacific Daylight Time
When I read the attached article on your page I was reminded of what happenend to the site where Kennewick Man was discovered: the Army Corp of Engineers dumped several tons of rock on it. The bank on that section of the Columbia River needed shoring up was their excuse. Don't bother trying to find anything else at that site.
Date: 5/5/02 8:53:37 PM Pacific Daylight Time
For any individual, group, or organization to control the past it must first manipulate it, hide it, or obliterate it. Too many land claims and titles to personal property (the foundations of the one world religion: capitalism) could be challenged if the complete and accurate past were known by the hoi polloi; too many challenges to scientific and religious dogma; too many reasons to expand consciousness and personal spirituality as opposed to group lock step. The sheeple feel much more secure when the power elites have the wool pulled down over their eyes.
Lee Brown, Cherokee (Excerpts from a talk at the 1986 Continental Indigenous Council, Fairbanks, Alaska)

CAPTAIN KENNEWICK
A clay model of the head of Kennewick Man, based on a 9,200-year-old skull found in July 1996 in a park along the Columbia River in south-central Washington, is shown at Columbia Basin College, in Richland, Wash. The U.S. Department of the Interior will release results, Thursday, Jan. 13, 1999 of radiocarbon-dating on Kennewick Man, along with its decision on whether to classify the human remains as Native American under federal law. Whatever the government's conclusions, the results are likely to be disputed in this contentious case involving one of the oldest and most complete skeletons found in North America.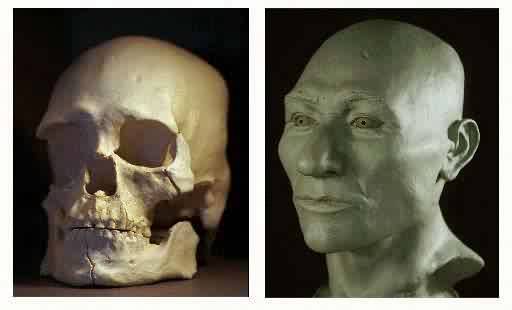 VOYAGERS THROUGH THE WORLDS?
DO WE SEE THE ANCIENT TECHNOLOGIES STILL AT PLAY?

PACIFIC PULSE SCALAR RINGS

UNDERWATER PYRAMIDS