VOSTOK STATION [HOAGLAND IS CORRECT--SOUTH IS UP]
| | |
| --- | --- |
| VOSTOK STATION | MAGNETIC ANOMALY |
| | |
Vostok, Russia (VOS)

| | |
| --- | --- |
| orientation | HDZF |
| geographic latitude | -78.45(deg) |
| geographic longitude | 106.87(deg) |
Subj: Re: location of vostok
Date: 4/27/01 6:47:44 AM Pacific Daylight Time
In case you didn't put together the pieces of the puzzle I sent last night, it works out like this:
The topo map of Lake Vostok shows where the drilling was done. The obscured star in the left hand corner.
The picture of drill rig located at Vostok Station.
Vostok Station is located at the drill site.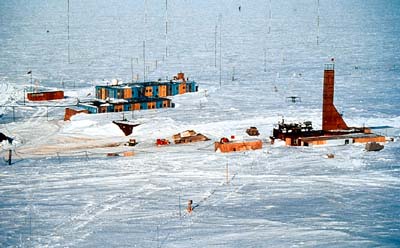 At the Vostok station in Antarctica, scientists are obtaining ice core samples down to ice depths exceeding 3600 m. (Courtesy Claude Lorius, LLGE)
Subj: Re: [KENT] Still getting data showing Vostok Station to NW Lake
Date: 4/27/01 2:09:38 PM Pacific Daylight Time
Kent,
The map in your new graphic is UPSIDE DOWN (from the northern hemisphere convention). South is at the top. Note how the latitudes run, with the higher numbers getting closer to the Pole ... the SOUTH POLE. So, your new map has Vostok in the right place after all ... in the Southwest Corner. :)
RCH
In a message dated Fri, 27 Apr 2001 11:40:34 AM Eastern Daylight Time, BARDSQUILL writes:
<< [KENT] Still getting data showing Vostok Station to NW of Lake Vostok
vosopin.html
I've included both location theories in my presentation.
Kent >>
EDITOR: OOOPS, Kent's map upside-down, Hoagland has it right!
QUESTION IS THERE ANYTHING MANMADE THAT COULD GENERATE SUCH A VORTEX? LOOK AGAIN AT CHARLIE PLYLER'S STATEMENT:
Date: 3/19/01 9:00:24 AM Pacific Daylight Time
Hi Kent, I agree that something unusual is happening down south. The hints and rumors I've been getting, indicate a large scale project with a lot of equipment being flown in from Russia as well as the US. Scott base and Vostok are showing increased action but little info is being released. The magnetic anomaly has been known for quite a while but I think someone has stumbled onto something astounding and each side is taking advantage of the situation. I haven't heard of any concrete evidence of high powered electromagnetic emissions from the area, however this could be possible. It would be a perfect site for an underground type of antenna array. If one were to drill through the ice at two points widely separated from each other, and place electrodes into the earth you could construct a "Rogers" type ULF transceiving station. For instance, with one electrode near the South Pole and the other at Lake Vostok, this could cause an intense magnetic anomaly near Vostok. ELFRAD