IT ALL STARTED WITH THIS
SOL SPEAKS
SOHO C2

12/9/02 00:06

12/9/02 00:30
NOW WE ARE SEEING A REGULAR CADENCE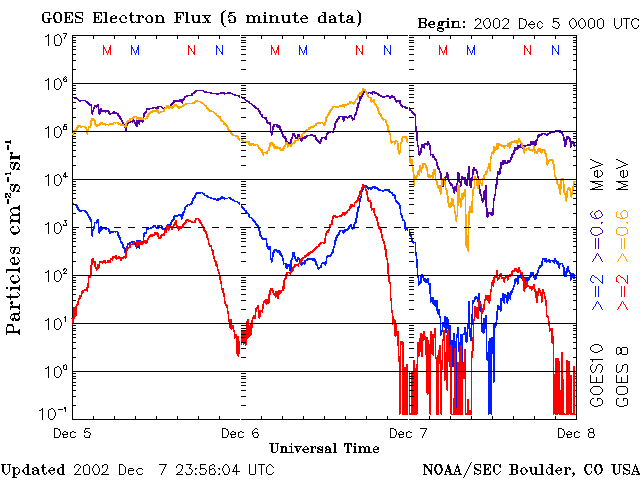 NOTE: changes in the relativistic electron flux present in the outer radiation belt have been observed to increase by several orders of magnitude during magnetic storms. These relativistic electrons pose a serious radiation hazard to the sophisticated electronic components found on spacecraft and are also a health threat to astronauts, especially during EVAs. The precise nature of the processes involved that lead to a relativistic electron flux enhancement are not very well understood.
Date: 12/12/02 5:54:06 AM Pacific Standard Time
Hi Kent, Take a look at the repeating patterns. It's not just electron flux that is developing a pattern, the K Index is as well. This is pretty weird...

EDITOR: THIS is starting to feel well, Holy---at least HOLY MOLEY! Prior to the superwave, we saw sreange geomtry.
Sequences:
1. Late November big K-spike and continuous geometry, very cubic
2. 12/8 possible superwave that rippled across the face of Sol
3. 12/9 regular cadence formed in the electron flux and the K scale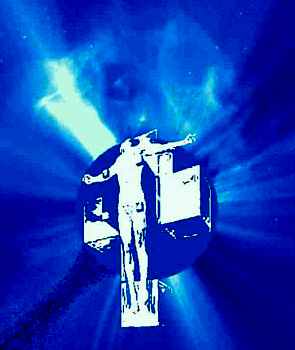 Hmmmm: Science: 'Sci-Fi' Weapons Going to War Bearden earth-sun

GLOSSARY OF SOLAR-TERRESTRIAL TERMS

Kent's simulated sound of current electron flux