Subj:
Ginger/Segway, ACROS, maps
Date:
12/5/01 8:02:19 PM Pacific Standard Time
From: rivka@adelphia.net (Rivka)
To: bardsquill@aol.com

SHERLOCK BILL


Kent this is the best truth I can find for the few minutes I had on the
computer. Enjoy! And hopefully someone will do better than this! In
case anyone's wondering, page 79 of the recent Time magazine shows the
Segway opened up to show where the guts are, the "Sisterboards",
redundant motors, kill switch, etc. Those must be the smallest motors
I've ever seen, because standard scooter motors are all bigger than Dean
Kamen's.

Keep in mind: if the battery runs out of power, there doesn't appear to
be a MOTOR-DISENGAGE option, so you won't be able to wheel your Segway
home: you'll have to DRAG it or carry it home. Some scooters allow you
to push it somewhat, but it pushes slow because the motor is always
engaged. It wouldn't hurt Dean to add a couple teeeeeeny, tiny wheels
in case the batteries do die on you, like if you got hit with an
electromagnetic pulse, and the battery power drained out immediately.
Know what I mean? If there is a Motor-Disengage option, you're all set
then!

Dean Kamen's manufacturing company is called ACROS, in Bedford NH:
http://www.theunionleader.com/Articles_show.html?article=7070&archive=1

Well they gave you the address: 14 Technology Drive, Bedford NH 03110

That's where they make the Segways. Here's the overhead shot of the
apparently completed building: (Insert [gex_deka01.jpg] here.) Cool?
Well no, it's not Area 51. It's not much to look at. There's an
airport across the river to the east.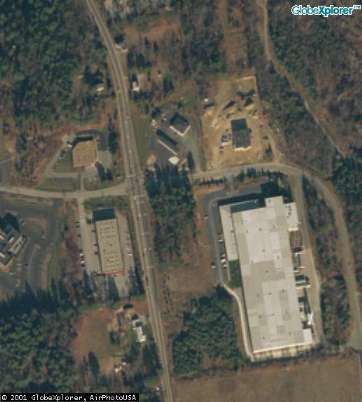 Maybe this'll be better! Here are actual ACROS photos here from a road
trip to Bedford NH:
http://www.ginger-chat.com/roadtrip.html

Tactical Surveillance Counter Measures: Ginger/Segway/ACROS leak story:
http://www.tscm.com/ginger/

How about getting a Zappy instead of a Segway HT? Compare specs here:
http://www.zapworld.com/segway-vs-zappy.htm

YES there's a Yahoo group about electric scooters with the same name:
http://groups.yahoo.com/group/zappy/

Some people laugh about the Segway HT, some don't. It's up to you:
http://www.satirewire.com/news/0112/segway.shtml

Not-well-known Segway/Ginger sites:
http://segway.weblogs.com/
http://www.gingerbuzz.com

What links are better than this? Stirling engines I suppose. Anything
that doesn't run on gasoline or batteries. A fuel like water, hydrogen,
etc. I mean a fuel where a big corporation can't make you a slave to
fuel for the rest of your life.