BE CAREFUL: DO NOT LOOK DIRECTLY INTO THE SUN!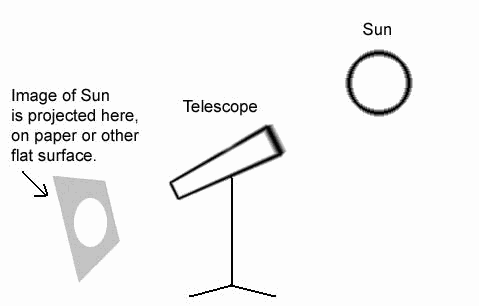 6/7/03 1:32:41 AM Pacific Daylight Time
Point your telescope at the sun. (Do not look at the Sun through the
telescope.) Place a sheet of paper or cardboard near the eyepiece and
adjust the telescope angle until you see a bright spot on the paper.
Move the paper farther away and the spot becomes larger. Focus the
telescope and you'll see a perfect image of the Sun on your paper,
spots and all.

The farther you can get your "screen" from the eyepiece, the bigger
but fainter the image becomes. So it works best if you can do it in a
dark room, or if you suspend a sheet or curtain with the telescope
sticking though, but even outdoors in bright sun you can see a nice
image.

I don't know if this could show any other possible objects near the
Sun but it's worth a try, I personally haven't seen anything besides
the usual. At any rate it's a fun thing to do.