REYKJANES RIDGE activity
4/1/02 7:15:03 AM Pacific Standard Time

Two days worth, every 3-5 hours? North Atlantic map attached -- look like east of Canada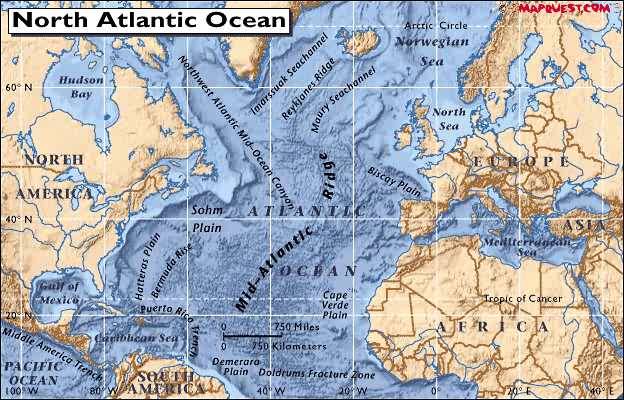 Harvard, Hockley & San Juan show them on seismos.
I've been reading an interesting article that I pulled off the web about how most of us have been round this bend before. (See also book, Catastrophobia). Deep down we remember the devastation. Which is why everyone is panicky today. Plato said the Atlanteans were at war with the Athenians at the time Atlantis disappeared -- maybe blasted into the MAR. Hapgood's theory, I think.
It may have been nukes that did us (Atlanteans?) in even then, because our present radiocarbon dating is definitely all screwed up, as it would be if excessive radiation remained behind. There is excessive radiation even today in the Great Lakes region. Could have been solar; could have been nukes. We all know about vimanas...
Some leads I want to follow up on on this... For now, is Atlantis Rising?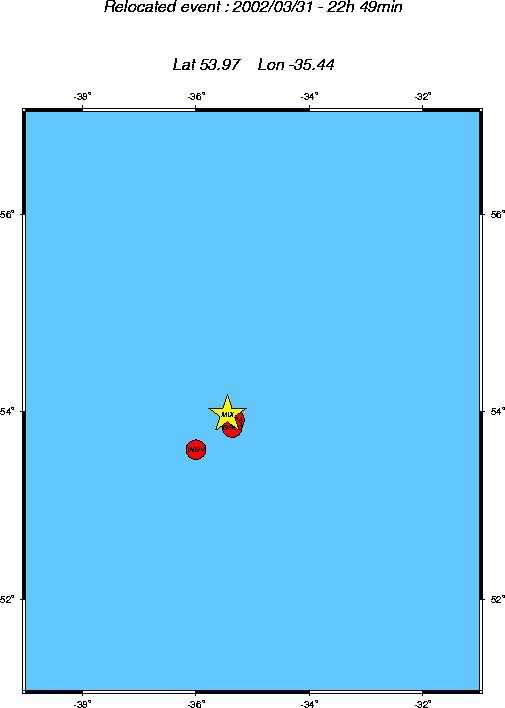 2002/04/01
07:12:38
.1 54.5N 33.1W 33 Mb4.6 A LDG REYKJANES RIDGE
2002/04/01
02:15:16.2
54.6N 33.9W 33 Mb4.5 A LDG REYKJANES RIDGE
2002/03/31
22:49:13.3 54.0N 35.4W 33G Mb4.9 A MIX REYKJANES RIDGE
2002/03/31
22:49:12.6 53.8N 35.4W Ms5.0 M GSSC REYKJANES RIDGE
2002/03/31
22:49:12.0 53.6N 36.0W M 5.2 A INGV REYKJANES RIDGE
2002/03/31
22:42:29.0
53.9N 35.3W 33G Mb5.1 A NEIA REYKJANES RIDGE
2002/03/31
19:08:16.4 53.4N 30.8W 33 Mb4.9 A LDG NORTHERN MID-ATLANTIC RIDGE
2002/03/31
19:07:52.2 54.3N 35.1W Ms4.4 M GSSC REYKJANES RIDGE
2002/03/31 19:07:49.7 54.0N 35.3W 33G Mb5.1 A MIX REYKJANES RIDGE
2002/03/31
19:07:49.3 53.8N 35.3W 33G Mb5.0 A NEIA REYKJANES RIDGE
2002/03/31
19:07:22.7 53.6N 41.0W M 5.0 A INGV NORTH ATLANTIC OCEAN