We Are the Night Watchmen

| | | |
| --- | --- | --- |
| | | SENTINEL |
Subj: Re: Red Dwarf discovered by mainstream near zetatalk position
Date: 5/21/03 2:21:28 PM Pacific Daylight Time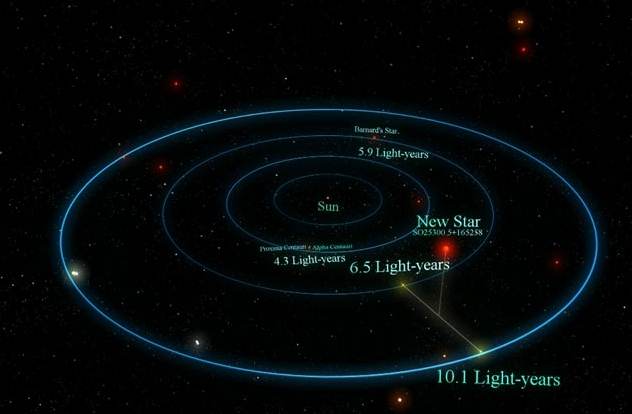 Subj: Re: Red Dwarf discovered by mainstream near zetatalk position
Date: 5/21/03 2:21:28 PM Pacific Daylight Time
Kent:
I initially suspected this article was simply being leveraged to keep the PX story alive a few more days. However, I also figured the position of this red dwarf would turn out to be nowhere near the "Zeta's" given coordinates, as has always proven to be the case with such decoy stars in the past. However, this time the plotted position of the red dwarf is actually extremely close to PX's current location as given by Zetatalk at; http://www.zetatalk.com/teams/rogue/jpass.htm Given the approximated distance of the red dwarf and it's small size, not to mention it took a research class telescope to find it, I seriously doubt anyone in this forum will be seeing or mistaking this red dwarf for PX anytime soon. I do find it unusual that this faint red dwarf was discovered at a time when the Sun was situated almost directly in front of it. One would think it would be lost in the Sun's glare? It's a known fact that they won't point the Hubble anywhere near the Sun. So how or when did they discover it? If it was discovered some time ago, why wait to release news of it's discovery to coincide with PX's "reported" closest approach to the dwarf's coordinates? Coincidence?
The red dwarf's plotted position using the coordinates RA 2:53 Dec 16:53 provided.
Zetatalk's last given coordinate for PX was for May 15th, as shown in the diagram. I have approximated it's supposed path since then, as it would likely appear from Earth (if it existed) as it ascends upward through the elliptic, which it was scheduled to intersect today (May 21st), according to zetatalk. It is reportedly at a distance of 53 million miles from Earth, or approximately halfway between the orbital paths of Mercury and Venus, 23 degrees to the right of the Sun, as also shown in the diagram.
I would like to note that we are now 48 hours away from when the Zeta's report the (revised) point of closest passage will occur (May 23rd), yet there is still no sign of rotational slowing or major tectonic activity as predicted or would be expected. I also took the opportunity to take a close look at the sky at noon and there is no sign of anything unusual near the given coordinates, (not even chem-trails for once). This is highly unlikely if PX and it's giant tail was truly only 43 million miles from Earth at this time, as indicated by the "Zetadata". There is still significant historical and geological evidence to suggest that there is a cyclical event which periodically generates major cataclysms on Earth, however I'm convinced it is not going to happen according to zetatalk's schedule.
Keeping Watch,
Sentinel