Date: 9/28/01 12:48:03 AM Pacific Daylight Time
I JUST HAVE TO GET A BITE ON THIS INFO..I KEEP THINKING IT IS SO IMPORTANT TO AT LEAST PUT THE INFO ( = TRUTH)) OUT THERE EARLY AS POSSIBLE.
On the "ANON" site , there was a report of live images of alien UFO's on 'live-cam' sites for a Mexican volcano. (Popocatepetyl) I went there...I'll be damned and will eat my shorts if those are anything but real alien craft. I've decided they COULD be "hacked" intrusions in the net feed, but don't believe that. (I have one each of UFO & Bigfoot experiences) This IS THE JIMMY HENDRIX OF REAL EXPERIENCE OF UFO's --live'45 second' craft "ACTION". GO THERE, CHECK IT OUT IN THE DAYTIME, AROUND BANKERS HOURS IS BEST.
HERE ARE THE SITES, AND I'll attach some screen-captures, they are EXCELLENT!!
UFO VIEWING SITES
http://www.cenapred.unam.mx/mvolcan.html 'Tomano A'..1ST & BEST WATCHING/ in daytime
http://www.ucol.mx/volcan/envivo_naranjal.html notice some days> large 'balls'
http://volcano.ipgp.jussieu.fr:8080/martinique/capturevideo.htm >>>>...not every day
http://looknowings.homestead.com/camview.html "OTHER'WATCHER'" photo ENHANCE ETC.......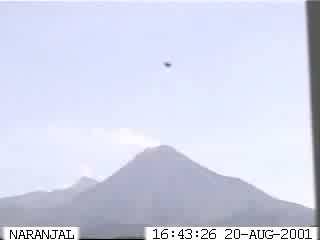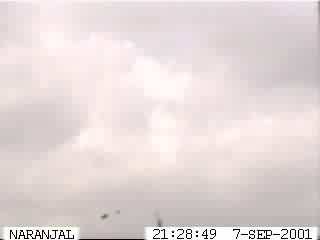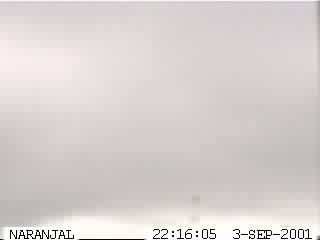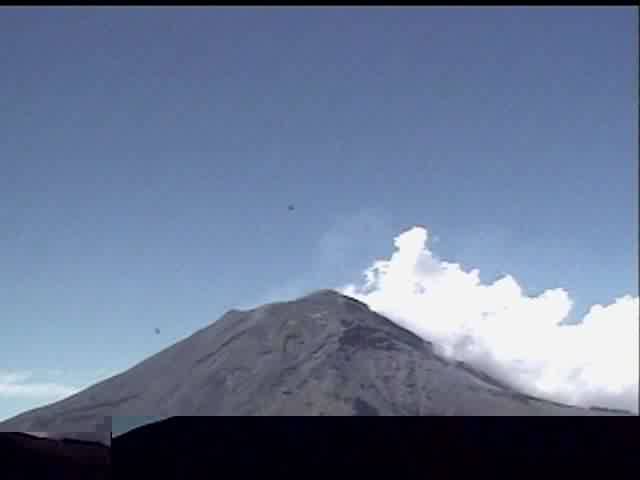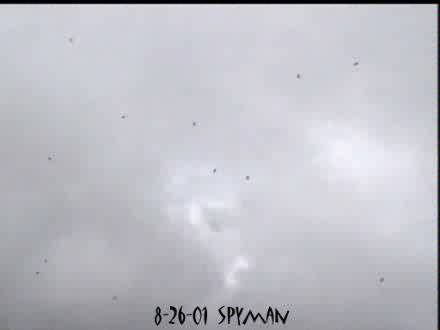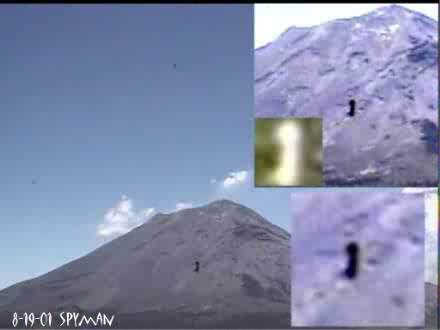 <<<<<<<<<<<<<,THIS ARE TWO REPLIES FROM UFO WATCHERS>>>>>>>>>>>
Thanks for your e-mail. Nice work n your photos. I was watching the Colima cam the same day on the 3rd, and I got about a hundred photos from that day.
I know what you mean about people brushing you off and not believing. I sent some photos to ANON more than one occasion, but of course they never reply back. I have been observing the cam for the past year on a daily basis and have thousands of photos, but unfortunately we are only able to post a select few on our site. I have also been researching the background on the Popo volcano to try to find out when all this has started. As far as I can tell this started back in 1991. I will keep this short because I have a lot of photos to post, and I will be adding alot more links of different web pages that document the UFO sightings at the mountain. Before all this started I was kind of a skeptic but now I am a believer. As long as the cam is running I will keep posting. Thanks again for the e-mail and keep watching. Talk to you soon: Spyman
Thank you for writing to me. I would like to say, it is not a waste of time as some may say. What you and Spyman are doing is keeping an eye on something that seems very strange indeed. Spyman wrote to me a while ago, sending a few clips along and telling me to maybe watch the area that you are keeping your eye on and getting these shots. I said I would do that for sure. But what happened, between getting the Canadian CIRVIS reports ready and placed to the web, and my recent Crop Circle investigation, I have had no time to look at this area as you mentioned.
"But", things are slowing down for me, and I will make the time to check this out. I took this below statement you sent to me which ANON said to you. ANON wrote and said they had LOTS of those screen-capture pictures, DON'T send anymore, and "they have NO reason to believe they are real"."
It is wrong for any good investigator to brush off any possible sighting report. I for one will look into any report, and make my own mind to what it is, or I will just come up with not having a clue about it. And if that is the case, then there is something very strange going on, and should be investigated.
I thank you for writing to me, you are also welcomed to send any photos you think are important. I have only been at this investigating/Researching UFO for about 2 years now. But I can tell you with certainly, I have gone along way with this subject. I am respected by most investigators, who are always in touch with me, asking for information. And I am the new kid on the block. I have done so many radio show, newspaper interviews, T.V. interviews this last year it isn't funny. But what I want you to know, it is people like you who come first, as you are helping in the investigation of this phenomenon.
I will certainly catch this cam, I am really getting interested in all this. If I feel that what I see in the next while is something we can't explain, I may pack my bags and head down there to watch for myself.
Thanks again for everything
Brian
Investigator/Researcher
HBCC UFO Research