PASSING THE HAT FOR THE BANDwidth

In return for your kindness, an original lullaby:

Chorus: Mama don't you weep, baby don't you cry

Daddy come to fetch you in the by and by.

Run though the orchard, tumble down the hill
Grampa filling sacks in the flour mill.

Aunt Mary must be baking, smell the pretty smells.
Gonna let you lick the batter for the sweety-rolls.

Time to take a nap, listen to the clock
Gonna settle into dreams to the ticky-tock.

Hop aboard the saucer, fly to the moon
Dip a piece of cheese with your silvery spoon.

Hurdy gurdy [.mp3]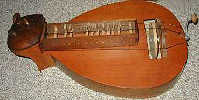 CROAK ALONG WITH CAP'N KENT THIS QUESTIONABLE CHANTY

Also an original story, journeys into the Enchanted Lands, TRUE depending on how far the drapes are drawn
CHASING SHADOW

[Leah and Brian are both in college now. YIKES]
Comment: after a bazillion hours of recent effort, and upon strong and vigorous prompt from Wendy, I open my guitar case and, well, beg. So reach on your pocket, fish-out a few coins and toss em--no-NO not at the screen-- Paypal, PAYPAL!

or

Kent Steadman, 425 S. 156th Sreet, #119A, Seattle, Wa, 98148
| | |
| --- | --- |
| | FINAL NAG: Orbit is not an entitlement. A two-way deal-- this effort depends on your help. A few pitch a coin in the cap to allow the many to peep through. Time to pitch your tip in the derby too. Skip a Sixpack for ORBIT! |