.
| | |
| --- | --- |
| A new daily feature: ORBIT | |

Know we the flesh is fleeting. The things men count great are nothing to us. The things we seek are not of the body but are only the perfected state of the soul. Long, long ago, I cast off my body. Wandered I free through the vastness of ether, circled the angles that hold man in bondage. Know ye, O man, ye are only a spirit. The body is nothing. The Soul is the All. Let not your body be a fetter. Cast off the darkness and travel in Light. Cast off your body, O man, and be free, truly a Light that is ONE with the Light. . THOTH


Does anybody know what BAKEOUT means?
Answer received:
CCD bakeout is a routine procedure that clears image "burn in" on the ccd--Kevin Loch
TODAY'S SPACE WEATHER
X-RAY FLUX ANIMATION.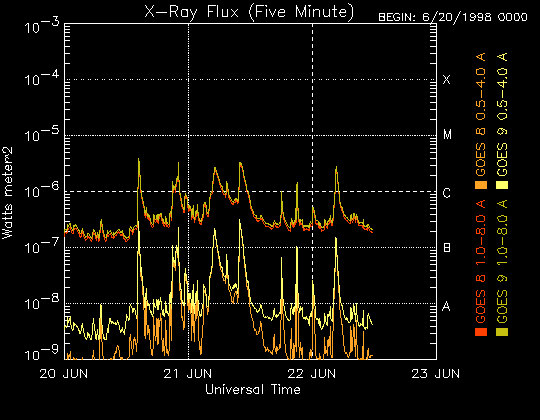 SATELLITE ENVIRONMENT ANIMATION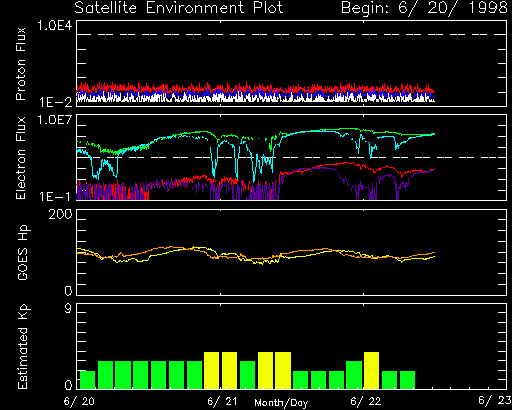 CURRENT C2 FULL MPEG
Detail gif construction below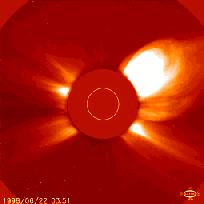 ARCHIVES

QUESTION: WHAT THE BLAZES IS THIS (OBJECT, LEFT)?
LASCO 304eit June 17, 1998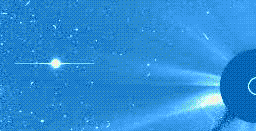 .AVI FORMAT
We turn to Liz Edward's for her amazing enhancements, see, Sun Cruiser:


(Summary of prior day)
*Solar/Magnetic/Quake Update - 6.21.98 - 2300 UTC
Numerous C-Class flares continued today with the largest being a C3 event. The region responsible for these C-Class flares continues to grow, but more slowly than previously observed. Additional C-Class
activity is considered likely and an isolated M-Class flare is possible. Despite SEC forecasts for mostly quiet conditions, the magnetic field became active to minor storm today. Planetary magnetism readings [PK] were as high as "5" at times during the day. The electron flux levels also increased to moderate levels during the day. The official SEC forecast calls for continued unsettled conditions.
Quake activity was light today, but small quakes occurred again in western Wyoming, with more moderate activity again near Palermo on Sicily, and near Mammoth Lakes [Long Valley Caldera] where a 4.0 was reported. Here is the latest from the USGS:
Date UTC Mag Location
------------------------------------------------------------------------
6/20 21:22 2.9 WYOMING[near Idaho border]
6/21 08:03 5.0 OFF COAST OF CENTRAL AMERICA
6/21 09:00 4.3 SICILY[near Palermo]
6/21 15:32 2.7 CALIFORNIA-NEVADA BORDER[Mammoth region]
6/21 15:32 4.0 CALIFORNIA-NEVADA BORDER[Mammoth region]
------------------------------------------------------------------------
* updated in afternoon PST

WORLD QUAKE DATA CENTER QUAKE DATA ANIMATIONS

ARCHIVES
HAVE WE REALLY FIGURED OUT WHAT THE SUN IS?
One of the biggest embarrassments of 20th-century science -- the sun's refusal to emit nearly as many neutrinos as physicists say it should -- inched closer to a possible solution last week when experimenters reported strong new evidence that these weird elementary particles, long thought to be perfectly mass-less, may have a small amount of heft after all. If neutrinos indeed have mass, the story goes, they can change "flavor" on their flight from the center of the Sun, eluding the electronic snares earthlings have been setting. The neutrinos wouldn't be missing, but traveling in disguise. continue
Please help spread the word: VISIT ORBIT