Once a Mighty Human Empire

CYDONIA-EAST

GREYS, HYBRIDS

..

GREEK ALPHABET...
Draco Lair
| | |
| --- | --- |
| | It is re../markable that there is a syllable with theconsonant value "M*R" which is found everywhere in connection with the planet Mars,the god of Mars, and its associated emblem, the dragon. |
HIVES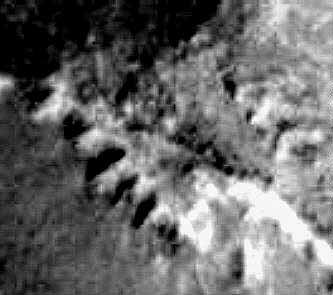 EDITOR'S NOTE: I'm an an artist and creative of many years, my cultural assignment: to probe beyond the academic. Therefore, not being subject to the same rigors as school nor science, I feel it legitimate to scout ahead. It is my role. Ask yourself: in the winds of change what is really the difference between theory and dream? In an infinite Cosmos all dreams are true.
Because I am "seeing" with inner and outer, not certain that the perception focuses on the myth within the form or form within the myth, I am most grateful to hear from my friend, Bruce Cornet, PhD, Geologist and Paleontologist, who grounds me out and yet with a keen sense of search tracks the mythology even further. Myth after all might be the inner side of history, perhaps even the breath within the tangible.Kent Steadman
DR. BRUCE CORNET: SERPENTS, MOUNDS AND MYTHS


.

RETURN MAIN CYDONIA-EAST IMAGES