PACIFIC PULSE RINGS SIXTY YEARS AFTER PEARL HARBOR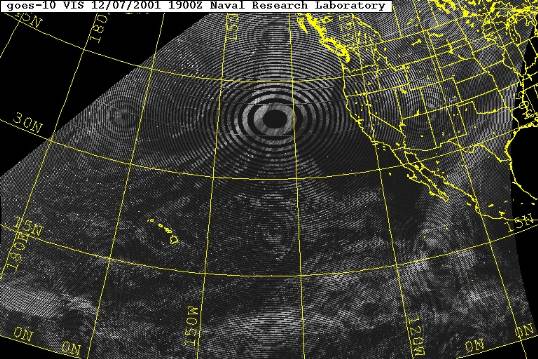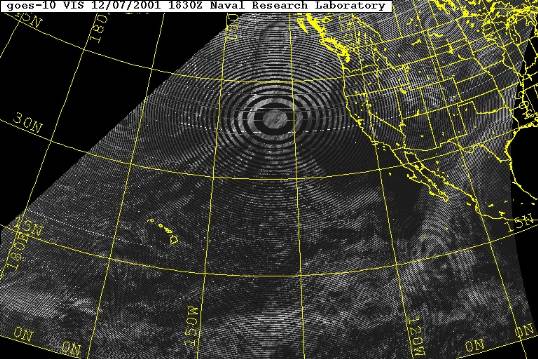 IMPORTANT NEW RESEARCH
Strange Wx Sat. Pic larger
Date: 12/7/01 8:54:05 PM Pacific Standard Time

Kent Look at the attached Weather Sat image from the Pacific today that is on your site. Now notice the time....1900 Hrs UTC - 7pm London time. That would be exactly 8am Hawaii time. What happen at 8:00am Hawaii time exactly sixty years to the second from when this image was taken???!!!!

NOTE: A so-called Moiré pattern occurs when two similar repeating patterns are almost but not quite superimposed. The Moiré pattern is a kind of interference pattern. In this case, the basic pattern consists of lines radiating out from a common center. One copy of this pattern is fixed, and the other drifts about, creating a changing interference pattern [intersecting waves, SCALAR PHYSICS!]

SCALAR MODEL
| | |
| --- | --- |
| | EDITOR: when tuned electromagnetic waves intersect they sometimes seem to cancel out, but do they? Is a super potential scalar energy created? Could such a pressure wave be controlled--directed through a quantum universe? Has this happened for years now? Do rogue groups on and off planet wield strange new weapons? Do directed waves go beyond machine technology and actually reside within human potential? |
Coming soon: end of Ramadan

MAPS

OVERLAYS
MILK HILL SPINNER

Date: 12/9/01 12:54:51 PM Pacific Standard Time
Kent
a short note just to let you know that whilst trawling the archive at the NRL, I found another anomolous 'pulse' image. This time it is at 19.30 on 08/12/2001, but it is on the IR image, rather than the VIS. The water vapour image for this time is strange as well - just completely red.
here's the direct links
Webmaster
| | |
| --- | --- |
| | SHERLOCK BILL ON THE SLEUTH |
SEQUENCE: PACIFIC PULSE SEEN...USGS YANKS QUAKE DATA FROM WEB...A FLURRY OF QUAKES OVER SENSITIVE AREAS [BELOW]...THEN USGS COMES BACK ONLINE, AREA 51 GUARDS [EG&G, CARLYLE GROUP, DADDY BUSH EMPLOYEES] GO ON STRIKE, W-BUSHY BACKS OUT OF NUKE TREATIES
SHERLOCK BILL
What's going on here? Are they excavating land underground? Building some underground site? Trying to manually blast underground to create a large quake? If anyone has any cats left in the bag, please tell us your secret now.
Date: 12/8/01 8:03:41 PM Pacific Standard Time
YUMA/ARIZONA quake info from http://www.emsc-csem.org here:
2001/12/08 23:36:34.0 34.0N 112.0W Mb5.6 A LED WESTERNb ARIZONA
2001/12/08 23:36:31.9 36.2N 114.0W 10 Mb5.6 A SED SOUTHERN NEVADA
2001/12/08 23:36:27.1 34.8N 114.4W 33 Mb5.6 A LDG CALIFORNIA-ARIZONA BORDER REGIO
2001/12/08 23:36:15.0 32.4N 114.5W 10 Mb5.6 A SED WESTERN ARIZONA-SONORA BORDER R
2001/12/08 23:36:07.7 30.0N 114.4W 33 Mb5.5 A NOR GULF OF CALIFORNIA, MEXICO
2001/12/08 23:35:56.0 29.2N 116.9W Mb5.2 A RNS OFF W. COAST OF BAJA CALIFORNIA
A magnitude 4.8 earthquake OFF THE COAST OF OREGON has occurred at: 43.75N 127.97W Depth 10km Sat Dec 8 18:08:37 2001 UTC
A magnitude 5.7 earthquake in the RYUKYU ISLANDS, JAPAN has occurred at: 28.91N 130.10E Depth 33km Sat Dec 8 20:29:38 2001 UTC
IMPORTANT: NOTES AND DISCUSSIONS
OFFSITE DISCUSSIONS MORE OFFSITE
GRAVITY MOIRE by Jim Bumgardner
Beckhampton, Wiltshire Woodborough, Wiltshire
Date: 12/11/01 11:50:55 AM Pacific Standard Time
OK, I've read your rant notes and I have this to offer. I think you guys are on to the right track. Have you read Dr. Jose Arguelles's book, "The Mayan Factor"? In it he talks about how the center of our galaxy sends out these waves of intelligence/energy that cascade like brain waves throughout the entire organism that is our galaxy. And these here waves take some time to move out to our area and when the Sun and our Earth move through the waves our entire life force is occillated in sympathetic harmonic movements, depending on the notes from the source. So, I was thinking that maybe the moiree waves were a spot deep under the earth, sort of like a receiving dish, and as the earth receives a wave this dish or transponder or transceiver starts to vibrate and it sends out sympathetic vibrations across the skin of the earth. This skin happens to be at the bottom of the ocean and can probably only be seen from the sky in orbit. That's all I can conjure in my mind. On the other hand I can add that that area out in the Pacific might be a prime location for a former "third eye" receiver station when it was part of Lemuria. Just a thought. Imagine that eh? A third eye receiving dish. The thought never occurred to me until I started this note, then I just saw it in my mind.
This is good, a very good thing that we've discovered. I think that the galactic core has sent out a wave to push us out of Kali Yuga just before we toast the planet with our arrogant materialism. We just might have been saved from extinction.
ARCHIVES: ARE THE ANCIENT ALPHABET SYMBOLS SCHEMATICS? PLANETARY GRID The Morphogenetic Grid - The Builder of Planetary Destiny
Extraterrestrial Technologies and Viable Counter Strategies Atlantis Grid, DNA, Energy, Wormwood
Global Consciousness and random numbers The Voice of the NINE Magnetars and the Genesis Signal
SLEUTHS: might want to see if anything was going on 12/7/01 at TRIUMF Canada's National Laboratory for Particle and Nuclear Physics
Television Stations Go Blank In Seattle Area...12/14/01
| | |
| --- | --- |
| MORE, THE MOST SURPRISING STUFF | |