MARS, THE SEEDS OF LIFE

| | |
| --- | --- |
| MARS | EARTH |
| | |
When I first saw the picture, I was stuck by how the host rock on Mars looks like Morrison Formation (old salt ocean seabed rock), and looking at the Blue Spheres was like knowing the answer to the 10 million (64,000) dollar Question.--Gerald W. Rannells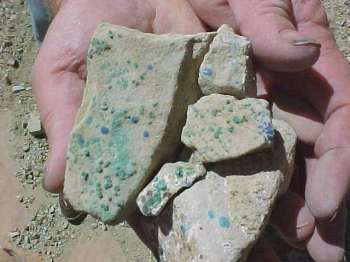 | | |
| --- | --- |
| | And this story might get very VERY exotic! |
UPDATE Seeds of Life: as I understand from phone conversation, Gerald Rannells theorizes that NASA might have evidence of life right in front of their eyes. The nodules could be remains of organics, mineralized over the eons. Rannells, "I´m still thinking that the Azurite Spheres 1. represent Life Forms though carbon replacement; 2. and ongoing oxidation with atmosphere of Mars; 3. and Natural Leaching processes occurring on Mars (and Morrison Formation; 4. and underground hydo-thermals exist on Mars; 5. and Malachite means limestone; 6. limestone means Life!"
ORBIT DOES ORBS

As for the Azurite and Malachite Nodules (spheres, balls) they are from the Morrison Formation (I have worked as a geologist and assayer) south of La Sal Jct., Utah. I have seen this feature elsewhere. NASA tests should show high in Copper! At the moment the Morrison is under snow.

When I first saw the picture, I was stuck by how the host rock on Mars looks like Morrison Formation (old salt ocean seabed rock), and looking at the Blue Spheres was like knowing the answer to the 10 million (64,000) dollar Question.

The questions I would ask now, how do the same conditions exist on Mars and Earth and just how was the Great Basin formed (maybe side shot from Mars?) Rev. Gerald W. Rannells
EARTH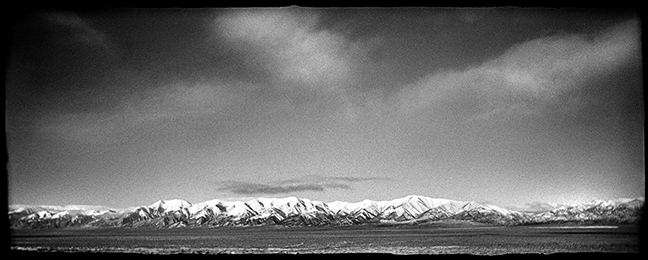 MARS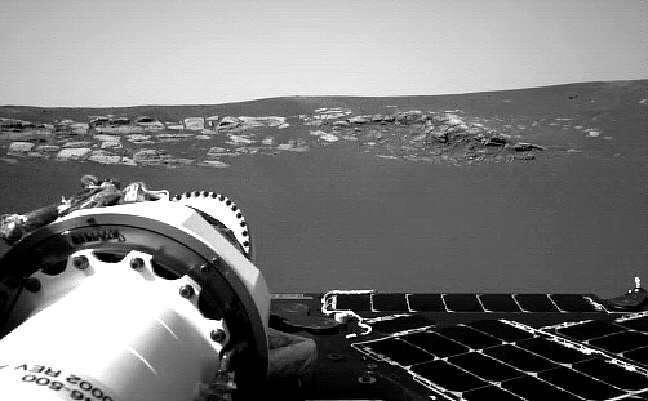 Note: might want to look around Australia too Added: Here's a reference
THE ORBS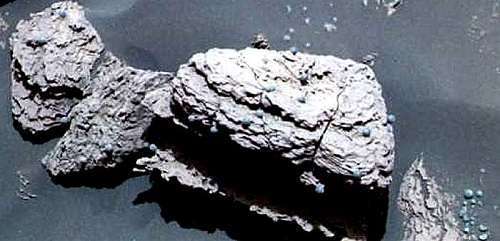 Nasa's robot probe has revealed that Mars was once "drenched with water". It is further evidence that life could easily have existed there. NOTE: somewhat trumped by ESA: Europeans Find Water on Mars GLP
Gerald 2/29/2004 10:55 am EST Re: Blue balls on Mars and earth [Great Basin, spooky place]

Rover tests show water, Carbonates (Azurite and Malachite) and they named site Blueberry Hill. I think our discussion (during last week) is SPOT ON! There's Life up There!
Date: 3/1/04 10:51:36 AM Pacific Standard Time

Kent,

I just colorized an image from the Opportunity rover. This is an image of where the rover drilled into one of the outcrops. The drilling cut right into two of the embedded blue balls. You can see from the colorized image that the balls are blue all the way through.
CRITTERS

BBC News, SciTech, 11.04.1998: "Scientists are claiming that they have found new evidence of life on Mars. Researchers at Glasgow University say a huge rock formation on the planet's surface is probably a giant fossil created billions of year ago by microbes."

OPPORTUNITY ROVER

Martian Trilobites?

STRANGE CONNECTIONS

The Great Basin: Lovelock Cave, Nevada 2

The cave is located next to an ancient lake, Lake Lahontan, which dried out about 1400 years ago. It is estimated that hunter-gatherer tribes visited the site as early as 4,600 years ago and the cave was intensively occupied about 3,500 years ago until just 150 years ago. All of the evidence helps to support the theory that the cave has been inhabited on and off for over 9,000 years.
AWESOME: Rock carvings of Idaho