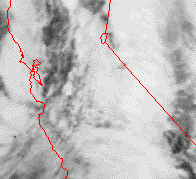 03/28/06 2:58 PST
BARDSQUILL: Merced has a tornado warning
http://iwin.nws.noaa.gov/iwin/us/tornado.html
MERCED RESIDENT: yeah - watched it on TV - golf size hail
MERCED RESIDENT: winds here were really bad - thunder boomers too
BARDSQUILL: THE TORNADO IS EXPECTED TO BE NEAR...
MERCED BY 315 PM PST
BARDSQUILL: 6 minutes
MERCED RESIDENT: thundering here again now
MERCED RESIDENT: black clouds flying by
BARDSQUILL: look south
MERCED RESIDENT: sun is shining - and thundering at same time
BARDSQUILL: hear anything? like a roar?
MERCED RESIDENT: let me go outside
BARDSQUILL: aaaagh
BARDSQUILL: might not be a good idea to go outside
MERCED RESIDENT: its dead calm out there except for the rumbling of the thunder in the cloud that just passed us
MERCED RESIDENT: we had horrible winds before
MERCED RESIDENT: there is a trail of black cloud off to the south but its real thin and BLACK
BARDSQUILL: gulp
MERCED RESIDENT: not tornado - real thin and wispy
MERCED RESIDENT: odd looking
BARDSQUILL: ummm...does it go down to the ground
MERCED RESIDENT: no - not that far
MERCED RESIDENT: now its dead quiet out there again
BARDSQUILL: maybe it touched down south somwheres
MERCED RESIDENT: probably not
MERCED RESIDENT: I'll turn the radio on and see what they have to say
MERCED RESIDENT: oh - Savage is on
MERCED RESIDENT: will have to wait for news in 5 minutes
MERCED RESIDENT: can hear lightning in radio
BARDSQUILL: weird
BARDSQUILL: wait, you in Mariposa or Merced?
MERCED RESIDENT: near Merced
BARDSQUILL: ah, my old stompin grounds
MERCED RESIDENT: yeah :-)
BARDSQUILL: used to murder pheasants in Merced for which I will burn in hell.
MERCED RESIDENT: yeah - right - come and feed the ones in my orchard
BARDSQUILL: not peasant--PHEASANT
MERCED RESIDENT: ah :-)
BARDSQUILL: your storm cell somewhere in this mess
BARDSQUILL: Tornado just reported
2248 2 SE MERCED MERCED CA 3728 12046 POWER LINES DOWN. ROOF TORN OFF BARN. (HNX)
BARDSQUILL: pretty wimpy tornado
MERCED RESIDENT: yeah - can't see that from here
MERCED RESIDENT: quiet out there
---------------------------------------------------------
WFUS56 KHNX 282252
TORHNX
CAC047-282315-
/O.NEW.KHNX.TO.W.0004.060328T2252Z-060328T2315Z/
BULLETIN - EAS ACTIVATION REQUESTED
TORNADO WARNING
NATIONAL WEATHER SERVICE SAN JOAQUIN VALLEY CA
252 PM PST TUE MAR 28 2006
THE NATIONAL WEATHER SERVICE IN HANFORD CA HAS ISSUED A
* TORNADO WARNING FOR...
EAST CENTRAL MERCED COUNTY IN CENTRAL CALIFORNIA
THIS INCLUDES THE CITY OF MERCED
* UNTIL 315 PM PST
* AT 242 PM PST...TRAINED WEATHER SPOTTERS REPORTED A TORNADO 10
MILES SOUTH OF MERCED...MOVING NORTH AT 10 MPH.
* THE TORNADO IS EXPECTED TO BE NEAR...
MERCED BY 315 PM PST
IF YOU ARE CAUGHT OUTSIDE...SEEK SHELTER IN A NEARBY REINFORCED
BUILDING. AS A LAST RESORT...SEEK SHELTER IN A CULVERT...DITCH OR LOW
SPOT AND COVER YOUR HEAD WITH YOUR HANDS.
LAT...LON 3711 12054 3713 12031 3738 12027 3742 12049
$$
DUDLEY