3-day Solar-Geophysical Forecast issued Jun 13 at 22:00 UT
SOLAR ACTIVITY FORECAST: SOLAR ACTIVITY IS EXPECTED TO BE LOW TO MODERATE. REGIONS 9026, 9033/9041, AND 9042 APPEAR CAPABLE OF PRODUCING ISOLATED M-CLASS EVENTS. THE POSSIBILITY FOR MAJOR FLARES FROM THESE REGIONS IS DECREASING SLOWLY.
GEOPHYSICAL ACTIVITY FORECAST: THE GEOMAGNETIC FIELD IS EXPECTED TO BE QUIET TO UNSETTLED FOR THE NEXT THREE DAYS. VERY ISOLATED ACTIVE PERIODS ARE POSSIBLE. NO RECENT MASS EJECTIONS APPEAR TO BE EARTH-DIRECTED.
But look at the magnetometer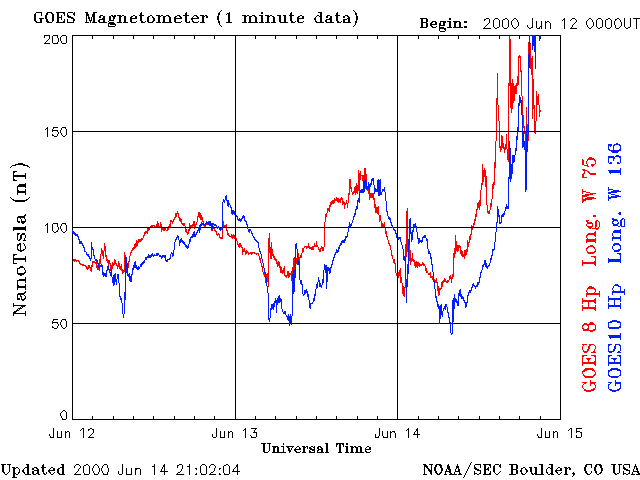 Subj: Magnetometer off the scale again
Date: 6/14/00 1:32:07 PM Pacific Daylight Time
As soon as the SEC canceled their magnetic storm watch for today, the geomagnetic field went into active to storm conditions ... GOES magnetometer readings have been extremely erratic and elevated, with the readings going off the scale at times.
http://www.sec.noaa.gov/rt_plots/mag_3d.cgi
Planetary magnetism readings of 4-5 have been observed, and the SEC has issued the appropriate alerts for "k=4" conditions.