| | |
| --- | --- |
| | PROPHECY: DANCE OF WORLDS |
5/15/00 14:18 C3 MPEG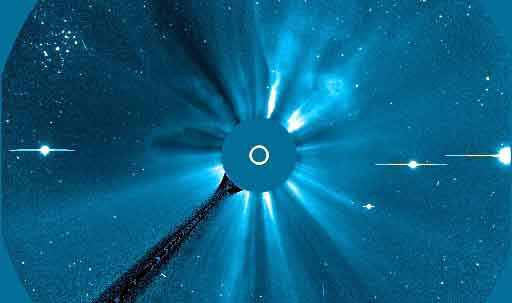 | | | |
| --- | --- | --- |
| | PATRONS | PLEASE BANNER TO SEE SPONSORS |
| | | |
Note to readers: running popup banner due to special campaign. Most grateful to sponsors and supportive ORBIT readers! Please take a moment to check our awesome sponsors!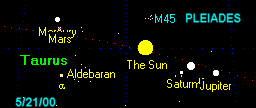 and on his heads seven diadems…" THE PLEIADES!

Date: 5/21/00 12:35:08 PM Pacific Daylight Time

Big time gap in SOHO C3 between 5/20 07:42 and 5/21 16:42! And it appears we are seeing the tail end of a large CME.

Date: 5/21/00 8:11:49 PM Pacific Daylight Time

Kent, Attached is an unusual C3 during the time your reader wrote about the big gap in the C3's from 05/20 07:42 and 5/21 16:42. The C3 before and after this one hint at a possible explosion .... large CME?
Revelations-Chapter 12, verse 3: "And there was seen another sign in heaven; and behold a great Red Dragon, having seven heads, and ten horns [translated: RAYS]; and on his heads seven diadems [crown or headband]…"
FOUND MPEG, Pleiades, the Seven Sisters at crown, multiple CMEs, multiple...horns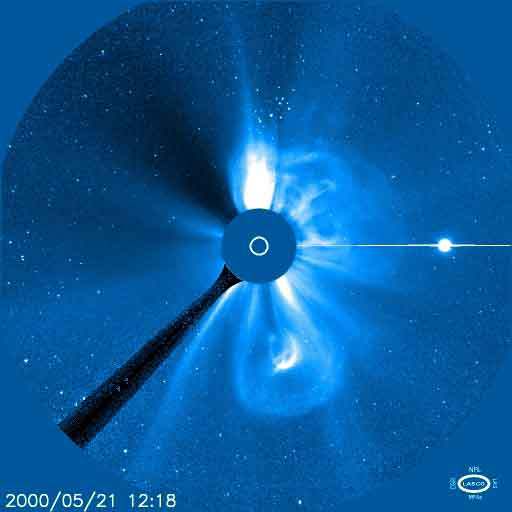 FORERUNNER: 5/20/00 16:42 C3

GREAT RED DRAGON: 5/22/00 C2 MPEG

This month is one of the most important events in the Galactic Cosmology of the Ancient Mayans. On May 21, 2000 the Sun and the Pleiades will conjunct in the Zenith over the Yucatan on the latitude of the energy grid at 190 40'N. The planets of Mars, Mercury, Venus, Jupiter and Saturn will align from West to East with the Sun for this conjunction. Why is this important? The early Toltec system also involved this rare alignment in the Zenith, which occurred in the 9th century AD, when the Mayan civilization disappeared with no traces. This same alignment will happen again on May 21, 2012.
Preliminary research has revealed that El Pajaral may contain ceremonial temples and other structures taller than Tikal's.
5/17/00 BETHLEHEM EFFECT MPEG
AWESOME ANOMALOUS DISPLAY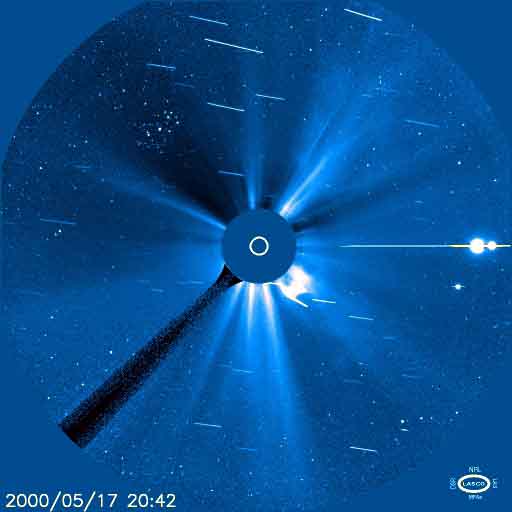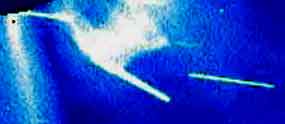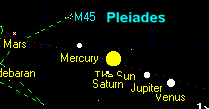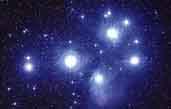 MAY 13: VENUS APPEARS IN WEST AND ANOMALOUS FLEET PLEIADES? LOOMS EAST
DANCE OF THE WORLDS C2 MPEG C3 MPEG
DANCE OF WORLDS

5/8/00 02:26 C2
MOVIE: LIGHT BRIDGES ON THE SUN

PROPHECY: "The Birecik dam on the river Euphrates was completed in December 1999."
Rv:16:12: And the sixth angel poured out his vial upon the great river Euphrates; and the water thereof was dried up, that the way of the kings of the east might be prepared.(KJV)
One probable origin, [one horn] Another

Ruptured Filament

Well centered

5/20/00

CHICAGO'S O'HARE ANOMALY WATCH 5/21/00
QUAKE WATCH: Biosensitives are hearing ringing in ears; keep watch, Bay Area, CA
Date: 5/21/00 2:20:54 PM Pacific Daylight Time
I just got to talk to someone...my ears are ringing incessantly right now...they only do this when there is about to be a large quake in the San Francisco area or south...

SLEUTHS: WHY RECTIFIER FAILURES?


SPOOKY SKIES IN NORTHERN CALIFORNIA

CHEMTRAILS: A CONCERNED AIRCRAFT MECHANIC

PROJECT CLOVERLEAF: AN AIRLINE MANAGER'S STATEMENT
AEROSOL PILOT
Note: if the Real Audio does not play, right click and "save link as." Upgrade player

| | |
| --- | --- |
| 5/23/00 5:45:56 PM Pacific Daylight Time | The Large Circle is directly over a Kaudulin< (spelling is wrong) Island, which houses a submarine base at a depth of 800 ft plus, this island is on the same Grid Line as the Bikini Atoll. This circle has shown up before, generally before a typhoon or major storm in asia, and is directed by pulses similar to those in the states, I keep a picture of every anomaly I come across. I take images from four regular sources and dozens of intermitant sources depnedant on the weather. I have some very strong circle centered in different parts of the US, some are centered around nuclear facilities and others around radar installations or airports, others still are centered around the towers usd by the telephone companies. Seizure activity in children and adults are higher in those same areas as well. In Northern California, there is an installation located in the Trinty Alps Widerness Area, accessable only by copter and I have one ring anomaly centered ther about a year ago, right after the first time I e-mailed you. more (compare left with IR SAT) |
Date: 5/20/00 9:11:53 PM Pacific Daylight Time
My friend in Connecticut reports a mild earthquake happening right NOW!

North Pole Beam Ray

Another North Pole Beam Ray
5/20/00 10:41:21 AM Pacific Daylight Time
What is this coming out of our North Pole that looks like a beam ray of some sort?
This image comes from http://www.weather.com/weather/sat/animated/northpole_sat_277x187.html

.SETI and NASA: PRIVATE "FRONTS"
Update - Lastest News On Comet S4 [2] [3]
Date: 5/19/00 9:58:24 AM Pacific Daylight Time
Kent: Hold onto you hat! Comet S4, it seems, does have high potential to become a naked-eye viewable object. Great potential indeed. Here's a copy of the lastest data:
Ref: http://correio.cc.fc.ul.pt/~apereira/index.html
Ref: http://encke.jpl.nasa.gov/RecentObs.html#99S4
May15.60 11.6 1.6' 3 20L 70x M. Linnolt, Haleakala NP, Maui, HI Early Monday morning, I made my first attempt at recovering C/1999 S4. Despite the very low altitude (6 deg) and that moonset coincide with beginning of astronomical twilight, I was amazed to see it fairly easily in my 20cm scope. (Observing from the summit of 10,000' Haleakala with its sea surface horizon, probably made the crucial difference.) Anyway, it has brightened about 2 mag, and increased its diam about 50%, since my last observation in March. The next 2 weeks will see constant interfering moonlight, despite its greater altitude, but hopefully more observations will start to appear. (Note: due to the very low altitude and extinction issues, I carefully chose the comparison stars TYC 1763 489 1 mag=11.69 and SAO 75059 mag=9.23, within a few arc min of the same altitude as the comet.)
Personally, I am particularly fascinated with the new diameter aspect of S4, if it's 50% larger in (perceived) diameter now, I can hardly wait to see what July's apparition will bring.
Very Best Regards,
Colonel Ervin
Missed Comet Puts Spotlight On Space Guard
Paris (AFP) May 18, 2000 - A comet passed through the solar system unnoticed three years ago, raising doubts about the effectiveness of an international early-warning system to spot space wanderers that could smash into Earth.

O'Hare Controllers See Ghost Planes

FLASH RADAR: O'HARE GHOST WATCH
"If you converted the x-ray oscillations from J1550 into sound waves it would feel like a low, rumbling hum," says Dr. Stefan Dieters, an astronomer at the NASA/Marshall Space Flight Center. "It's the sort of sound you feel in your chest from a very large bass speaker at a rock-and-roll concert.

NORIO HAYAKAWA: Area 51 Peoples Rally 2000: This is an invitation to the public for this years Peoples Rally on 6/6/2000.
TOUR

AREA51


Subj: Planetary Grid Alignment & Giza Plateau transcript
Date: 5/20/00 9:07:47 AM Pacific Daylight Time
From: ELAINE LUCAS
To: BARDSQUILL

I know you keep their site on your page but I've been trying to transcribe the basics of what they said on Rense's show. Thought you might be interested, although you've probably already heard it. Appears some of the 'clues' got into the act! Links to some of the clues from my Clues page are included below. They popped up in the interview! Seems they were right all along! But then I knew that! ;-)
----------------------------
Planetary Grid Alignment And The Giza Plateau
http://members.aol.com/rubie2zday/index.html#interview

EMail Dated 00-04-22 14:31:36 EDT: "I spent an hour last night listening to Rense interviewing Middleton-Jones and Wilkie on Giza. 18 04 2000. You must invest some time listening to it!"
I finally got around to putting down some of the information from the May 8th interview. The following is a partial, loosely transcribed, and I hope accurate report of the Rense interview with Howard Middleton-Jones & James Wilke. I did my best to relate what was said. If you'd like to listen to it, yourself, you can find the audio at: Yahoo Broadcast: Jeff Rense - May 8th & April 18th

I found it very interesting that some items, which have appeared on the 'Clues' section of my pages, seem to be related to several statements made during the show.

Planetary Grid Alignment And The Giza Plateau

On May 4, 2000 a planetary grid alignment took place under the pyramids at Giza. This was done to protect the earth and bring it into electromagnetic harmony. Rotating the plateau 120 degrees, enabled them to locate the 'Bethlehem' passageway which is the entrance to an area containing a machine that had to be activated for the above to occur.

A highly trained 'physical evidence acquisition' team (PEA) entered the area, twice, from two different directions. The first time was to dismantle 2 'booby traps' to gain access to the room where the machine is housed. This involved 'adjusting rocks on the walls'. 'It had been rumored that teams, who had tried to gain access, before, had encountered 'something of an explosive nature and lives were lost' so it was necessary to disable these 'booby traps' before accessing the room which houses the 'machine'.

After, successfully, dismantling the traps, the PEA team came out to report what they had seen and get further instructions on how to operate the machine. When they went back in they were challenged by the 'guardians'. They had to go through a complicated procedure answering questions as to who they were, why and whom they were there for, etc. When the 'guardians' were satisfied they 'disappeared'. The team continued on to the room where they found the 'machine', which was running at the time.

It was in 3 parts. There was a central panel off to the side with 3 series of knobs. All the knobs had to be manned at the same time, by three people, in order for it to operate, correctly. A disc had to be slid into a notch in the machine to become parallel to the floor. Above was a mirror with parallel grooves running from the center. The 'machine' is a crystal which is aimed directly at the pyramids.

The earth produces magnetic fields and it was being changed. The idea of the crystals is to protect the earth and bring it into electromagnetic harmony. This machine is relevant and critical to the planet.

Three members of the PEA team had to step up onto a pedestal while operating the machine and were then enclosed in a type of force field preventing them from getting down once up there. They couldn't leave until the machine was activated, the energy released and a 'voice' told them they could leave. It was activated.

As far as photos go...Middleton was evasive, but he did say that some proof that all this occurred could be found at online sites showing magnometer charts. Large CME's which were headed toward earth 'hit a stone wall and dropped, suddenly'. He, also, said that 3 days prior to the machine being activated, AFB radar rings EMP activity were pushed [up or out?] One went down so the other grid could go up. This can, also, be checked out at online sites showing these radar rings.

They believe the area to have been constructed at least 35,000 to 50,000 thousand years ago, possibly earlier.

In the second part of the program, Dr. Jan Merta said the 'blocks of red granite in the King's Chamber had to have come from a quarry 600 miles away, since there is no red granite around Giza. Red granite is the most powerful source of natural radon.'
Howard Middleton-Jones said 'the Great Pyramid represents the Earth and was never meant to have a capstone. It was left unfinished just as the Earth is unfinished.'
At the end of the program, he, also, stated the (PEA) "team, who went into the pyramid, was trained by the U.S. Military. This is what they did in the U.S. Military. They're no longer with the military and will do it when they have to but only for the right reasons."
Jeff Rense made a reference to H. P. Blavatsky's Theosophy stating that 'the Great Pyramid was built 75,000 years ago.'
Actually, the Blavatsky text reads: "...since the Dendera Zodiac shows the passage of three sidereal years, the great Pyramid must have been built 78,000 years ago, or in any case that this possibility deserves to be accepted at least as readily as the later date of 3,350 B.C..."
VIDEO: First two levels below Causeway

Phase Converter

Flight 990

QUAKE

HOR

HOR2

HOR3

HOR4

HOR5
EDITOR: Most rare manuscript, highly recommended! Mysteries of the Pyramid by David H.Lewis
POST FAR AND WIDE! Night Search Is LIVE Via the Internet! 5 nights a week!
Thanks so much for your patience! We are proud to announce that KRVL Is now a live medium of the Internet! Which means that Night Search is now on the Internet! Please go to www.Live365.com and download easyloader1.1 it will make your real audio or mp3 player able to listen to Night Search! Or for your convenience, we have placed a link on Night Search website at www.nightsearch.net
Those of you who have websites, or mailing lists, please let your friends and site visitors know.
Sincerely,
Colleen Johnston
Night Search Webmistress and cohost.
| | |
| --- | --- |
| MAY | |