CALCULATION
Date: 3/14/02 2:57:28 PM Pacific Standard Time
It was previously given that the cruising speed of a 757 is approx. 600 mph. According to the FAA report, AA77 was last reported doing 458 kts, which is 527 mph at 8:56 am. Just prior to the strike, the jet passed over the White House then completed a hair-pin 270 degree turn before slamming into the Pentagon. This hair-pin turn would have bled-off a lot of their air-speed, however the dive into the Pentagon with engines at full thrust might have brought the final approach speed back up to around 600 mph / 521kts. So let's run with that as a worse-case scenario. Remember the plane's air-speed was most likely slower than 521 kts. due to the hair-pin turn it just completed.
Assumed AA77 Inbound Velocity: 600 miles/hour = 10 miles/minute = 1 mile or 5280 feet every 6 seconds = 880 feet/sec.
Now NTSA standards which are used in 99% of all North American A/V equipment operates at a rate of 30 interlaced frames per second. That is one complete frame every 30th of a second and one partial or interlaced field scan every 60th of a second, which is essentially slaved to our AC frequency of 60 Hz.
So if you take the plane's velocity of 880 feet/sec. and divide that by the full frame rate of 1/30th of a second, the camera will capture a complete image of the plane every 29.3 feet, given a constant speed of 600 mph. Or if your video equipment can freeze-frame on individual interlace fields it will capture a partial scan (every other scan line) of the plane's travel in 14.6 foot intervals, given a constant rate of speed of 600 mph.
Now according to the surveillance video the plane was crossing the camera's field of view on an inbound trajectory of approximately 35 - 45 degrees, so the apparent velocity of the plane across the camera's field of view will be approximately 1/3 less than that actually travelled by the plane along it's inbound trajectory.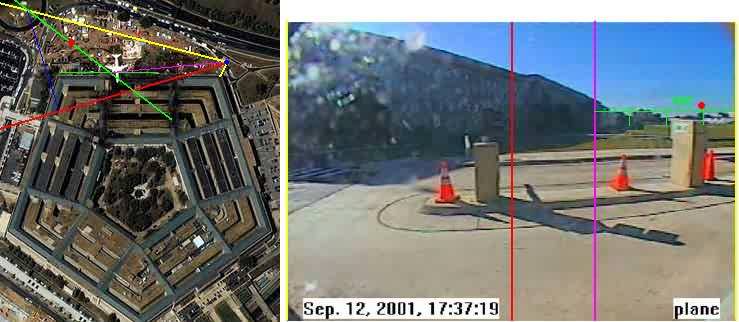 Blue Dot: Camera Position
Red Line: Centerline of Field of View
Yellow Lines: Approx. Field of View Borders
Green Line: Approx. Path of AA77
Red Dot: Tail Position in Photograph
Pink Line: Angle from Camera to Point of Impact
Using the sky view and the surveillance camera views above we determine the approximate angles involved to assist us with determining how far the plane travelled in a single frame or 1/30th of a second. Now assuming the photo was not doctored and assuming this is AA77 (not a small commuter jet) partially hidden behind the traffic post, we will use the length of the 757-300 as our base measurement, which is 155 feet. It can been seen in the video frame that there are approximately 2 plane lengths (310 feet) remaining between the nose and the building face and 3 plane lengths (465 feet) between the tail and the building face.
In the following frame 1/30th of a second later, the tail of the plane has completely disappeared into the building and resulting explosion, so obviously the tail of the plane had to have travelled a minimum of 465 feet in 1/30th of a second. And keep in mind we are not factoring in the extra distance resulting from the tangent the flight path is on perpendicular to the camera angle or the deceleration that would suddenly occur as the plane struck the building. So remember, these figures are very conservative.
Now let's work backwards to see what the minimum approach velocity of AA77 would have to be in order for these two "undoctored", "back-to-back" video frames to be captured exactly as we have been told they were by government officials.
465 feet traveled in 1/30th of a second = 13950 feet/second = 2.64 miles/second = 158.5 miles per minute = 9511.36 mph = 8263.5 kts. = Mach 12.48!!!!
Obviously this means we have been spending a lot more time in holding patterns than previously thought.
So who's still buyin' this? Put up you hands........ Anyone? Anyone???
Date: 3/15/02 7:19:43 AM Pacific Standard Time
According to "official Pentagon sources" the released surveillance camera frames cover 4/100s of a second. Now they do not specify if that is 4/100s of a second per frame (25 frames/sec.) or 4/100's of a second for all four frames (100 frames/sec.)? So let's re-examine the visual data we have to determine what the velocity of AA77 would be under these two additional "officially stated" scenarios.
Pentagon's claim assuming video ran at 25 frames/second: 465 feet traveled in 1/25th of a second = 11625 feet/sec. = 2.20 miles/sec. = 132.1 miles/min. = 7926.14 mph = 6886.30 kts. = Mach 10.43 (I suppose this will become the official excuse of why the interceptor's at Andrew's AFB couldn't catch it)
Pentagon's claim assuming video ran at 100 frames/second: 465 feet traveled in 1/100th of a second = 46500 feet/sec. = 8.8 miles/sec. = 528.4 miles/min. = 31704.54 mph = 27545.21 kts. = Mach 41.7 (At this speed it should have burned up in the atmosphere long before it hit the Pentagon)
Now if we assume the plane was not travelling in excess of Mach 1, (761.6 mph) but at it's rated speed of approximately 600 mph and the camera was operating at the standard 30 frames/sec. which would result in an image of the plane being captured every 29.3 feet travelled, then it becomes undeniably apparent that a minimum of 16 frames (1/2 of a second) of the video have been cut or edited from between the point the plane is last seen behind the traffic post and the next frame where the impact in complete and the explosion is already well under way. I personally suspect closer to 1- 2 seconds of the video have been removed. Obviously, our government and military are no longer trustworthy... or have become insanely inept. The fact that Pentagon and government officials would publically state that commercial airliners can fly at speeds in access of Mach 10, would suggest that all of our top brass and political leaders are in desperate need of padded cells and extensive electroshock therapy.