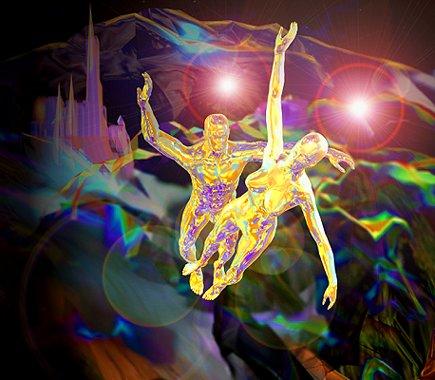 PREFLIGHT TRAINING MAIN LAUNCH
In an infinite cosmos all dreams are true

THE LAUNCHING PLATFORM: ORBIT MANIFESTO

GO TO 4/21/00, EXERCISE ONE: PREFLIGHT TRAINING, THE PORTAL

GO TO 4/22/00, EXERCISE TWO: PREFLIGHT TRAINING, THE SPIRAL

GO TO 4/23/00: EXERCISE THREE: PREFLIGHT TRAINING, THE TUBE

GO TO EXERCISE FOUR: PREFLIGHT TRAINING, THE FORCE

GO TO EXERCISE FIVE: PREFLIGHT TRAINING, THE LEAP
[MORE TO COME]
Appropriate music for the voyage
AS YOU EXPERIMENT WITH A-WINGING:
If the flight image-experienceis not pleasing, maybe scary, mark it with a mental buoy, that is, make it a place in space to navigate around, at least for now. One day you might want to confront, but not necessary now. The heck with scary, we have more things to do, awesome things. This is just a beginning.
Expect more exercises each week; they will be methodical and gradual.
EMAIL, 4/24/00 9:14:18 AM Pacific Daylight Time
So, is this an astral projection technique? I'm curious to learn more.
EDITOR'S REPLY
Not sure if astral projection is the proper term although such OBEs do happen. The ultimate goal is to realize ALL of what we are are and to activate perceptions that are ours by birthright.
At the 3D we appear contained, but at mind and imagination we are not. These exercises START with techniques to improve and extend the visual perception. My training is in the visual arts so naturally this is my specialty and starting point.
We will try to go far beyond. I am trying to work out techniques that can be adapted to the Internet. In my past as a college instructor these were done face to face with students. I really think I was one of the first in 1967 to experiment with visualization, we ultimately traveled far and took awesome group expeditions. Stay tuned for more exercises as soon as I nail them down for Internet application.
HERE WE GO:
PREFLIGHT TRAINING ANYONE? Raise your hand and the instruction, the art-form, will commence; after all we can't rely on fire-breathing contraptions to launch is into the Cosmos. What does coot-Kent mean? Step-by-step instructions for winging out into the universe. Can be done, got me booted out of academia once; had a hard time explaining to the Dean why my students were raving about waltzing though stargates near Eta Carina. Here's the first wee jump for your consideration.
We don't need to go to Egypt or Peru to find a portal. No kidding, portals are nearby. Where?