| | |
| --- | --- |
| | SOL ANOMALIES: I believe the LASCO team all agree that they are foreground features (i.e., not solar in origin) |
.
6/7 X-CLASS SLAMMED AGAIN
Subj: Incoming! Date: 6/9/00 5:56:37 PM Pacific Daylight Time From: cplyler@elfrad.com (Charlie) 2nd wave of magnetic storm beginning. 00:45z!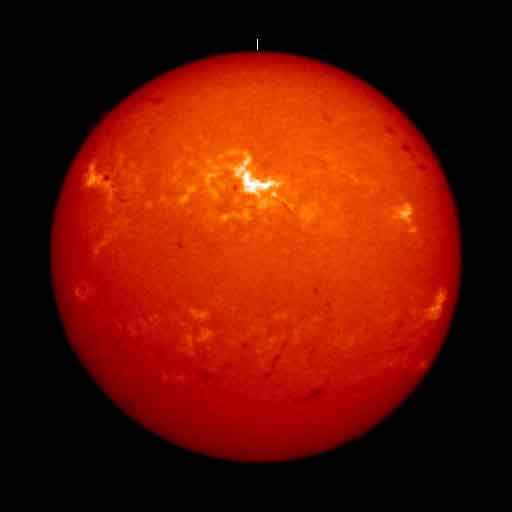 Date: 6/6/00 7:56:24 AM Pacific Daylight Time
At around 1310 UTC this morning, a series of major flares began...starting with a medium duration M3 event, followed by a medium duration X1 Class flare event [a major flare], followed by an M7 event [also a major flare.] This is the most intense Xray flare activity we've seen of this Spring so far. The region responsible remains potent and is becoming more geoeffective as it passes through the central region of the visible solar disk. Additional major flares are possible from this region. It is too early to determine the nature of the CME activity that was likely generated by the series of major flares this morning. When LASCO C3 imagery becomes available [or should that be 'if'] we should be able to get an idea of the event and its potential for producing a geomagnetic storm at Earth. The magnetic field continues very active to minor storm at times.

MAGNETOGRAMS: Tromsø, Andøya, Longyearbyen, Ny Ålesund

SWEDEN

HAARP

SOLAR TERRESTRIAL DISPATCH

ALL SKY IMAGER: SOUTH POLE STATION

EDUCATIONAL OUTREACH

GLOSSARY

OBSERVATORIUM

SIDC: SUNSPOT NUMBERS

MAGNETOSPHERE YELLOW PAGES

AUSTRALIAN FORECAST CENTER

SOLAR TERRESTRIAL ACTIVITY REPORT
Subj: Magnetic Storm Update
Date: 6/7/00 7:20:05 AM Pacific Daylight Time
The very impressive full halo coronal mass ejection that was observed yesterday on LASCO imagery from 1554 UTC will likely impact Earth sometime between late today [6.7.00] UTC and late on the 8th ... Once the magnetic storm begins, it may come in waves due to the repetitive "layered" nature of yesterday's flare and CME activity.
This event has the potential to produce severe to very severe magnetic storm conditions, and could be the most intense magnetic storm event so far of this current Solar Cycle [23.] Power grid failures, satellite outages, and widespread auroral displays are potentially possible from the 8th through the 11th.
Should the very dense and massive CME and filament ejection - the one that occurred with the larger X-Class flare yesterday - impact the Earth directly, the resulting magnetic storm event could be extremely intense. The forecast probability of such a direct impact is uncertain.
With the already very active seismic and volcanic conditions, this approaching major to severe magnetic storm event could help induce additional very strong activity ... as well as the intensification of storm systems. IMO, anomalous [and often violent] human and animal behavior may also increase more drastically.
Another strong long duration M2 flare occurred during the night, producing yet another CME. The magnetic field continues to be disturbed to active, and a minor proton event has also begun at the GOES satellites.
MORE WARNINGS THE SOLAR THREAT CNN
EDITOR: MAKE A TINFOIL HAT, NO KIDDING, PREVENT GETTING BABYLONED
SLEUTHS: WATCH NUCLEAR REACTORS
* Potential Short Wave Fadeout Warning
* Potential X-Class Solar Flare Warning
* Potential Satellite Proton Event Warning
* Potential Middle Latitude Auroral Activity Warning - 08-09 June
* Potential Low Latitude Auroral Activity Watch - 08-09 June
* Potential Satellite Anomaly Warning
* Potential Geomagnetic Storm Warning - 08-09 June
EXPANDED LIST OF EFFECTS
Accepted Potential Effects

Power grid failures

Satellite failures

Radio transmission disruption

GPS inaccuracy - signal 'ghosting'

Electrical arcing along pipelines

Widespread vivid auroral displays

Speculative Potential Effects

Enhanced seismic and volcanic activity

Intensification of storm systems

Random electrical anomalies/failures

Enhanced risk of mechanical failures

Anomalous human and animal behavior

Health stress to humans and animals

Intensification of migraines, BPD, etc.

Enhanced paranormal activity
BROOKHAVEN

SHOWTIME FOR THE BIG BANG MACHINE

June 1 — Researchers in New York say they are just days away from a milestone in physics: the first particle collisions within the most powerful machine of its kind.

JUNE 2 Last night we accelerated beam in the Yellow ring up to a gamma of 66, simultaneously with beam in the Blue ring. The beam in the Blue ring lasted all the way up to a gamma of 70.

JUNE 9: We have been tuning ramps up to gamma=30 and 70 with six bunches in each ring to improve efficiency. At the flattop beams are cogged and synchronized to cross at the interaction point. Some time is spent with steady beams for the four experiments to turn on and tune up their detectors for collisions.

Black Elk's Vision And when he got up, it was a fat bison standing there, and where the bison stood a sacred herb sprang up right where the tree had been in the center of the nation's hoop. The herb grew and bore four blossoms on a single stem while I was looking--a blue, a white, a scarlet, and a yellow--and the bright rays of these flashed to the heavens
Eureka! Scientists break speed of light

The implications, like the speed, are mind-boggling. On one interpretation it means that light will arrive at its destination almost before it has started its journey. In effect, it is leaping forward in time. TIME TRAVELER

Physics Approaching Speed of Light Mind-bending new studies appear to break Einstein's rules
EDITOR: One constant still remains=THOUGHT=MYTH
Bet my money on the Bobtail nag, somebody bet on the Bay, doo-dah, doo-dah


UTAH MICROWAVE RADIATION PULSE RING

OHARE ANOMALIES

DEBRA MOHON: RADAR REALITY CHECK
RECENT ELFRAD DATA: It would be interesting to see if any fireballs were noticed anywhere around that time. There was a huge fireball sighted over Colorado on May 27. There was a magnetic indication just like this one at that time.

QUAKES
00/06/02 11:13:48 UTC 44.50N 130.18W Depth: 10.0 km 5.9Mb OFF COAST OF OREGON
00/06/04 16:28:25 4.73S 102.05E 33.0 7.9Ms B SOUTHERN SUMATERA, INDONESIA
CONDON: The analysis for the Ms 7.9 Earthquake in Sumatera
JUNE 1st: The Directors of International Annax Ventures Inc. ("IAX") are pleased to announce that the Forestry Department of Indonesia has issued the necessary permitting to allow a continuation of drilling at the IAX Dairi Project in North Sumatra. IAX has a 70 to 80 percent interest in the Dairi Project, which interest may vary based on future participation elections of underlying interest holders.
JOIDES RESOLUTION 2 3: Tomographic studies using earthquake waves propagating through the Earth's interior have revolutionized our understanding of mantle structure and dynamics.
6/6/00 7:55:21 AM Pacific Daylight Time
The piece you have put on your website [about IAX] is about NORTH Sumatra (at least on quick glance), but there is also the drilling in SOUTH Sumatra which is where the quake was. see also http://www.ieds.com/Scout_Reports/synopsis97/indsyn/indcds.htm#MANNA
"find" Bengkulu (the region of Sumatra nearest the quake)
link to a map included on that page [pdf] of contract area (this from 1997)
http://www.ieds.com/Scout_Reports/synopsis97/indsyn/pdfs/cds/manm.pdf
compare to map of quake:
http://neic.usgs.gov/neis/bulletin/000604162825.HTML
00/06/06 02:41:53 UTC 40.62N 32.97E Depth: 33.0 km 6.1Ms TURKEY

PAPUA: THE DAY THE SEA CAUGHT FIRE

RADIATION
MORE RADIATION OVER CAMP PENDLETON
Radiation levels force nuclear reactor closure
Ranger uranium mine leak inquiry gains support
Rain helps firefighters in New Mexico


Thursday June 1 8:34 AM ET Fish From the Sky!

| | |
| --- | --- |
| MORE RESEARCH | |