Do click the SOLWATCH banner below for latest graphs. Things be heating up again, flares, CMEs and magnetic storms:

7/11/00 X-CLASS FLARE

7/12/00 X-CLASS FLARE

7/14/00 X-CLASS FLARE

EDITOR: Prayers, Giza shield hold firm

Time to make the energy from those charged particles that are coming at us, converted to energy that will aid our earth shields. Shoo

SUNSPOTS AND SOLAR FLARES FROM VARIOUS VIEWPOINTS

POTENTIALITY OF FIERCE SOLAR STORMS: Solar wind blows some of Earth's atmosphere into space.

PROTON STORM AURORA ELFRAD CAM

The X1 very long duration event mentioned above occurred in region 9077 and covered a huge area. The resulting CME appears to be a full halo one and could cause a (very) significant disturbance of the geomagnetic field on July 14.

CONDITION: FIRST SIGNS OF XCLASS

2000/07/12 00:36:12

Region 9070 source of 7/12 XClass

ENOCH'S VISION: Todd Jumper

MUST SEE PROTON EXPLOSION

DID SOHO GET SOCKED IN THE EYE?
Clip this and get my identity out of it. We have definitely confirmed that the in-coming threat has been destroyed, Pulverized by what was described as an off-world energy. That destruction power may have been cellestial (collision with another body, cosmic force, sun-flare, sun-filiment projection) or artificial or something else, But for now, the crisis has been averted. THANK GOD!!! Anony Mous
A COSMIC IMPRESSIONISM
Monet: Poplars along the River Epte, 1891

| | |
| --- | --- |
| | IS IT NOW TIME FOR AN ETHEREALIZATION--A NEW MONET-REALITY, LESS BLUBBERY, LESS DENSE? |

Subj: Major magnetic storm watches issued

Date: 7/14/00 11:19:50 AM Pacific Daylight Time

Due to the very powerful X6 proton flare this morning - and the accompanying massive CMEs that were observed, the SEC has issued magnetic storm watches for magnetic-A indices of >50 for July 15, 16, and 17.

These are the highest level of magnetic storm watches issued by the SEC. This is probably due to the high strength of the flare/CME event, in combination with the geoeffective position on the solar disk that the active region is in.

The strong proton event that began with the flare this morning continues.

July 15 10:31 AM ET

Scientists Say Solar Flare Could Disrupt Power
Van Gogh: Starry Night, 1889

| | |
| --- | --- |
| | LOG OF ONGOING MAGSTORMS BIGGER EVENTS FORTHCOMING |

Subj: First mag storm arrives, more M-Class flares
Date: 7/13/00 1:18:56 PM Pacific Daylight Time
From: hblondel@tampabay.rr.com (New Millennium)

The larger X-Class flares and CMEs that have recently occurred now precipitate a >50 [severe] magnetic storm watch for the 14th. These larger incoming ejections may interact with the already occurring storm event, and could cause an additional enhanced effect. more
THE UNROLLING OF AN X-CLASS FLARE AS SEEN UP CLOSE WITH TRACE
Click image for MPEG GIF ANIMATION, 3 MEGS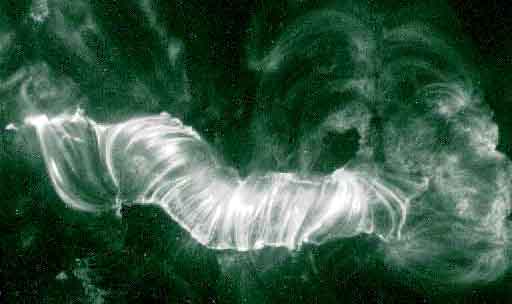 Date: 7/18/00 4:18:47 PM Pacific Daylight Time
Hi, Kent! I checked earlier, at 20:14:25, and this is what I found - an image? captured at 17:21:23. Wild? huh! I see several 'long' streaks, but no 'SOL' image. It is now 23:18:07. What do you think might be up? Another storm??? Best, Susanne. Also, check out the Comets and Asteroids board - a posting called 'WROTH' - a VERY large explosion that 'looks' like a big FACE!!! COOL! and Ambilac has a new update!
Subj: X6 Proton Flare
Date: 7/14/00 5:21:57 AM Pacific Daylight Time
From: hblondel@tampabay.rr.com (New Millennium)
To: hblondel@tampabay.rr.com (Newmill)
The powerful X6 class flare that has occurred this morning was also a proton flare - meaning that a very strong proton event began immediately after the flare's Xray signature was detected.

http://www.sec.noaa.gov/rt_plots/pro_3d.cgi

Electron readings at ACE have nearly gone off the chart, even with the graph having been adapted [higher range added] yesterday in order to hold the first jump in electron levels that was caused by previous major flares and CMEs this week.

http://sec.noaa.gov/ace/EPAMe_24h.html

Radio burst and sweep activity this morning indicates that a large coronal mass ejection accompanied this major proton flare ... with an estimated shock speed of 1300 km/sec - the highest speed that I have ever seen reported. This may mean that the CME will arrive in just 2 days instead of the usual 3-5 days transit time when at the more typical ejection speeds.

The region responsible for this activity was very near the center of the solar disk, which might make the CME very geoeffective. Since a proton event was generated, we can expect magnetic storming to begin immediately as well as a degradation in the electron readings at the GOES satellites.

This was a very large event ... the effects may be quite dramatic.
Subj: Check out the amount of GigaWatts input?!? Date: 7/15/00 3:03:24 PM Pacific Daylight Time
Date: 7/15/00 5:02:54 PM Pacific Daylight Time
My name is Chris and I wanted to pass something interesting along. The magnetometer is off the charts meaning the aurora will reach lower latitudes. With a full moon virtualy impossible to see. Except for those veiwing the eclipse. Double red skies!. Very interesting, if you could email a contact to photograph this I'm sure they wont be disappointed!
Moon to be blood-red during lunar eclipse
Re:6:12: And I beheld when he had opened the sixth seal, and, lo, there was a great earthquake; and the sun became black as sackcloth of hair, and the moon became as blood
Strange Flare 7/17/00 11:18

Subj: Impact

Date: 7/14/00 9:02:21 AM Pacific Daylight Time

From: cplyler@elfrad.com (Charlie)

Elfrad detectors have recorded intense magnetic storm impact with Earth at 15:33:13.7 UTC 07/15/00 Enclosing screen capture from Ecam at http://www.elfrad.net/ecam.html Charlie, Elfrad Group
Date: 7/9/00 7:11:26 AM Pacific Daylight Time
Hi Kent. The symbol in the photo Crossed Swords is the symbol of Sirius by Dogon. Also , its the ancient Chinese number 10.

ENTERPRISE MISSION: SOHO Detects Something Really, Really Weird, Or The Roosters Strike Back

Body of 'Exodus pharaoh' found
Go to link: Kometenfotos / Komet C/1999 S4 (LINEAR)

CHARTS

According to the initial predictions, in the end of July this year, the comet Linear C/1999 S/4 will reach to its highest brightness estimated +3.6. Adib Astronomical Society belonging of Esfahan Municipality intends to establish the first gathering of Iranian amateur astronomy group in Esfahan on the occasion and simultaneous with this astronomical event.

Gods, Nostradamus &; What Is Going On.

Subj: S4 breaking up?

Date: 7/21/00 3:54:48 PM Pacific Daylight Time

Here is the latest info regarding Comet Linear

http://www.minorplanets.de/linear-todd.html

animation: http://www.walter-hohmann-sternwarte.de/linear.html

This info came directly from the Minor Planet List

Comet LINEAR Extends

CONFERENCE: CATASTROPHIC EVENTS & MASS EXTINCTIONS: IMPACTS & BEYOND
LOOKING FOR SPECIFIC FIRST HAND NASA REPORT
7/17/00 7:00:37 AM Pacific Daylight Time
The post was sent on saturday the 15th of July, and states that NASA has detected a "jump" in the orbit of Venus. The poster attributes the jumpto Phobes being knocked out of orbit and passing close to Venus. You can find the post at www.egroups.com/message/tmg_starweb/2283?&start=2269

Earth-approaching space rock found by accident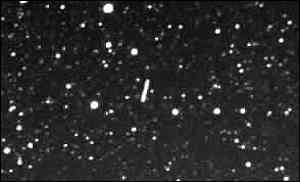 Meteorite hits western Queensland
Monday July 10, 11:25 AM
Residents of the western Queensland town of Windorah were today on the lookout for the crash site of a meteorite that fell to earth yesterday. Queensland police senior constable Mick Hewitt said residents reported an explosion for a 100km radius around Windorah.

Asteroid hunt on again at Haleakala


A ROGUE MOON MAY BE HEADED OUR WAY : PHOBOS IMPACT SCENARIO
EDITOR: I doubt that comet 76P impacted Mars or Phobos; however, I am worried about high-energy [comert-melting] experiments possibly included on board Deep Space One manufactured by the screwballs at Los Alamos or the same quacks at the National Academy of Sciences that have approverd crashing plutonium-powered Galileo into Jupiter.

Black hole winds blow matter away from doom


ODD LOS ALAMOS SPONSORED WEBSITE: Deep Drilling on Mars

UNCONFIRMED: Nuclear warhead kills thousands in Siberia, accident reports are blocked by US media.
(published, "as is." more SLEUTHS needed)

Date: 7/9/00 5:04:35 PM Pacific Daylight Time
Kent, looking at Xoom radar images of Brookhaven Labs, I notice that on one of the images there is a large tract of white on the radar display. This is the highest field strength intensity. Note that where a reading is present for field strength, it is +66 dBz with the highest strength starting at +28dB. [66 - 28 = 38 dB, and this is 6309 times the signal level to register as +28 dB. Big!]
Flood May Spread Radioactivity in Los Alamos Fire Top Secret US plane 'caused Chinook crash'
Earthquake Bulletin
00/07/11 01:32:27 UTC 57.60N 154.51W Depth: 56.4 km 6.5Mw KODIAK ISLAND REGION, ALASKA
Anomalous object/substance near the moon
ANTI-CHRIST? WHO?

Will the real anti-Christ please raise his/her hand?
| | |
| --- | --- |
| MORE RESEARCH | |