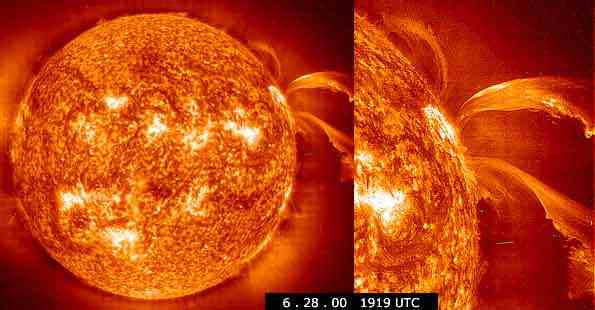 .


6/28/00 STARGATE
Date: 6/28/00 4:21:07 PM Pacific Daylight Time

Here is an image [below] taken from the SOHO imager at 1919 UTC this afternoon showing a massive filament eruption complex...
6/29/00 5:31:00 AM Pacific Daylight Time

...you surely noticed the thin white horizontal line on Soho He-alpha 28/6/2000 1919UTC...I'm just reminded a little of the crafts described in "The Ringmakers Of Saturn"...
6/29/00 23:22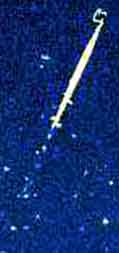 TRACE SPACECRAFT MPEG
| | |
| --- | --- |
| 6/28/00 10:05:18 | 6/28/00 10:51:29 |
| | |
TRACE: 6/26/00 18:10:58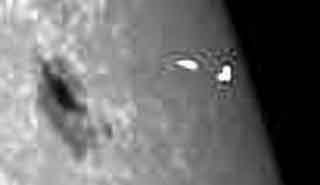 THE ORB
6/29/00 9:43:51 AM Pacific Daylight Time
Kent: What do you make of this EIT. Please note the differences between the GMT Time Stamp and the LASCO's Posted Time Stamp. Ever seem an eruptive prominence quite like this? Additional enhancement of prominence.
| | |
| --- | --- |
| | BTW - There is also a strange planetary size orb in the EIT image frame. Look just southwest of the prominence. Image crop attached details the find. This orb seems to be stationary in relation to all other objects I've noted in the debris field, again, I find this quite a puzzler because the object has moved in the past 2-1/2 hours. |
Here is another enhancement of the orb. It shows that the orb-like object is indeed moving, but within a limited stationary orbit. Therefore, if this object is a prominence ball, as some no doubt will tag it, then it is demonstrating some unquestionably erratic behavior....at best.
6/30/00 9:08:40 AM Pacific Daylight Time
The attached image details what appears to be a near impact by an unknown Fast-Mover Projectile into the Orb. It's hard to say for certain. The real question here, is whether this is a naturally occuring near collision event, or something more?
7/3/00 7:31:03 AM Pacific Daylight Time
Kent:
Here is a late (final) follow-up on the Orb. It now appears that the Orb departed from orbit shortly after the near collision incident with the unknown Fast-Mover Projectile.
6/30/00 9:37:58 AM Pacific Daylight Time

Hello to all,

As the June Bug is about to be wisked out the Month of Many Eclipses is preparing to enter the scene bearing an astronomical feast. Perhaps a portent of things to come was the massive filament eruption brilliantly displayed on CyberSpace Orbit and now showing on the LASCO EIT195 real time movie along with the streaker (upper left) captured from about four hours after the eruption [6/29/00 00:00]. I don't know how the movie is displayed on other browsers, but on WebTV the streaker only shows up duing the download and on the first loop. After the initial movie loop it doesn't seem to show up again. ---Larry---
.
Date: 6/30/00 1:02:15 PM Pacific Daylight Time

For your consideration please find attached a very unusual mk4 gif showing a kinda 'rip' in the halo around the sun. Although I found it in the 'latest' soho pictures, it is dated for the previous day, June 29, 2000. Never seen anything like this, so I thought I would share it with you. Keep up the good work! Aloha-

EDITOR, 6/30/00 23:42: RODS, ORBS, ANOMALIES EVERYWHERE
Date: 7/1/00 9:49:20 AM Pacific Daylight Time
Kent---It looks like the c3 camera hit gold. I'm beginning to think that SOHO is one expensive traffic cam for time bending CRAFT. Notice the indisputable shear of the geometric plane. Ordinary streakers pale in comparison.
GREAT CAESAR'S GHOST!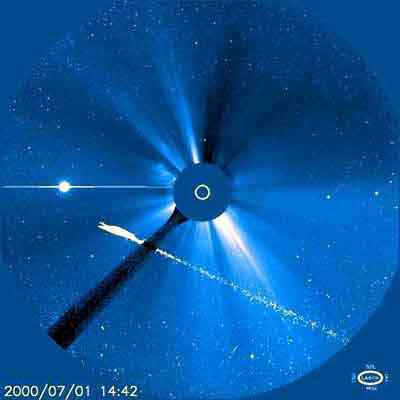 NAVY RAW IMAGE (most strange) (detail)
SIGHTING: Comet or Meteor
7/1/00 5:12:37 PM Pacific Daylight Time
Kent, Looking at the two images shown on C3, one is a raw C3. Why is this streaker object visible through the area of the disc support arm in one and not in the other? Any ideas?
I enlarged the area in question. Do you see anything odd, other than well, you know, a strand of DNA? Kent
7/1/00 10:54:18 AM Pacific Daylight Time
Excellent image. SOHO team should be let to go home over the weekends. Look how sloppily the erasure is done. Now we cannot count the windows.
EDITOR: Now I'm wondering if these earthbound and space-borne Los Alamos high energy physics experiments [DS1, Galileo, Cassini, even Mars Observer] aren't actually to triangulate and target the sun.
As to the exotic level of physics being toyed around with by the Spook patrol, aye, way beyond High School Physics and perhaps many poor academia-brewed PhDs:
"It will be both a tremendous blessing and a terrible curse. It's the most powerful tool ever conceived. By engineering the Schroedinger equation, for example, one can theoretically engineer physical change itself. One can actually engineer physical reality, change the laws of nature, and determine if a thing shall even emerge into physical quantum change at all, or if it shall change its physical form." Bearden
7/2/00 21:42
Jul 01 - Partial Solar Eclipse, Visible From South America, South Pacific Ocean
Date: 6/30/00 10:53:53 AM Pacific Daylight Time
Do you recall the forwarded post you received about a lady's vision of Elohim who placed a "wide-weaved net" over the earth... made up of "huge squares or grids"? (See below) I didn't think much about that post until I saw this crop circle: http://www.cropcircleconnector.com/2000/june2000.html . Almost halfway down the page, look at the photo entry "28/06/2000Windmill Hill, nr Avebury, Wiltshire. Reported 18th June". It makes you wonder!
Have the chambers beneath the Plateau been breached before?

HERE WE GO AGAIN: Blaze Roars near Nuclear Site in Washington State more

Telling secrets on the Vatican Controversy erupts over release of final Fatima mystery
What does 'third secret' mean? Official version of Catholic Church's Fatima prophesies debated





COMING TOWARDS EARTH: COMET S4


CHECK THIS OUT, ZERO DISTANCE.ASTEROIDS
Date: 6/30/00 10:46:39 AM Pacific Daylight Time
Cool: It was discovered June 24, 2000 and came within 0.000au of earth on June 25, 2000. Talk about never seeing the one that hits you!? On the simulator its overlaps Mars on May 29, 2005.
List Of The Potentially Hazardous Asteroids (PHAs)
| | | | | |
| --- | --- | --- | --- | --- |
| Prov. | Des. | Min. | Epoch | M |
| 2000 | MU1 | 0.000 | 20000625 | 44.8 |
| 1999 | XS35 | 0.000A | 20000913 | 4.2 |
| 1999 | MM | 0.000 0 | 20000913 | 268.5 |
| 1999 | FA | 0.000A | 20000913 | 178.9 |
Look at the list again I count 4 at 0.000AU all due on 9/13/2000. What's up with that? Comet debris?
TRYING TO FIGURE THIS ALL OUT? ME TOO!
SLEUTHS: WERE GALILEO AND CASSINI DESIGNED TO NUKE WORLDS?

Space scientists support suicide for Galileo craft
PASADENA, Calif. (June 30, 2000 9:23 p.m. EDT http://www.nandotimes.com) - A plan to send NASA's Galileo spacecraft on a suicide plunge into Jupiter's atmosphere to avoid any chance of contaminating the planet's potentially life-harboring moons has won over a panel of independent scientists.
Galileo, launched in 1989, completed its primary exploration of the Jupiter system in 1997. It is now on its second extended mission and remains in good shape as mission controllers prepare for its joint observations in December with the Cassini probe.
Date: 6/30/00 9:26:53 PM Pacific Daylight Time
They gonna do it. Try to ignite Jupiter.
I know...made me nauseous when I saw this...just came out....Whatever they can try they will try..and they say WE are the nuts!
7/1/00 12:38:30 AM Pacific Daylight Time
kent-----BRING BACK ALL YOUR RESEARCH ON GALILEO ---GALILEO TO CRASH INTO JUPITER----
NUKING JUPITER CAUS ARTICLE LINKS FOR SLEUTHS

Details of the first human embryo to be cloned have been released.
The watershed achievement in biotechnology actually happened last November, but more information was revealed on Thursday. It was achieved using a cell from a man's leg and a cow's egg.

MORE BNL RADIATION BNL 7/2/00 HAARP 7/1/00 HAARP
ARK RING NEVADA RING PENNSYLVANIA RING BROOKHAVEN BLAST


6/30/00 ELFRAD ALERT
Earthquakes from the Past 24 Hours
MARS FINDINGS AND RECOMMENDATIONS
7/1/00 14:20 C2

6/29/00 9:05:11 AM Pacific Daylight Time

The attached current realtime C2 movie, to this cynical eye, seems to be airbrushed around Mars even as it moves across the screen. That would indicate that someone had to retouch each image.
TOURS

KATHY KASTEN: An Appeal - Mars Surveyor Project

Over the weekend, I was reading Thor Heyerdahl's (co-authors: Daniel H. Sandweiss and Alfredo Narvaez) "Pyramids of Tucume: The Quest for Peru's Forgotten City." Before you start raising your eyebrows, I suggest you find a copy of this book and look on pages 62 and 63, for instance. However, any of the many photographs of area should do. What these photos point to is the fact that a very large pyramid can in fact look like a small mountain, and the whole area looks like it is on another planet.
| | |
| --- | --- |
| MORE RESEARCH | |