Click above to see full .avi by KEN SEGAL

.

.

.......

.

.

In an infinite Cosmos all dreams are true.

YEAR REVIEW

.

A most treasured jewel from the enchanting MOYRA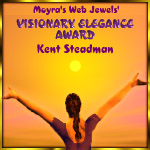 Startling enhancements by Iwonder


``The only thing that would keep me from coming here is if the mountain explodes . . .''


Crossing the path of the Dragon
"A thought occurred to me, Kent....about January 17.............It was Jan. 17 that had the Northridge quake.....also it was on Jan. 17 that had the Kobe earthquake.......also, Jan. 17 was the start of the Gulf War.........are we headed for something?" (Note: Jan17, Kento-editor birthday).
"We are receiving strong +30 over noise from 2.6 Mz and decaying toabout S9 at 8.0 Mz here in CM88. Never heard anything like it before and SW is on almost all the time. Started at 04:02 Z. We are 12 volts, but I suppose it could be powerline or storm related."
"On January 3, the Earth will pass once again within an astronomical "stone's throw" of the perpendicular orbit of perhaps the most famous celestial object in recent history, Comet Hale-Bopp." Hoagland

WHY REALITY SHOULD BE LEFT TO THE POET
"The news from physics is not good. It seems that an X-ray satellite has discovered evidence of enormous amounts of "dark matter" in the far reaches of space, perhaps enough to stop the expansion of the universe and cause its eventual extinction in the Big Crunch, a spectacular reversal of our birth in the Big Bang."

TIMETRAVELLER 1.02 JUST RELEASED!
Microsoft has just released it's update to TimeTraveller 1.0?, the popular computer application that turns Pentium-based PCs into time machines.

What a deal, inquire here
Make your CD: $30.00/master, $5.00/copy (+postage)

until the CD burner burns out.


JULY

AUGUST

SEPTEMBER

OCTOBER

NOVEMBER



.

Click on the graphic to vote for this
page as a Starting Point Hot Site

.