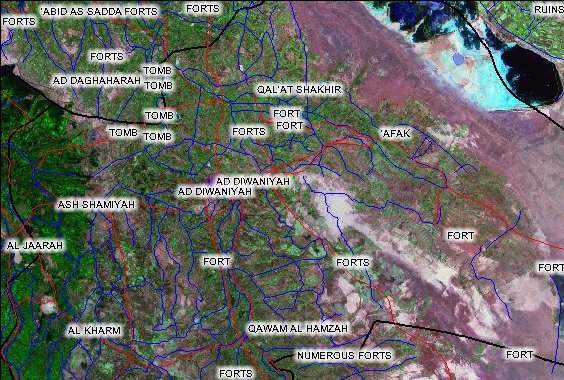 Where's that Garden of Eden/Stargate in Iraq?

5/23/03 9:08:54 PM Pacific Daylight Time
Kent,
I have heard there's this Garden of Eden stargate/portal in Iraq, which is about 85 miles southwest of Al Kut in Iraq. I believe this has some truth to it because an EarthStar junction point is in this neighborhood, where six lines meet. The attached map shows you this area 85 mi. SW of Al Kut. The link to make these nifty maps is below. Feel free to make maps of the Middle East for your own favorite location.
Checking the point 85 miles SW of Al Kut (about lat. 31.52, lon. 44.95) gives these nearby locations:
(IT'S SOUTHEAST OF A CITY CALLED "AD DIWANIYAH".)
The closest tomb is:
31.5500000,44.9666667,TMB,Imam al Musraj

A CITY NEAR "IMAM AL MUSRAJ" IS ABU SAWAR SAKHR.
Other nearby cities:
LAT,LON,TYPE,NAME
31.4841667,44.9305556,PPL,Sultan as Saghir
31.5222222,44.8805556,PPL,Mahrumah
31.5433333,44.8652778,PPL,Qaryat an Nahdah
31.5222222,44.8594444,PPL,An Nahdah
31.5238889,44.8594444,PPL,Al Salim
31.4427778,44.9297222,PPL,Sayyid `Amud
31.4833333,44.8666667,PPL,Salman al Jabbar
31.4433333,44.9855556,PPL,Muhammad az Zaz`ah (Muhammad az Za`za`)
other nearby tombs:
31.6166667,44.8833333,TMB,Imam as Suwaylah
31.6927778,44.9369444,TMB,Imam `Aziz Allah
31.6833333,45.0333333,TMB,Nabi Idris
31.4500000,45.1500000,TMB,Imam al Ahmar
31.7166667,44.9666667,TMB,Imam Hamzah
31.3833333,45.1166667,TMB,Qal`at as Sayyid Hasan
31.3333333,45.0500000,TMB,Imam Salman
An EarthStar junction point is here:
Checking 119 miles SW of Al Kut (lat 31.07, lon 44.95) gives these nearby locations:
The closest city is:
31.0500000,45.10,PPL,Salman Ash Shatnan
The closest tomb is:
31.3333333,45.05,TMB,Imam Salman

In case anyone out there tries to look up these "IMAM" places, remember that they're not spelled like that at Google. You'd be better off leaving out the IMAM part, and just searching 'SUWAYLAH' combined with 'TOMB' to get better results.
Try these amazing links!
Pick "Regional Middle East Interactive Map Application 3" here:
Middle East map resources
Try this excellent interactive map viewer with multiple layers! USA shows first, but other countries are in there.
http://dms2.gtri.gatech.edu/web/webClient.html
But even if there is this magical holy place called Eden, it's a shame that the creator of the universe allows all manner of sinful people to run hogwild over the whole country and selfishly destroy anything. But at least they can't destroy the real, true Eden.
I think there'll come a time where we will move to these existing alternate realities/dimensions, and finally live in Eden.
These maps are all we have to see glimpses of the truth in Iraq, for now.
| | | |
| --- | --- | --- |
| | | SHERLOCK BILL |
More research is going on out of view for now. SLEUTHS: see if you can find anything about a "Project Pegasus", technological teleportation, originated, early 70s.