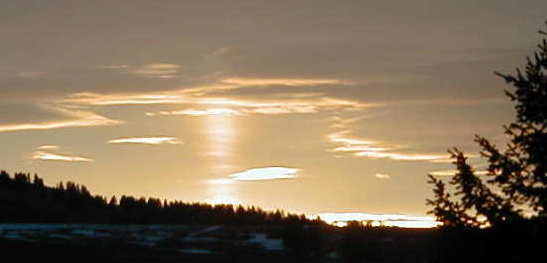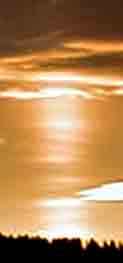 SOLAR STARGATES
In Question: if an interdimensional gate exists, a stargate, would it involve our nearest star?
This watch will remain as our sun goes through a shocking extreme.
Date: 4/1/01 1:05:44 PM Pacific Daylight Time
[IMAGE, TOP-LEFT]: Hiya Kent, Took this picture this morning April 1st at sunrise when we saw something strange happening....we've never seen a singular beam of light coming out from the sun when it rises...we've seen hundreds of sunrises out here..nothing like this one though..usually light comes out in every direction. When viewed in the binoculars the beam seemed to have a "spiral" effect? We couldn't tell if the beam was coming down from the sun or up from the earth to the sun..the sun was above the thin clouds so we couldn't actually see the sun...but a weird glow surrounded the whole area. We're in North Eastern Washington State so we don't know what was witnessed over there...maybe you can make some sense of this picture..maybe it's "normal"...but its the first time we've seen the sun do this kind of thing ever when it has risen.
NEXT DAY: Y-CLASS FLARE.

.

4/2/01 MEGAFLARE

4/2/01 Biggest Flare on Record

3/27/01 SOLAR TORPEDO Comet? Weapon? Or latest wild thought, cosmic travelers entering the gate of the sun?

STRANGE LIGHT WAVES

Continuous strange light emitted from Region 9393 [3/28/01 01:57]

Cohesive Light Wave Forms Radiate From MegaFlare Region 9393

AWESOME MPEG OF MEGAFLARE REGION 9393

Trace 4/2/01 21:54 [Y-Flare]
OTHER RECENT ASTOUNDING EARTH-BASED SUN IMAGES

Could this be an asteroid or a comet? If this is true then it must be at very close distance to the earth. Because it is so big and it was daylight. Who can tell me what this was?
NOTE: most important to browse to ORBIT FRONTPAGE for other MEGAFLARE events
EDITOR: compare to awesome "stargate" anomaly on 9/22/99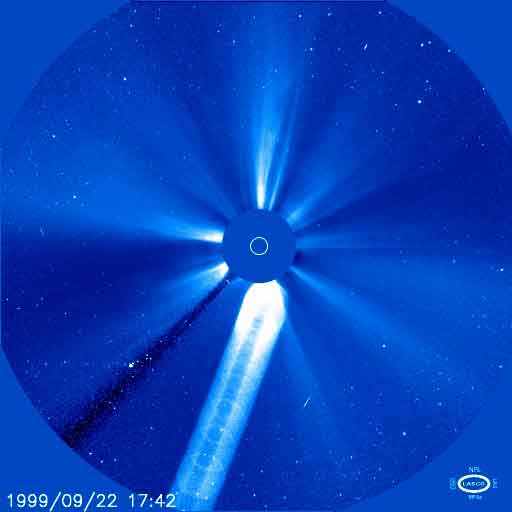 Far in a past time, lost in the space time, the Children of Light looked Down on the world. Seeing the children of men in their bondage, bound by the Force that came from beyond. Knew they that only by freedom from bondage could man ever rise from the Earth to the Sun. Down they descended and created bodies, taking the semblance of men as their own. THOTH
THE PRESENCE OF THE ELOHIM

SOLAR FORMING SOLAR ROGUES

What nature of Being, not of flesh, but of plasma?
HOT OFF THE PRESS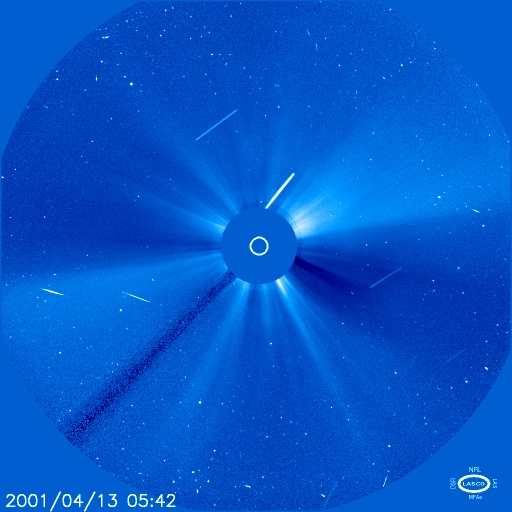 ARCHIVES
You came to this sphere in what has been described as chariots of fire. Perhaps you would refer to them as ships, though these chariots of fire were very much like a meteor perhaps, as a vehicle, that brought the many who entered into and began to build the age or the day of Atlantis. Paul Solomon
It all seems ALIVE out there, so for a spell it won't hurt to play IT that way.
ORBS: The New Face of This Reality

In recent years, these mysterious balls of energy have been seen in photographs, videos, and also by the naked eye. Many sources have reported these objects as ghosts, spirits of the dead, extraterrestrials, angels and other life forms.

They are real, interdimensional vehicles. Known to the Egyptians as 'sun boats' and referred to in the Bible as 'merkabah'.

FLIGHT OF THE SERAPHIM

BROOKHAVEN ORBS
Then these would be beings that would be to you as the animal level or less than human existence, though not in the sense of the animal existence or the animal kingdom on this earth, for these are earthly expression of the Devic Order. Or that is, that on heavenly levels (or the inter-between, those astral levels of existence as do not come into manifestations that you would see) there are those servants of man that are for the expression of God and offer lessons or teachings or vehicles. Now, that then that you would see as the flying ships, or that as has been expressed as the flying saucers or the ships from outer space, might be seen then as angels. They are vehicles for the transportation of those consciousnesses from one level of manifestation to another. Paul Solomon

PAX TV Takes on NASA's 'Keep-em-Ignorant' Policy!

Secret agency labors to release its secrets NSA: Workers scramble to declassify a growing mountain of aging top-secret documents.
They're Back! UFO over Trout Lake seen by 6 eyewitnesses, caught on film

Date: 4/8/01 3:11:18 PM Pacific Daylight Time

(James A Gilliland)

After a typical cold winter with snow, rain and cloudy skies, the sky watches have started again on south side of Mt Adams in Trout Lake, WA. Our first sky watch was spectacular. A very large luminous light, turquoise in color, came in from the Southwest, elevation unknown. It was pulsing a green energy field and looked about four times brighter than Venus.
UFO Sends Flare of Light Towards Observers Source: Patricia
Date: 4/13/01 12:17:09 AM Pacific Daylight Time
I was up James Gilliland's ranch in Washington, over the weekend for a brief visit. On Saturday night, James and I were upstairs for a minute and heard his friend Paul outside yelling excitedly. We ran out on the deck and looked up and saw a bright glowing light traveling up from the far horizon, high up in the night sky, arcing across the sky. It was moving slow enough that you had about five minutes to watch it cross the sky.
It was clearly not a plane (too bright, no flashing lights), and it was not a satellite (again, way too bright). It was the brightest object in the sky. Beyond what you could see, as I stood on the deck watching it, I was overcome with this cascade of energy from my head down to my toes, like being washed in a shower of sparkling golden globes of light, with energy pulsing through my entire body. I felt this immense joy and love and lightness, this radiance.
There was the excitement of seeing this object but then the energy surge was something altogether unexpected. As I felt this, Paul began yelling that he was getting pulses of energy as well, and James (who had run to get the video camera and set it up on the ground outside the house) was videoing it and called out that the object had sent a pulse directly at the camera. We hadn't seen it with our eyes, but he said he saw it through the camera lens and felt it (this was what we had felt as well). As it reached the far horizon it faded from view.
What I can't get over is how 'they' (those in the object) know we are aware of them and send us energy, or maybe we just tap into them and feel what they are about. I don't know, I just know it was an awesome experience.
Later we all stood outside, gathered around the fire, and marveled at what we had seen and felt. A little later we viewed the video footage and could clearly see the object shoot a brilliant diffused flare of light toward camera. Amazing.
I also got to watch the footage of the March 10 landing, which was really something else. It is definitely worth seeing. I got chills watching it - was just amazing.
Date: 4/9/01 4:55:02 PM Pacific Daylight Time

Hi Kent, Orbs? We've photographed dozens of them in the Peruvian Andes (example attached).

I invite you to stop by Labyrinthina.com to view our latest posts on the mysterious Marcahuasi Plateau.

Among the information revealed to the members of IPRI by their Apuan and Ganymedan contacts was the existence of what they termed Xendras: orbs of intense light that could be entered physically, and wherein conversations could be between humans and aliens without having ever left the ground.
It glows multi-colours under my body, but it isn't hot to the touch. I can almost see through its sheet-metal skin and witness the magnetic wheels inside, vibrating wildly.
INTERESTING ARCHITECTURAL COMPARISONS
ANTIGRAVITY Propellant-less Electromagnetic Propulsion
Date: 4/14/01 8:14:46 PM Pacific Daylight Time
Hi Kent.
Greek scientists have succeed with his experiments with antigravity. Maybe a cover up is imminent, so I suggest you keep a copy of his work at:
http://jnaudin.free.fr/stvexp/html/stv2caps.htm http://jnaudin.free.fr/stvexp/html/stvcqtl.htm
http://jnaudin.free.fr/html/stvrfpend.htm http://jnaudin.free.fr/html/stvrfpnd2.htm
http://jnaudin.free.fr/html/stvrfpnd3.htm http://jnaudin.free.fr/html/stvrfpnd4.htm
http://jnaudin.free.fr/html/stvwdbal.htm http://jnaudin.free.fr/stvthes/html/index.htm
http://jnaudin.free.fr/stvexp/html/stvrxp1a.htm http://jnaudin.free.fr/stvdmdoc/stvcap.htm
http://jnaudin.free.fr/stvdmdoc/prplessp.htm http://www.electrogravity.com/STAVROS/Stavros1.pdf
Newly created material defies laws of physics

LAKE VOSTOK: MAGNETIC ANOMALY SOUTH POLE
Magnetic anomaly appears to be in the very same neighborhood as the location of the sizable sub-surface craft shown in Chris Carter's X-Files movie. In fact they went as far as to show the exact latitude and longitude twice in the storyline, and of the sixteen separate bases spread out across the Antarctic inland icepack-- the X-Files location (83 degrees S Latitude by 63 degrees E Longitude), is closer to the Lake Vostok station than any other. Hmmm...more
UPDATE: Unique Buried South Pole Telescope Points To Earth's Center