| | |
| --- | --- |
| ORBIT ANCIENT MASSIVE TERRAFORMING: BOLIVIA | |

The discovery of over 500 square kilometers of artificial earthworks that are identified as fish weirs by a team of American and Bolivian archaeologists... Earthmovers of the Amazon Forum
CLUES
Acoustic Levitation The Ultrasonic Levitator Lifters Movies of levitating objects Ernst Chladni Enigma

HOLES IN THE BREECHES OF SPACE-TIME

MILK HILL

SOUND OF PHI

RADIORBIT listen 04/25 the LOST LANGUAGE of PLANTS with STEPHEN HERROD BUHNER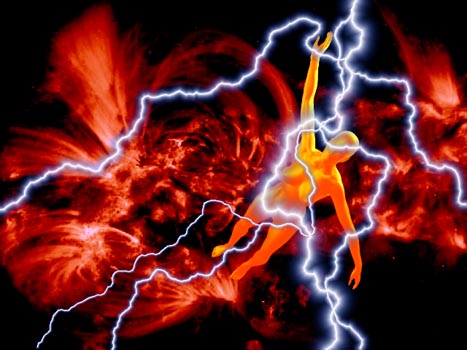 Kent will be on the road for a few days--family matters. Return, May 20th
Email: bardsquill@aol.com Keep the reports coming please. Watch the sun! Today's Space Weather
May 15, 2005 — Forecasters at the NOAA Space Environment Center in Boulder, Colo., observed a geomagnetic storm on Sunday, May 15, which they classified as an extreme event, measuring G-5—the highest level—on the NOAA Space Weather Scales.
[Posted from Internet Cafe, remote]

Massive Sandstorm at Al Asad Air Base


SATELLITES IN LOW-EARTH ORBIT OVER SOUTHERN AFRICA ARE ALREADY SHOWING SIGNS OF RADIATION DAMAGE
METEOR SHOWER SPARKS FLURRY OF PHONE CALLS TO POLICE
Television & The Hive Mind Fusion Ancient Manuscript Discovery has 'Da Vinci Code' Touch
NASA Confirms Unexplained "Pull" on Spacecraft The Pioneer maser signal anomaly
THE GEOMETRY OF INFINITE MIND AND LIVING SYSTEMS
Mysterious 'Man of the Sea' Spotted in the Caspian Sea MEROVEE The Glaukidai The Blue People of Troublesome Creek


BIG SUNSPOT FORMING WATCH FOR MAGNETIC STORMS
Mars Rover stuck in sand Scientists Say Red Speck Is Indeed Huge New Planet

C-SPAN 2 On Saturday, April 30 at 10:30 am The 9/11 Commission Report: Omissions and Distortions
Incoming cloud forces Bush into safe bunker

BREAKING: Russia would consider using force if necessary to respond if the US put a combat weapon into space, according to a senior Russian official.
Old note from a Black Op. . .funny he was talking about Mir getting hit [OP ANON] told me he SHOT DOWN a satellite by accident....an unmanned one but this was a hand held weapon. I don´t think we used that weapon much after that! Can you imagine a hand held weapon that nothing on earth will stop, just keeps on going out into space?"

| | | |
| --- | --- | --- |
| | | POTBELLY STOVE |
LEMURIA RISING PYRAMIDS ALONG THE COLUMBIA

Video of Loughcrew Spring Equinox Photos

Thousands of Pages!.....

| | | |
| --- | --- | --- |
| | ORBIT MAIN | |